YRC Worldwide (NASDAQ:
YRCW
), a company that avoided bankruptcy by
striking a deal with debt holders in April
by basically throwing existing shareholders under the bus, is once again trading as if bankruptcy was imminent. This despite the fact that the company cancelled about $1.03 billion of debt (out of $1.29 billion) with the issuance of 1.86 billion shares, significantly diluting existing share count of 48 million shares. Thereby, pre-restructuring shareholders now control only 2.5% of the new company. We arrived at a fair market value range for YRCW by comparing the company with its peers in the trucking industry. Since P/E is irrelevant for a company incurring losses, we turned to the often used alternative Enterprise Value / EBITDA ratio for comparison. Furthermore, this method has the advantage that it is capital structure-neutral.
For comparison, we calculated that Enterprise Value and EBITDA of all twenty-five companies in the trucking industry (see Table), including global transportation and logistics companies United Parcel Service (NYSE:
UPS
) and Fedex Corp. (NYSE:
FDX
), that also have significant trucking operations. The following are YRCW's trucking industry peers that were included in the analysis:
Swift Transportation (NYSE:SWFT), a provider of truckload transportation services for various commodities;
J.B. Hunt Services (NASDAQ:JBHT), a provider of full truckload containerizable freight;
Heartland Express Inc. (NASDAQ:HTLD), an operator of short-to-medium haul truckload carrier services to major shippers;
Knight Transportation (NYSE:KNX), a provider of dry van truckload and temperature-controlled truckload carrier services;
Arkansas Best Corp. (ABFS), a provider of less-than-truckload motor carrier operations;
Con-way Inc. (NYSE:CNW), a provider of transportation and supply chain management services;
Landstar System (NASDAQ:LSTR), a provider of truckload transportation and logistics services;
Old Dominion Freight Lines (NASDAQ:ODFL), a provider of less-than-truckload and motor carrier services;
Werner Enterprises (NASDAQ:WERN), a provider of truckload shipments of general commodities;
Forward Air Corp. (NASDAQ:FWRD), a provider of scheduled ground transportation of cargo;
Marten Transport Ltd. (NASDAQ:MRTN), a provider of truckload transportation specializing in temperature-sensitive food and consumer packaged goods.
Quality Distribution Inc. (NASDAQ:QLTY), an operator of a bulk tank truck network that ships chemicals, fuel and food-grade products;
Patriot Transportation (PATR), a provider of transportation of primarily petroleum, bulk liquids and dry bulk commodities by tank trailers;
Universal Truckload Services (NASDAQ:UACL), a provider of truckload transportation and intermodal support services to shippers;
Celadon Group Inc. (NYSE:CGI), a provider of long-haul truckload transportation services between the U.S. and Canada and Mexico;
SAIA Inc. (NASDAQ:SAIA), a provider of trucking transportation and supply chain solutions to the retail, chemical and manufacturing industries;
PAM Transportation Services (NASDAQ:PTSI), a provider of truckload dry van carrier services transporting general commodities in the U.S. and Canada;
USA Truck Inc. (NASDAQ:USAK), a truckload carrier of general commodity freight in interstate and foreign commerce;

Vitran Corp. (VTNC), a provider of surface transportation and related logistics services throughout Canada and in 29 U.S. states;

Covenant Transport Group (NASDAQ:CVTI), a provider of truckload carrier services to manufacturers, retailers and transport companies;
Frozen Food Express Industries (NASDAQ:FFEX), an operator of a full-service temperature-controlled trucking company; and
Trailer Bridge Inc. (NASDAQ:TRBR), a provider of marine freight services and truckload freight transportation between the U.S., Puerto Rico and the Dominican Republic.
Table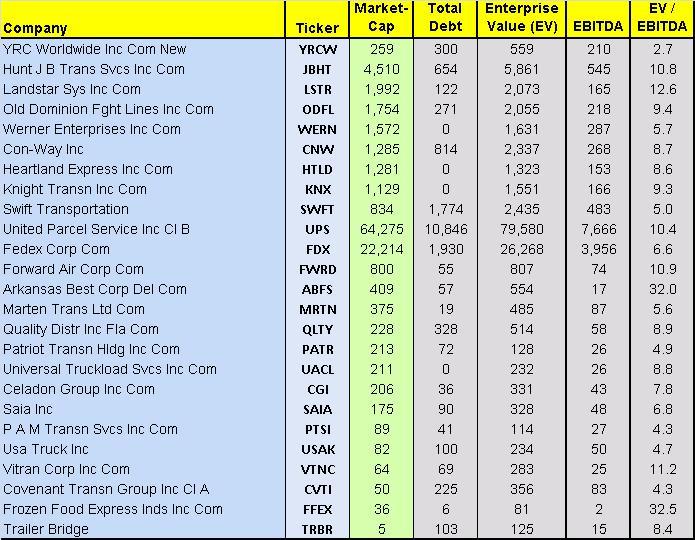 The market-cap calculated in the case of YRCW includes existing share count of 48 million shares, additional 1.86 billion shares that were exchanged with the cancellation of $1 billion of debt, and also potential dilution from preferred convertibles adding up to another 4.1 billion shares by July, 2013. This brings the total share count to a maximum of 6 billion shares, which at the current share price calculates to $259 million in total market value (market-cap plus the market value of any preferred shares).
The average Enterprise Value (EV) to EBITDA ratio for the trucking industry was calculated as 9.9; taking out, the two outliers FFEX and ABFS with ratios over 32 gets us to an average of 7.9 for the rest of the group (not including YRCW, FFEX and ABFS). In the case of YRCW, the company in their prior earnings report already projected FY 2011 EBITDA of $210 million. Apply that to a conservative 7.9 EV/ EBITDA multiple gives us a target price of almost 15 cents, three times above current prices. Of course, this is based on a very conservative calculation of (1) including all of the preferred convertibles in the share calculation, including those that can be converted only after July 22nd, 2013; (2) assuming an EBITDA of only $210 million which the company has projected to 2011. Historically, YRCW has generated EBITDA of between $500 and $800 million in the period from 2004-06. Assuming that they generate even two-thirds of the middle of this range will lead us to a target EBITDA sometime in the near future of almost $450 million. At that price, our target for YRCW would be 30 cents.
We know that YRCW has a lot of operational problems to contend with right now including losing market share to their primary competitors. However, the company does have a strong brand and operates internationally, including in the U.S., Puerto Rico, Canada, Guam and Mexico. We believe that once the company puts behind this restructuring and focuses on improving its operations, now that the immediate threat of bankruptcy is removed, that it could be positioned for long-term success. Either way, at its current trading price of 4c-5c, the company is a bargain as it trades at a heavy discount of over 60% based on even its self-declared EBITDA projections for the current year 2011.
We
announced our bearish view on YRCW in our review on July 25th
, when it traded above $1 per share. Its shares have since fallen over 95%, currently trading under 5 cents. We announced our
turning bullish in an article last week
, indicating that with the threat of bankruptcy out of the way, at least for now, and the impact of the impending re-structuring finally factored into the stock price, its shares were rapidly approaching value territory. In this article, we have further elaborated on our bullish view of YRCW by comparing it to peers in the trucking group. We continue to believe that now is a good time to start building a small speculative position in the stock. But as advised in our prior article, we would start small and build in stages. YRCW shares are currently in free-fall, and they are likely to weaken when the company announces the inevitable 1-for-100 (or something like that) reverse split sometime before the end of the year, so we would save some fire-power to take advantage of when that weakness happens.
Credit: Historical fundamentals including operating metrics and stock ownership information were derived using SEC filings data, I-Metrix® by Edgar Online®, Zacks Investment Research, Thomson Reuters and Briefing.com. The information and data is believed to be accurate, but no guarantees or representations are made.


Disclosure: I have no positions in any stocks mentioned, and no plans to initiate any positions within the next 72 hours. Material presented here is for informational purposes only. Nothing in this article should be taken as a solicitation to purchase or sell securities. Before buying or selling any stock you should do your own research and reach your own conclusion. Further, these are our 'opinions' and we may be wrong. We may have positions in securities mentioned in this article. You should take this into consideration before acting on any advice given in this article. If this makes you uncomfortable, then do not listen to our thoughts and opinions. The contents of this article do not take into consideration your individual investment objectives so consult with your own financial adviser before making an investment decision. Investing includes certain risks including loss of principal.