Costco (NASDAQ:COST) at $80 is priced to perfection. The company just hit a bump in earnings that may take it down to retest $70. Missing by a penny doesn't sound like much. But when the company no longer has the ability to come up with an extra penny in earnings, it means earnings improvement options are scarce. That explains why Costco immediately raised the price on membership. What is it going to do next quarter?

Let's look at the metrics to see the challenge for a high PE company like Costco, in a low PE business.
| | | | | | | |
| --- | --- | --- | --- | --- | --- | --- |
| | PE | FPE | PEG | Book | Target | FReturn |
| COST | 25 | 21 | 1.9 | 27 | 80 | 1.2% |
| WFM | 35 | 29 | 2.1 | 16 | 75 | 16.0% |
| KR | 12 | 10 | 1.1 | 9 | 27 | 24.8% |
What immediately jumps out from the metrics above is that Costco holds out very little implied or forecasted return. This is based on a recent analyst target that is close to the mean target for all analysts. The dividend is included.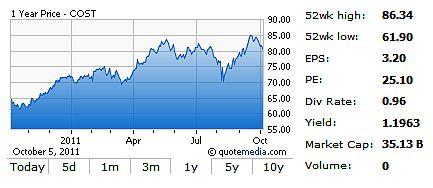 If the challenge in meeting expected earnings continues, it will be difficult to raise the 12 month target price noted above. If one is looking for a 20% return out of COST shares, and the $80 target is correct, then we are looking at an entry price of $67 to reach that return. Portfolio managers will wait for lower prices to accumulate Costco shares.

If you look at a price chart, you will see that share prices dropped from $83 in July to $70 in August, breaking below the long-term uptrend. The 200 day moving average, long term uptrend is now at $77. The next price support level is at $75. The major support is at the previous low price of $70 in August. The continued growth in revenues is still a positive, despite the miss in earnings by a penny.

Conclusion: This bear market is taking no prisoners and there is no room for even a small miss, when COST is trading at its 12 month target of $80. It remains to be seen whether the increase in membership fees and the drop in commodity prices will help to meet analyst expectations for next quarter. Even under the best of circumstances, COST looks richly priced from the metrics above. Price is dropping, the general market is testing lower prices, and Costco has some admitted problems. Both the fundamentals and the price chart are indicating a pullback to test support between $70 and $77.

Disclosure: I have no positions in any stocks mentioned, and no plans to initiate any positions within the next 72 hours.