Oil magnate and clean energy champion T. Boone Pickens has commented that America is the Saudi Arabia of natural gas. Evidence of this can be seen in the abundant supply of natural gas and low prices as compared to the historical.
Additionally, there has been some speculation the U.S. Federal Reserve's continued increase in the money supply will eventually spark runaway inflation and cheapening of the U.S. dollar with respect to other currencies. In the event this happens, foreign imports will become expensive, and oil, one of the largest U.S. imports will become very expensive. A few pundits have even speculated the price of oil may reach as high as $15 per gallon.
Putting these two together, abundant/low priced natural gas and potentially high priced oil, makes the future of natural look very attractive, as uses for oil are switched to alternatives such as natural gas and electric.
It's plausible that a large portion of the U.S. automobiles could be converted to battery powered in order to avoid the high price of oil, but what about trucks or 18-wheelers? It would take too many Energizer (NYSE:ENR) Bunny batteries to run an 18-wheeler. But, an 18-wheeler could operate on natural gas. The truck driver might have to take a few more stops to fill up, but it could be accomplished. With the choice of $15 diesel fuel or cheap natural gas, it's a no-brainer, 18-wheelers would convert to natural gas.
This brings us to Cabot Oil & Gas (NYSE:COG), a company in the oil and gas business. A large portion of Cabot's revenue is from natural gas. The company indicated in its most recent conference call that it is planning on putting a little more emphasis on oil production in the Eagle Ford and Marmaton fields and also increase their acreage in those fields as well. But, Cabot is rapidly expanding its natural gas pipeline capability by bringing 550 million cubic foot of additional pipeline capacity online by mid 2012.
The company is growing quite rapidly, 47.5% growth in one year. In its conference call, the company indicated its wells in the Susquehanna area are exceeding expectations. However, there are some reports the company's wells may be contaminating drinking water and Cabot's P/E ratio is pretty expensive at 51. If the drinking water controversy were to get messy, Cabot's stock price could take a hit. The company's stock has already taken a hit, as well as a lot of other stocks of late, and is near its previous support level of $57. With some bad news, Cabot's stock price could drop all the way down to its previous support level of around $51 as shown in the chart below: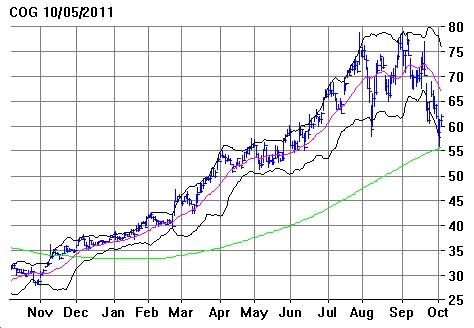 So how does a potential investor take advantage of Cabot's future potential, but not get hurt in the short term?
Well, an investor might consider entering a collar position for Cabot using stock options. A collar position is entered by selling a call option against a purchased stock or an existing stock and then purchasing a put option from the proceeds of selling the call option to purchase the put option for protection or insurance in the event the price of the stock drops significantly.
As an example, using our search engine, a collar position for Cabot is available with a potential profit of 2.6% and with a maximum potential loss of 6 .1%. The potential profit may be realized in only 17 days. The sold call option would be an October 60 and the purchased put option would be an October 55. A profit/loss diagram for the collar position is shown below: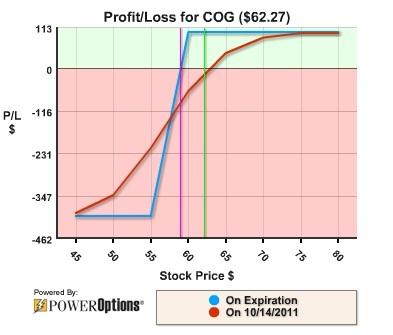 As long as the price of Cabot's stock is greater than the strike price of the call option, $60, at expiration the position will return 2.6%. Additionally, if the price of the stock drops below, the strike price of the put option, $55, the maximum loss for the position is 6.1%. As a bonus, the call option may be rolled for more potential income as the price of the Cabot stock increases or decreases.
Disclosure: I have no positions in any stocks mentioned, and no plans to initiate any positions within the next 72 hours.