As we focus intensely on the European debt crisis and the never ending rise of credit default swaps – also known as CDS – other countries tend to slip under the radar, although most people are aware that all is not well, no matter where one looks.
Tracking CDS values is not my primary concern and I view them as a market "gossip gauge" that tends to give early clues as to what international bond investors are thinking. But unlike the Hollywood type rumor, which may prove to be misplaced and does not affect our lives, credit default swaps provide a window into the probability of something being wrong.
The Financial Times published an article on Wednesday and I received a notification by email tagged "Breaking News." And who doesn't love the latest bit of information, hot off the presses. The subject read "China sees surge in CDS on slowdown fears." The article delivered some facts that unless one follows this stuff on a daily basis, one wouldn't know.
The net value of outstanding credit default swaps on Chinese sovereign debt has soared to $8.3bn, according to data released this week by The Depository Trust and Clearing Corporation. The market for China CDS is now the world's 10th largest, bigger than those for Portugal and Bank of America. Two years ago there was a net $1.6bn of outstanding China CDS, making it only the world's 227th largest at the time.
I had thought before that, based on the loose information that I have been able to gather, China is an accident waiting to happen, and if the fears are well placed, I wish they would hold off on it, because the timing could not be less convenient.
(Click charts to expand)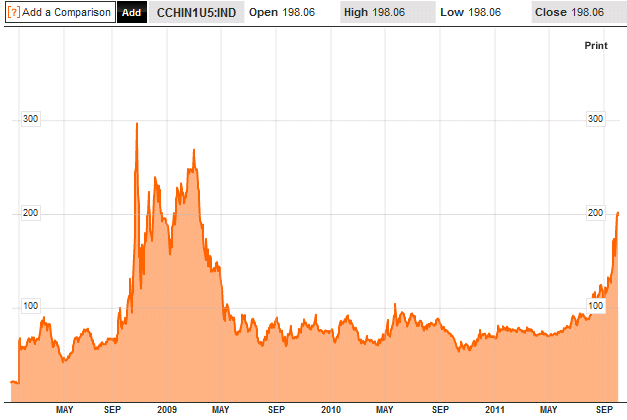 The chart above depicts China's CDS values for the last 5 years, and over the last month the price has doubled. Granted that it hasn't reached the 300 value that occurred around the Lehman Brothers debacle, but back then confusion was in the air, and the Chinese government had not yet used over $500 billion in stimulus, which has delivered very little -- as if we Americans couldn't relate to that.
As I have chronicled over the last few months, the global debt problems continue to mount and we're now in the 9th inning with a broken bat, while we're still hearing how China is immune to the disease and will be the next world economic power. But that is not what the international capital is saying.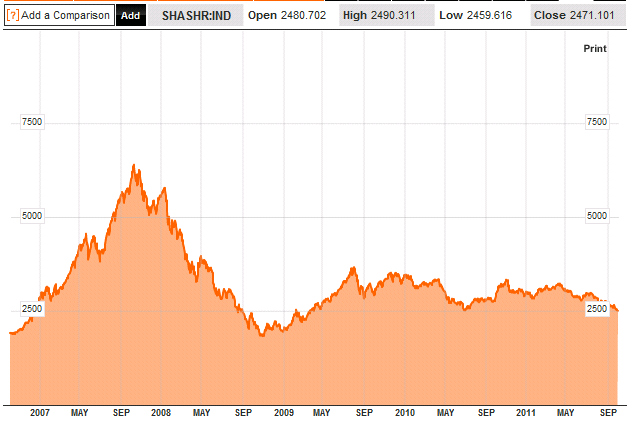 One puzzling fact that has continuously raised red flags is that despite the positive comments about China's growth, the Shanghai Stock Exchange A Share Index has not shown the corresponding and expected results, and has been in decline since the summer of 2009.
On the European side, a study to be released on tomorrow according to the Economico, a Portuguese publication, puts Portugal's debt at 332 billion euros.
Lastly, the credit default swap market is often used in the same sentence that faults speculators for "attacking" a country's credit worthiness. But it's only a reflection of investor sentiment and one can easily bypass the numbers. For example, George Soros can set the tone, call Mr. Venizelos, the Greek Finance Minister, and tell him that he's willing to buy a few billion euros in bonds while accepting a 5% interest rate.
At times it gets depressing writing about this stuff, and one must find humor to face this reality. There are plenty of cheerleaders without a cause, but I want to be that patient who looks the doctor in the eye and says: "Tell me what the hell is wrong with me so I can deal with it."

Disclosure: I have no positions in any stocks mentioned, and no plans to initiate any positions within the next 72 hours.