Last week, I screened for stocks regarded as strong buys by both Morningstar and Standard & Poor's. These two firms are exceptions to my general view that analysts as stock pickers are useless, though I only use them as guides for research, not as final arbiters for investment decisions. Seemingly, most analyst upgrades come as the good news is already priced into the stock while downgrades come long after the horse has left the barn. But perhaps we can use analysts' proclivity to be late at the turns by finding stocks where everyone's left the bandwagon but the underlying companies retain solid prospects. I used Morningstar's moat ratings to quickly discern companies with durable competitive advantages and cross-referenced those against stocks with an average analyst rating of hold (Wall Street code for sell) or worse. Of the resulting list, I found ten stocks of interest:
(Click chart to expand)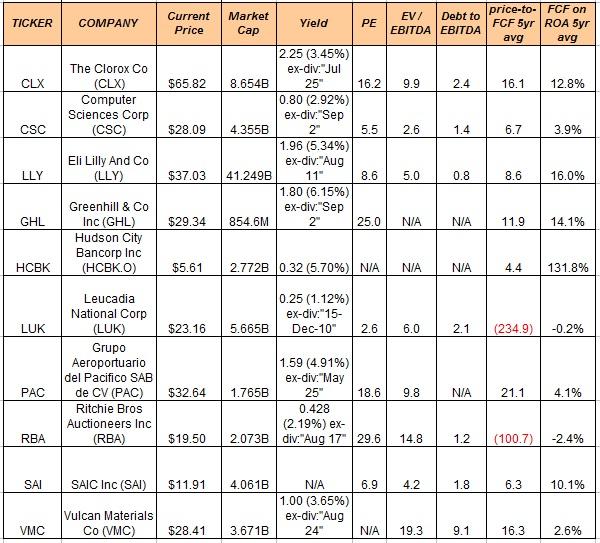 View a summary of all ten stocks in spreadsheet format, including my fair value estimates.

The Clorox Company (NYSE:CLX) is a manufacturer and marketer of consumer and institutional products, selling its cleaning products through mass merchandisers, grocery stores and other retail outlets. As a consumer-staple company selling at 16x earnings, CLX sells at a premium to the market in these troubled times. This premium is supported by consistent free cash flow (FCF) generation of $500M - $600M annually, which figures to 13% FCF return on assets. Morningstar assigns the company a narrow moat rating due to its strong brands and distribution network. Clorox is a proven cash and profit machine but its products are being pressured as constrained consumers opt for cheaper, non-branded cleaning items. My free cash flow analysis suggests investors are paying significantly for the relative safety of CLX as I value shares at $55.
Computer Sciences Corporation (CSC) is engaged in the information technology (IT) and professional services industry, offering an array of services to clients in the commercial and government markets. Selling at less than 3x EV/EBITDA and 6x earnings, CSC looks like one of the cheapest stocks on this screen as the market continues to avoid stocks with exposure to government spending risk. With continued focus on austerity measures in Europe and budgetary constraints in the US, stocks like CSC and SAI are selling at discounted multiples to the market. While Morningstar views the company's entrenched position in the IT service market as a barrier to entry, other analysts posit that smaller firms like CSC will eventually have trouble competing with larger rivals like IBM and Accenture (NYSE:ACN). However, the stock has sold off to such an extent that its PEG ratio is under 0.7, suggesting the stock is cheap enough even to compensate for slow growth. My FCF analysis puts a rough fair value $37 per share and the stock pays a 3% dividend to boot.
Eli Lilly and Company (NYSE:LLY) discovers, develops, manufactures and sells pharmaceutical products and also has an animal health business segment. The recession-resistant drug stocks have shown some resilience in the face of market volatility as implied by the stock's narrow 52-week trading range of $33.46 - $39.78. With a yield over 5% and selling below 9x earnings and average annual FCF (5 year avg), LLY looks cheap but Eli Lilly faces one of the industry's steepest patent cliffs out to 2017. My FCF analysis, assuming negative 5% growth during that period, values LLY at $45 per share but I would wait for a substantial margin of safety ($27 or better) before giving LLY serious consideration.
Greenhill & Co., Inc., (NYSE:GHL) is an independent investment bank focused on providing financial advice on significant mergers, acquisitions, restructurings, financings and capital raising to corporations, partnerships, institutions and governments. While Morningstar accords GHL a narrow economic moat rating, it gives little explanation for it. The stock's performance suggests any moat Greenhill possesses is narrow indeed as share prices have cratered from $84.51 to below $30. A 19% short interest still exists on the stock despite the drastic drop. I would tentatively value the shares at $25 but the firm's inconsistent FCF history and recent issues with departed managing directors makes it difficult to get comfortable on any valuation.
Hudson City Bancorp, Inc. (NASDAQ:HCBK), via its subsidiary, Hudson City Savings Bank, is a community- and consumer-oriented retail savings bank focusing on affluent customers in the NJ/NY area. While the bank deals primarily in jumbo mortgages, its higher-income customer base coupled with strict underwriting standards (HCBK never ventured into much of the mortgage madness that afflicted so many during the housing bubble) means Hudson City's loan portfolio (it does not securitize any of its loans) exhibits a very high credit quality. However, this has not insulated the bank from trouble -- it recently took a $460M loss to restructure its interest-rate risk and still faces some pressure from lower interest rates, which is perhaps reflected in the share price as Treasury yields continue their seemingly never-ending descent. HCBK has fallen from a high over $13 to its current $5.61 price, roughly 0.6x book value. While it's impossible to predict when the housing or Treasury market will turn, Hudson City's conservative underwriting standards and efficient operations should sustain it through the long term. At a more reasonable 0.9x price-to-book, shares are worth $9 and I have taken a long position. Despite a near 6% yield, I have chosen to play HCBK via in-the-money options, reflecting my desire to leverage returns and my hesitancy to commit too much capital in case the banking sector as a whole continues to wallow in its morass.
Leucadia National Corporation (NYSE:LUK-OLD) is a diversified holding company engaged in a variety of businesses, including manufacturing, land based contract oil and gas drilling, gaming entertainment, real estate activities, medical product development, and winery operations. Despite these operations, much of Leucadia's profits come from successful investments. Ian Cumming and Joseph Steinberg have profitably deployed capital at Leucadia for nearly 30 years and are the basis for Leucadia's competitive advantage. The nature of Leucadia's business renders traditional valuation metrics less meaningful -- for example, the stock currently sports a P/E of 2.6 and free cash flow is spotty. Basically an asset manager, Leucadia is probably best valued on a price/book basis. As such, I put LUK at $29 based on a ratio of 1x book value.
Grupo Aeroportuario del Pacifico, S.A.B. de C.V. (NYSE:PAC) manages, operates and develops 12 airport facilities, which serve two metropolitan areas (Guadalajara and Tijuana), several tourist destinations (Puerto Vallarta, Los Cabos, La Paz and Manzanillo), and a number of mid-sized cities. The fact that it is the only licensed operator in its service areas provides the company with a wide moat. Nevertheless, I have a hard time getting comfortable with investing in the Mexican market and economy -- it does not share the growth characteristics inherent in countries like Brazil and the currency feels unstable. My FCF analysis shows the stock to be worth roughly $21 per ADR, a good ways below its current trading price.
Ritchie Bros. Auctioneers Incorporated (NYSE:RBA) is an industrial auctioneer, selling equipment to on-site and online bidders. Morningstar gives RBA a wide economic moat rating due to its global platform for auctioning construction equipment; I have a hard time accepting that Ritchie Bros has such a durable advantage as it controls only 4% of $100B used equipment market. At first glance, Ritchie Bros struggles to generate free cash flow, with negative FCF on an aggregate basis over the last 5 years. My experience with equipment rental companies such as United Rentals (NYSE:URI) and H&E Equipment Services (NASDAQ:HEES) showed that more analysis was needed to discern the true nature of those companies' cash flows but I am taking a pass on RBA.
SAIC, Inc. (SAI) is a provider of scientific, engineering, systems integration and technical services and solutions, primarily to all branches of the United States military. Unlike CSC, SAI is almost entirely dependent on US government spending, which means recent budgetary concerns weigh heavily on the stock's future. As with CSC, the company's entrenched government contracts may eventually face stiff competition from bigger rivals. However, even with these headwinds, SAI seems undervalued at current prices. Even modeling negative 5% growth over the next five years, I find shares to be worth $17, well above its last close of $11.91. On a direct comparison, SAI seems the better-run company compared with CSC. Returns on equity (21% vs 11%) and capital (14% vs 6%) are higher and SAIC does a much better job of generating free cash flow, yielding 10% FCF on its asset base vs CSC's 4% rate. However, CSC does pay a high dividend vs no payout from SAI and such poor metrics could yield future gains if Computer Sciences can wring out operational inefficiencies.
Vulcan Materials Company (NYSE:VMC) is a producer of construction aggregates, primarily crushed stone, sand, and gravel, as well as asphalt mix and ready-mixed concrete. Vulcan has 319 aggregates facilities. Morningstar views it as a wide-moat company and to its credit, Vulcan has managed to stay cash flow positive even in a badly recessed construction market. However, the company carries a heavy debt load, built up during the peak of the housing boom (and concurrent construction boom), which is now being supported by cratered earnings -- VMT currently sports a debt-to-EBITDA ratio over 9. Modeling -3% growth over the next five years, I'd tentatively value VMT at $20 per share but it bears noting that TTM FCF came in below $100M so any valuation is highly uncertain.

Disclosure: I have no positions in any stocks mentioned, but may initiate a long position in CSC, SAI over the next 72 hours. I am long HCBK calls.