Energy is a highly followed industry and Valero Energy (NYSE:VLO) is a highly followed petroleum refiner. Despite recent weakness in oil prices, overall the energy sector has had a very good year. After a recent dip Valero's price is starting to recover as revealed in this hourly trading chart for the past month provided by Barchart:
Click to enlarge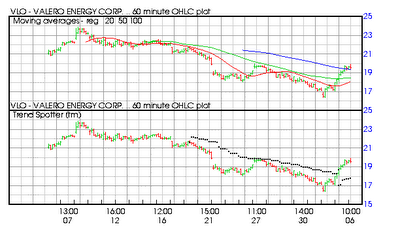 Valero Energy Corporation operates as an independent petroleum refining and marketing company. The company operates through three segments: Refining, retail and ethanol.
The refining segment engages in refining, wholesale marketing, product supply and distribution and transportation operations. This segment produces conventional gasoline, distillates, jet fuel, asphalt, petrochemicals, lubricants and other refined products, as well as a slate of premium products, including conventional blendstock for oxygenate blending, reformulated gasoline blendstock for oxygenate blending, gasoline meeting the specifications of the California Air Resources Board (CARB), CARB diesel fuel, low-sulfur and ultra-low-sulfur diesel fuel, and oxygenates consisting of liquid hydrocarbon compounds containing oxygen.
The retail segment sells transportation fuels at retail stores and unattended self-service cardlocks; convenience store merchandise and services in retail stores; and home heating oil to residential customers.
The ethanol segment produces ethanol and distillers grains. Valero Energy Corporation markets its refined products through bulk and rack marketing network; and approximately 5,800 retail and wholesale branded outlets under various brand names comprising Valero, Diamond Shamrock, Shamrock, Ultramar and Beacon. As of December 31, 2010, it owned and operated 14 petroleum refineries with a combined throughput capacity of approximately 2.6 million barrels per day located in the United States, Canada and Aruba; and 10 ethanol plants situated in Midwest with a combined production capacity of 1.1 billion gallons per year. The company was formerly known as Valero Refining and Marketing Company and changed its name to Valero Energy Corporation in August 1997. Valero Energy Corporation was founded in 1955 and is based in San Antonio, Texas. (Yahoo Finance profile)
Factors To Consider
Barchart technical indicators:
Barchart's technical indicators are based on short term price movement between seven days and six months. Lately the sell signals have begun to weaken as the stock's price seems to be turning upward.
48% Barchart overall technical sell signal that is beginning to weaken
Trend Spotter technical sell signal - also beginning to weaken
36.85% off its one year high
Relative Strength Index is 47.24 and rising
Barchart computes a technical support level at 19.12
Recently traded at 19.55 which is below its 50 day moving average of 20.85
Fundamental factors:
Wall Street brokerage analysts have very mixed projections with a consensus that sales will increase by 42.90% this year and another 3.90% next year
Earnings estimates are highly unpredictable for this company and they are expected to increase by 162.30% this year, slightly down by .90% next year and increase annually by 8.75% over the next five years
Even though earnings for the company are hard to forecast brokerage analysts still have four strong buy, five buy, 10 hold and one under perform recommendation released
There are a few things the company has going for it
It recently acquired a diesel refining facility in the U.K. from Chevron (NYSE:CVX) - lots of new turbo diesel vehicles are being sold worldwide
The company not only refines petroleum but also retails it through its own network of stores and provides gas pumps at several chains of convenience stores
They also refine ethanol
An upgrade to improve efficiencies at many of its existing refineries is well underway and should be fully implemented by the end of 2012
General investor interest:
4,544 of the readers of Motley Fool are following this stock and express an opinion
Readers voted 96% that the stock will beat the market
The more experienced and savvy All Stars voted 98% for the same result
Fool follows the results of its readers' opinions and notes that the 10 voters who are making the most money in this stock have all been short sellers
Competitors and sector leaders:
Valero (VLO) is up 11% in the past year and also up is Chevron by 12% and Exxon Mobil (NYSE:XOM) by 15%. The big loser though has been BP plc (NYSE:BP) which is down 14% in the past year: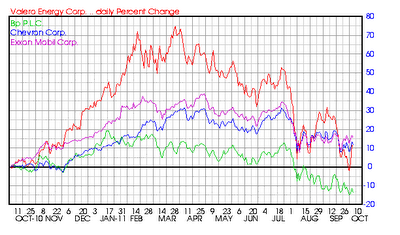 Valero is a member of the SIC Petroleum Refining sector, and some of the stocks in this sector have had fantastic results like Western Refining (NYSE:WNR) up 155% in the past year, CVR Energy (NYSE:CVI) up 160%, Holly Frontier (NYSE:HFC) up 91% and Tesoro Petroleum (TSO) up 68%:
Click to enlarge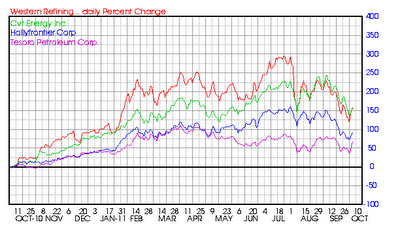 Summary: Valero and the rest of the oil and refining stocks have taken a market hit lately. Although the company seems to be implementing all the right changes to improve the bottom line, in the past this has been an extremely hard stock to accurately predict earnings. I do see a change in price momentum and would take advantage of that only as a speculative position with the appropriate stop losses in place.
Disclosure: I have no positions in any stocks mentioned, and no plans to initiate any positions within the next 72 hours.