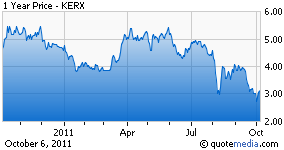 Although relatively modest compared to rebounds in other stocks this week, and with due respect to the possibility that continued market turmoil could derail any rebounding in shares, the Keryx Pharmaceuticals (NASDAQ:KERX) rebound to above the three dollar mark is for real, and well justified.
Keryx had recently dropped below the three dollar mark, in conjunction with the market downturn, and given the fact that no discouraging news from either of the company's late stage products hit the wires, the drop might have been unjustified.
In that light, KERX was - and probably still is - in good "buy the dips" territory.
The move back to the north side of three dollars on Wednesday was supported with an announcement that a manuscript detailing data from Perifisone's Phase II trial was selected for publication in the October 3, 2011 online edition of the Journal of Clinical Oncology.
Perifisone, was in-licensed from Aeterna Zentaris (NASDAQ:AEZS) and is a potential first-in-class, oral anti-cancer drug candidate that inhibits Akt activation in the phosphoinositide 3-kinase (PI3K) pathway. The product is the Phase III trials for colorectal cancer, with results due out next year, and and is also being investigated for the treatment of relapsed/refractory multiple myeloma.
Orphan Drug Status and Fast Track Designation has already been granted for the latter indication.
Also in the late stages of the Keryx Phase III pipeline is Zerenex, an oral compound intended to treat hyperphosphatemia (elevated phosphate levels) in patients with end-stage renal disease.
Results from that product's Phase III trial are also due out next year, adding credence to the theory that the current KERX rebound is for real.
Shares are well off their 52-week highs right now, and any positive developments could spark a recovery in price even quicker than a general market turnaround could on its own. With the trial results expected next year, KERX is a prime candidate for a 'run-into-news' play, although possible approval and commercialization is still a long ways off.
There is wild card to go with an investment in Keryx, as well.
Buyout speculation has already touched the stock, and with many large pharmaceutical companies looking to boost their product pipelines with some big-labeled drugs coming off market over the next few years, that speculation could return to KERX at a moment's notice.
It's more likely, however, that any such move would come on the other side of the trial results when a potential suitor would have a better idea of what they're getting.
In the meantime, KERX may have slipped a bit, but any rebound should be for real.
Disclosure: I am long KERX.