The Energy Information Administration recently released its "International Energy Outlook 2011," the EIA's annual 25-year energy forecast, and it contains important information for investors who are considering an investment in the energy sector.
Not surprisingly, liquid oil's share of world energy consumption is predicted to decrease from 34 percent in 2008 to 29 percent in 2035. The decrease is based on dwindling supplies, which are likely to keep prices high. This will prompt users to switch to alternative fuels whenever possible. As expected, two of the main alternatives expected to flourish in production by 2035 will be petroleum from oil sands and natural gas from shale and other unconventional sources.
Alternative Petroleum Production
According to the EIA, the world's use of petroleum products, including natural gas liquids, will increase from 85.7 Mb/d (million barrels per day) in 2008 to 112.2 Mb/d in 2035. As you can see from the graph below, 82 percent of the growth will be in the transportation sector, while industrial, building use and power generation should remain nearly constant.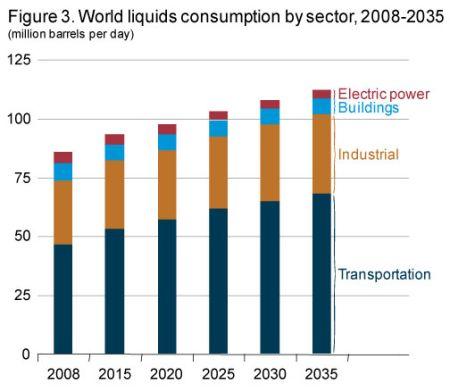 The largest growth in petroleum will be from unconventional sources like oil sands, shale oil, biofuels and other sources.
Continental Resources, Inc. (NYSE:CLR), a big shale oil operator in the Bakken, offers a play on the unconventional liquids space. With regards to the oil sands, Suncor Energy, Inc. (NYSE:SU) is still the biggest player and currently represents a good value. But with ongoing maintenance becoming more and more of an issue, I like the prospects for Flint Energy Services Ltd. (OTC:FESVF). Flint provides construction, pipeline installation, and production services to oil and natural gas producers all over the United States and Canada. It has a big focus on the oil sands region, where it was just awarded another $430 million contract.
There's also Enbridge Energy (NYSE:EEP), which has the large Northern Gateway pipeline planned. Northern Gateway will connect the Alberta oil sands project to the British Columbian coast. From there it will be shipped off to the oil-hungry emerging economies in Asia by Sinopec (NYSE:SHI) and MEG Energy (OTCPK:MEGEF).
The U.S. Natural Gas Boom
At 52 percent, the growth in natural gas use in the next 25 years will be nothing short of spectacular. While the recession of 2009 resulted in a dip of about two trillion cubic feet, the decline in usage is reversed. Levels now exceed those before the downturn. Natural gas continues to gain traction in the electrical generation sector, and its use remains strong in the industrial sector. Its lower carbon footprint makes it especially attractive when compared to coal and oil. Power plants fueled by natural gas are cheaper to build and can come online quicker than coal-fired units. The bulk of the increase in supply in natural gas between now and 2035 will come from unconventional sources, as can be seen from the graph below.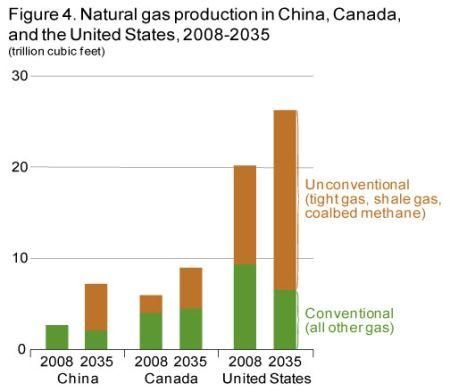 As far as unconventional natural gas plays go, I like the big domestic shale players, such as Chesapeake Energy Corporation (NYSE:CHK), Range Resources Corporation (NYSE:RRC), and Devon Energy Corporation (NYSE:DVN). They all have big positions in natural gas fields, and are experts in drilling and fracking horizontal wells in unconventional plays. They will continue to do well, especially as natural gas gains traction as a transportation fuel here in the United States.
Companies that operate downstream in natural gas for transportation should also benefit from the boom in production. Clean Energy Corp. (CLNE) builds and operates natural gas stations and should benefit from investment in natural gas infrastructure. Westport Innovations (NASDAQ:WPRT) manufactures natural gas engines and already has a deal with General Motors (NYSE:GM) and a co-marketing agreement with Royal Dutch Shell (RDS). Fuel Systems Solutions (NASDAQ:FSYS) is an engine component company that sells assembly line and aftermarket kits to convert engines into natural gas guzzlers. Investors would be smart to keep an eye on both the major Alberta oil sands players and the U.S. natural gas players, as the EIA projections certainly play to their favor.