The market has had a good week as it bounces off the recent sell-off. It will be interesting to see if this rally can hold through the jobs report on Friday. One stock I like regardless of how the job report comes out is Gilead Sciences (NASDAQ:
GILD
).
Gilead Sciences, a biopharmaceutical company, engages in the discovery, development, and commercialization of therapeutics for the treatment of life threatening diseases worldwide. Its products include Atripla, Truvada, Viread, Emtriva for the treatment of human immunodeficiency virus infection in adults; Hepsera, an oral formulation for the treatment of chronic hepatitis B; AmBisome, a amphotericin B liposome injection to treat invasive fungal infections; Letairis, an endothelin receptor antagonist for the treatment of pulmonary arterial hypertension; Ranexa for the treatment of chronic angina; Vistide, an antiviral medication for the treatment of cytomegalovirus retinitis in patients with AIDS; and Cayston, an inhaled antibiotic used as a treatment to enhance respiratory systems".
(
Business Description
from Yahoo Finance)
8 reasons Gilead looks like a good bargain at $39
(Click chart to enlarge)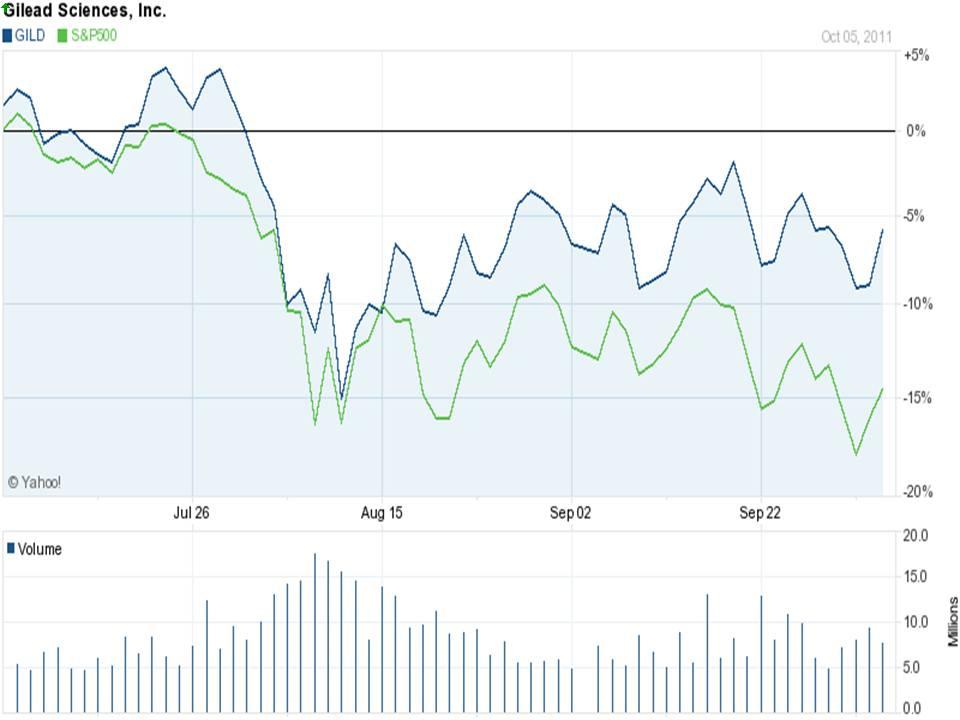 GILD has outperformed the overall market during the last three months of turmoil and is likely to continue to do so based on its low valuation and growing revenue (See Chart)

GILD is selling at 10 times this year's expected earnings despite growing its earnings at over a 25% annual clip over the past five years.

It is selling at the very bottom of its five-year valuation based on P/S, P/E, P/B and P/CF.

GILD has a five-year projected PEG of around .6, which is a 40% discount to its five-year average.

Gilead has an A rated balance sheet, a super low beta (.38) and sells for around 10 times operating cash flow.

GILD has a good pipeline of non-HIV drugs that should start coming on line in 2013, that should significantly drive revenue higher.

Gilead has a forward P/E of less than 9, which a 50% discount to its five-year average

GILD is selling under analysts' price targets. The median analyst target on Gilead is $48 as is Credit Suisse's target. S&P has a price target of $50 on GILD.

Disclosure: I am long GILD.