This piece is part of a new, ongoing series here on the ETFs & Portfolio Strategy page at Seeking Alpha.
The concept is for a money manager or RIA to field a hypothetical portfolio construction question from an SA user about how to best construct a portfolio that will help them meet their financial goals and then proceed to build an effective portfolio that will take their risk/reward profile into account. All participants in this series are real-world professional investors who are available to help individuals, companies, and financial professionals construct intelligent portfolios. To submit a question for a future edition of Build My Portfolio, email Rebecca at rbarnett@seekingalpha.com.
This edition of Build My Portfolio features Andy Rachleff who is the President and CEO of Wealthfront Inc., an SEC registered investment advisor. Wealthfront makes it possible for investors to access outstanding registered money managers who might require a minimum investment of $1,000,000 or more outside of the Wealthfront structure. Prior to joining Wealthfront, Mr. Rachleff co-founded and was a general partner at Benchmark Capital from its inception in 1995 until 2004, at which time he joined the faculty of the Stanford Graduate School of Business to teach a variety of courses on entrepreneurship. Mr. Rachleff received his MBA from the Stanford Graduate School of Business and his BS from the University of Pennsylvania.
Andy,

I am a 34-year-old manager at a tech company who makes roughly $120k a year after taxes. After rent, funding my 401 (k) and other expenses (which I split with my boyfriend who I have lived with for the last 6 years), I have roughly $25k left over. Until recently I was using this disposable income (which was less - I recently got a major promotion and raise) to pay off my college loans, which were significant as I went to private 4-year college. My loans have now been fully paid off and I have roughly $35k already sitting in my bank account accumulating very little interest.

In terms of where I am in my life situation, my relationship with my boyfriend is fairly serious and we have recently discussed the possibility of having kids. I imagine if we did that, we'd also want to buy a home. While none of this is guaranteed, I'd like to start earning some real returns on the money that is building up in my bank account so that I can successfully meet the financial requirements of these possible changes in my life situation. As I'm not sure exactly when I'll need this money or how much I'll need exactly, I am willing to take some reasonable chances with my investments. I am not a risk-averse person in general and don't imagine I'd lose sleep if my investments went down. Due to my age, current level of job stability and life situation, I am willing to invest the bulk of my money in stocks knowing fully well that this will provide better returns in the long-term.

Please help me build my portfolio.

Michelle
Cupertino, California
Dear Michelle,
I'm going to respond to your request a little differently than you may have expected.
Before I get to the plan for your portfolio, I'm going to talk to you about the existing online solutions to your problem, and tell you about why I'm working on a better way of building portfolios with the help of the Web and new software.
Until now, only the very wealthy could afford the high fees and high minimum investments of top-tier investment advisors. Everyone else seeking help with their portfolios has been stuck with the free tools offered by big brokerage firms. Most every one of these types of familiar companies, like Schwab, Scottrade and Fidelity, offer online tools that try to address your questions about investing. The problem, as I see it, is these tools prioritize simplicity and advisor profits over what serves you best.
Take a look at Fidelity, for example. Based on the limited information you gave me about your risk tolerance, Fidelity might put you into what it calls its growth portfolio, which includes the following mix of asset classes:
5% Cash
49% Domestic Stock
21% Foreign Stock
25% Bonds
Using the online tools of other brokerages will turn up a similarly limited list of asset classes – generally U.S. Stocks, International Stocks, Bonds and Cash.
In many of the portfolios produced by the online tools, the allocations among asset classes are rounded to the nearest 10%. That's a sign the allocations were done, not to maximize returns, but to help investors quickly grasp the allocations and move on to buying – a sort of "don't worry your pretty little head about this" approach.
Many brokerages then populate your portfolio with mutual funds. In Fidelity's case, you may end up with some of its own in-house funds. (The high fees and lack of transparency associated with mutual funds, especially those produced and sold by a single company, has been well documented.)
In my 25 years as a venture capitalist (I was a founding partner of Benchmark Capital), I have seen just about every business revolutionized by the Internet. My friend Marc Andreessen recently wrote a fascinating op-ed on this topic in The Wall Street Journal, Why Software Is Eating the World. I believe it's time to use the power of software to bring you the same level of optimal portfolio recommendations previously only available to the very wealthy.
Finding An Ideal Set Of Investments
Almost every academic agrees investors are likely to achieve much better risk-adjusted returns if they mix uncorrelated asset classes rather than choose individual securities. Having asset classes that don't rise and fall in unison as markets move lowers the overall volatility (risk) of your portfolio. If you run a sophisticated simulation to determine the asset classes needed to maximize risk-adjusted returns you arrive at six asset classes:
U.S. Stocks: An ownership share in U.S.-based corporations.
Foreign Stocks: An ownership share in foreign companies in developed economies like Europe, Australia and Japan.
Emerging Markets Stocks: An ownership share in foreign companies in newly developing economies like Brazil, Russia, India and China.
Real Estate: An investment in commercial properties, apartment complexes and retail space.
Natural Resources: Investments that reflect the prices of energy (e.g., heating oil, natural gas, gasoline) and commodities (e.g., metals like gold and agricultural products like soybeans).
Bonds: A portion of the debt of the U.S. government, state governments and U.S. corporations.
To fill each asset class, I recommend using index-based ETFs rather than mutual funds. The most cited research paper on this topic was authored by Robert Arnott, Andrew Berkin and Jia Ye in the Journal of Portfolio Management, Summer 2000. It found, on average, equity indexes outperform comparable mutual funds by 2.1% per year, primarily because of the mutual funds' high fees.
I recommend choosing ETFs that minimize cost and tracking error and maximize liquidity. Unfortunately, most investors only focus on cost, thereby running the risk their ETFs won't do a good job of tracking the index needed for each asset class (see Tracking Error May Cost More Than You Know). Also, an ETF without liquidity can create real problems should you need to sell it to buy that apartment you mentioned.
Next, we need to calculate the risk and return associated with every possible combination of the aforementioned six asset classes. A sophisticated mean variance optimization tool can perform the 1018 calculations necessary to evaluate every possible mix of the six asset classes based on varying each asset class allocation by 0.1%.

Wealthfront has developed a model that uses an advanced algorithm to examine your level of risk tolerance and find you an ideal set of investments – by rigorously evaluating every possible combination of asset classes based on their historical correlations, returns and volatility. According to our calculations, optimizing the mix of asset classes vs. rounding allocations is likely to add approximately 0.5% to your annual return for any given risk level. While no returns are ever guaranteed, the graph below defines the best possible returns for every level of risk based on return data for our chosen six asset classes over the past 25 years.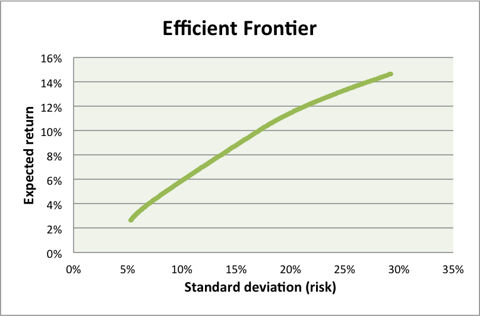 A unique mix of the six asset classes is associated with every point along the line above – a line commonly known as the Efficient Frontier. The academic theory (known as Modern Portfolio Theory) behind this line, or frontier, is that it represents your "ideal" set of investments. The asset allocations offered by most online brokers typically fall well below the Efficient Frontier due to the limited number of asset classes employed, the use of more expensive mutual funds and a suboptimal mix of the asset classes.
Determining Your Risk
To figure out where you fit on the Efficient Frontier, I technically need to know what standard deviation of risk you are willing to tolerate. Investors don't think in terms of standard deviations, so I would normally need to ask you about 10 questions to accurately map your risk level to the appropriate standard deviation. Ideally, I would want to evaluate both your objective ability to take risk and your subjective willingness to take risk.
Lacking the details, I'll try to derive an approximation based on your letter. I'm assuming your job is stable, and you have a cash cushion equal to at least 3-6 months worth of your living expenses. I'm also assuming you own stock options that have some value and that you haven't made any angel investments to date. Given your age, desire to buy an apartment within a few years, and self-professed willingness to take risk, my new service would assign you a risk tolerance of 5.7 on a scale of 1 to 10, with 10 being very aggressive and 1 very conservative. That translates to a portfolio that consists of a large percentage of U.S. equities, somewhat smaller percentages of the equities in foreign and emerging markets and bonds, and less than 10% each in real estate and natural resources.
Building Your Portfolio

You can see the investments we've chosen to populate each asset class above, including the specific allocation.
Here's a quick summary of the process we went through to pick each one. Vanguard ETFs are almost always the lowest-fee funds, and those that we've picked guarantee that they return to the ETFs the revenues they earned from share lending, or don't use this practice, which is under increasing regulatory scrutiny.
Vanguard Total Stock Market ETF (NYSEARCA:VTI) [US Stocks]
VTI, which invests in 3,000 stocks representative of the whole U.S. stock market, has a lower fee, 0.07%, and covers a broader index, than other leading ETFs in this category. One of its competitors, SCHB (Schwab U.S. Broad Market ETF), has a slightly lower expense ratio, 0.06%, but VTI has a longer track record – 10 years.
Vanguard MSCI EAFE ETF (NYSEARCA:VEA) [Foreign Stocks]
VEA invests in the developed markets of the 16 European and 5 Pacific Rim countries included in the MSCI EAFE Index. VEA's expense ratio of 0.12% is lower than other leading ETFs in this category, and it has a longer track record and higher liquidity than other ETFs.
Vanguard MSCI Emerging Markets ETF

(NYSEARCA:VWO) [Emerging Markets Stocks]
VWO, with an expense ratio of 0.22%, invests in stocks of companies in emerging markets, such as Brazil, Russia, China, Korea and Taiwan. Its goal is to closely track the return of the MSCI Emerging Markets Index. Other ETFs in this area have much higher expense ratios, lower liquidity and shorter track records.
Vanguard REIT Index ETF (NYSEARCA:VNQ) [Real Estate]
VNQ invests in stocks issued by real estate investment trusts (REITs), which are companies that purchase office buildings, hotels and other real property. The VNQ has a lower expense ratio, 0.12%, than competing funds, such as the IYR (iShares Dow Jones U.S. Real Estate ETF), which has an expense ratio of 0.48%. VNQ also covers a broader index and has higher liquidity than competitors.
iPath Dow Jones-UBS Commodity Index Total Return ETN (NYSEARCA:DJP) [Natural Resources]
DJP tracks the Dow Jones-UBS Commodity Index, reflecting returns available through investments in futures contracts on physical commodities, including crude oil, gold and natural gas. There are other leading ETFs in this category, but several of them issue K1s, painful tax forms you would have to file. DJP has an expense ratio of 0.75%.
Vanguard Total Bond Market ETF (NYSEARCA:BND) [Bonds]
BND invests in more than 3,000 bonds representative of the broad, U.S. investment-grade market. It has a low expense ratio of 0.11%.
Rebalancing
You will need to rebalance your asset classes periodically back to your original allocation to maintain a portfolio that conforms to your specific level of risk. Before choosing when to rebalance, factor in the commissions to make your rebalancing trades, the taxes incurred given the timing of the trades and the benefits of enforced contrarianism that come with rebalancing. (see Rebalancing: Lessons From The Yale Model for more details). Your allocations also will need to change as your goals change over time. It probably makes sense to revisit your plan every 5 years.
I hope you found my recommendations useful. Readers with questions about the theory or an interest in being part of the early access program for the new service can e-mail me at andyr@wealthfront.com.
Disclosure: None