A few years ago, I discovered the list of S&P 500 Dividend Aristocrats and became immediately intrigued by the idea of an investment with perpetually increasing coupon payments. I like many other investors became attracted to the strong companies in this exclusive club that have a proven track record of increasing their dividends. These companies achieved success for such a long period of time (over 25 years of continued dividend increases) and have grown to very high capitalizations rewarding their passive investors greatly.
When I began investing, I started with this list as an initial screen to know that I was buying a stable company that knows how to navigate macroeconomic events and business cycles and still achieve its objectives and deliver value to its shareholders. With an interest in value investing and knack for statistical analysis, I developed and fitted a model for quantitative asset selection that identified the top 5 most likely to outperform and bottom 5 most likely to underperform stocks within the Dividend Aristocrats group.
Value Portfolio Model
The quantitative model was fitted using only the stocks in the S&P 500 Dividend Aristocrats list. As such, concerns of company size, dividend stability, and earnings consistency were reduced by looking at this small subgroup of companies in the stock universe with similar attributes. Without getting too technical, the model accounted for a few simple fundamental value metrics such as book-to price ratio, trailing 12-month earnings, dividend, and free cash flow yields, sales growth rate, and average consensus analyst ratings for individual companies over various periods of time (5-15 years).
Stocks were analyzed and ranked based total return performance to calibrate the fitted formula. The model was fitted in 2008 and rebalanced quarterly.
The output is a ranking of every company based on the fundamentals. I constructed portfolios that evenly held the top 5 and bottom 5 ranked stocks. The portfolio holding the top 5 picks was named the Value Portfolio, while the portfolio holding the bottom 5 stocks was labeled the Laggard Portfolio. The realized performance was evaluated and rebalancing occurred quarterly for 11 periods starting in 2009. The Value Portfolio and Laggard Portfolio were measured by comparing them to a fixed portfolio that equally weights every stock in the S&P 500 Dividend Aristocrats Index.
For more detail on this, see documentation on my econometric model here.
I have since written an article on Seeking Alpha that reevaluates the Dividend Aristocrats and it has received great feedback. In short, the article recommends Aflac, Inc. (NYSE:AFL) on a strong relative value thesis. See the article, linked here. A commenter recommended I look at a greater sample of stocks that achieved the same 25 year dividend accomplishment as the Aristocrats, but were not in the S&P 500. This list compiled and regularly maintained by David Fish, is pretty well known in the Seeking Alpha community and is called the Dividend Champions. David Fish has done a good job of tracking the historic records of dividend payers and their payout growth statistics.
I thought about updating my previous research with the larger data set applying my quantitative fundamental ranking model to choose the top stocks in the Dividend Champions list. The stock list has 105 companies from micro-cap under $100M all the way up to the large cap. For the full update, see Mr. Fish's March Dividend Champions update.
Model Parameters
Below are the model parameters used for estimating the next period's total return. The stocks are then ranked by largest total return estimates. Looking at the coefficient, essentially an increase in any of the factor values has a positive impact on expected total return.
| | |
| --- | --- |
| Factors | Coefficient |
| Constant | (11.14) |
| Earnings Yield | 0.55 |
| Book-to-Price | 14.87 |
| Dividend Yield | 1.65 |
| FCF Yield | 0.25 |
| Consensus Recommendation | 0.39 |
| Revenue Growth Rate | 0.02 |
Source: Own from econometric ranking model
Total Return Ranking Results
The results tables are provided below for reference. The input data are calculated from data provided by FinViz.com. Note that 5 stocks are omitted from the study with missing consensus analyst ratings data so we are left with 100 remaining stocks. While the calculated product in the far right column is a total return forecast, I put little weight into the actual prediction and am only concerned with the relative rankings of the specific companies.
I decided to consider the top and bottom 10 percentile rankings which would equate to 20 total stocks. The top ten rated Value Portfolio stocks in order are Old Republic International (NYSE:ORI), Telephone & Data Systems (NYSE:TDS), Universal Corp. (NYSE:UVV), Chevron Corp. (NYSE:CVX), Helmerich & Payne Inc. (NYSE:HP), Community Trust Bank (NASDAQ:CTBI), First Financial Corp. (NASDAQ:THFF), 1st. Source Corp. (NASDAQ:SRCE), Archer Daniels Midland (NYSE:ADM), and Mercury General Corp. (NYSE:MCY) and are highlighted in green. Note that ADM and CVX are the only two companies in the top 10 that are in the current S&P 500 Dividend Aristocrats List. When looking at the data, it is easy to notice that this model heavily weighs a conservative book value relative to price and decent earnings yields. Every company ranked in the top ten has a book to price ratio of at least 60%. With the exception of TDS, every company has an earnings yield stronger than the average of 5%. TDS is rated so highly due to it having a book-to-price ratio equal to 150%. Dividend yields are strong for these stocks at 3.5% which compares very favorably to the average at 2.6%.
A concerning aspect is 6 of the 10 top stocks have shown revenue declines over the previous 5 years, a likely reason why they are relatively cheap stocks. The second concern for me is that only 3 of these stocks offer positive free cash flow yields. In order to consider any for serious investment, I will take a closer look revenue recovery prospects and into the cash flow metrics as I tend to prefer companies with high and stable FCF yields.
Mentioned earlier in a previous article as a top value stock pick, AFL sits just outside the top in the 14th ranking.
The bottom ten rated Laggard Portfolio stocks are Federal Realty Inv. Trust (NYSE:FRT), Lowe's Companies, Inc. (NYSE:LOW), Valspar Corp.(VAL), Clorox Company (NYSE:CLX), PPG Industries Inc. (NYSE:PPG), Sigma-Aldrich Corp. (NASDAQ:SIAL), Colgate-Palmolive Co. (NYSE:CL), C.R. Bard Inc.(NYSE:BCR), Sherwin-Williams Co. (NYSE:SHW), and McGraw Hill Financial Inc. (MHFI). These stocks are marked in red in the second table. While I do not recommend shorting any of these stocks outright, I recommend selling any long positions in any of these stocks.
These stocks show prices unsubstantiated by any book value whether tangible or intangible. The highest book-to-price coverage for this group is only 20%. In addition, the average earnings yield for this group is 3.1% with VAL offering the strongest at 5.3%. The revenue growth history for the bottom ten stocks is strong which may suggest why the earnings and book yields have traded so low. In fact, only MHFI had negative sales growth of the ten companies.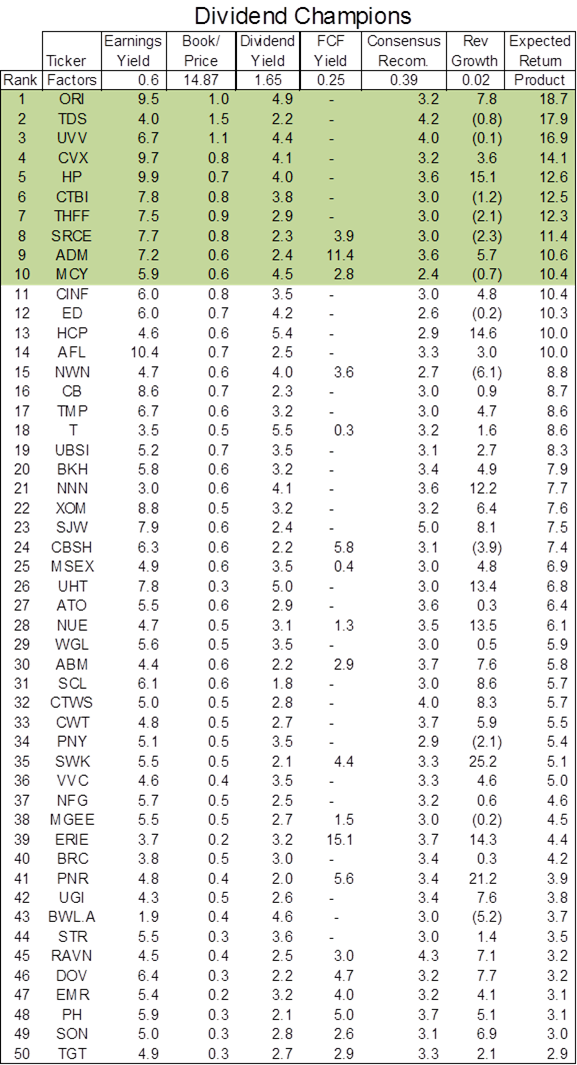 Source: own computed using data from Finviz.com 3/5/15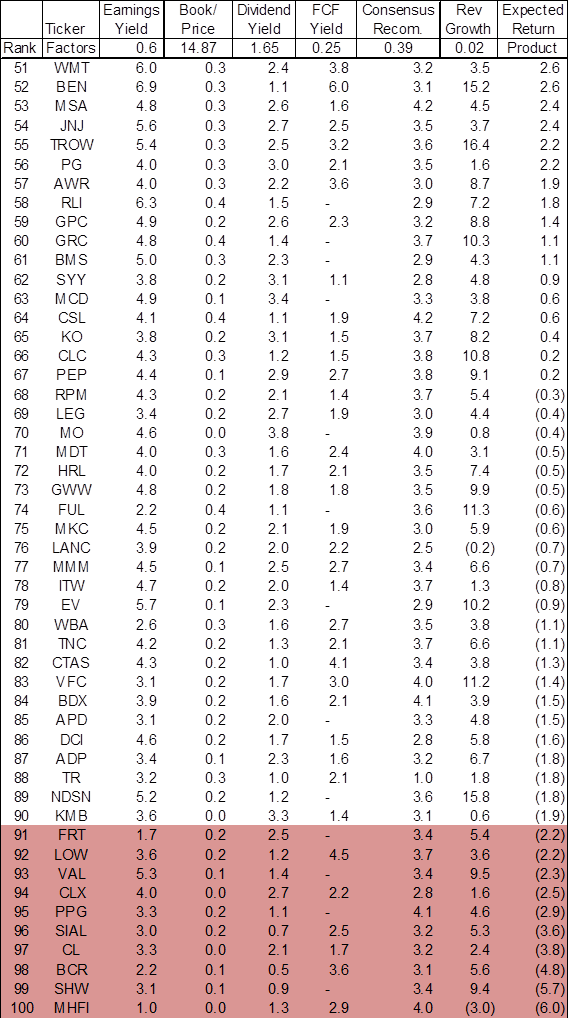 Source: own computed using data from Finviz.com 3/5/15
Concluding Remarks
While I will certainly not advocate strictly using simple fundamental quantitative measures for investment decisions, using these objective criteria for sorting and taking a closer look at the Value Portfolio stock picks has merit in its own right and I have found it an effective approach in my personal investing. In fact, I can say that I have used this incredibly simple model to make some of my best outperforming investments from 2009 to 2011, a difficult period to do so as the overall market increased significantly on its own right.
Finally, and most importantly I do not recommend using this tool as a means to substantiate unnecessary turnover and trading. While I did originally allow for quarterly rebalancing in my original backtesting research, often the rankings did not change significantly for extended periods and fewer than quarterly rebalancing trades were required.
Disclosure: The author is long AFL. The author wrote this article themselves, and it expresses their own opinions. The author is not receiving compensation for it (other than from Seeking Alpha). The author has no business relationship with any company whose stock is mentioned in this article.