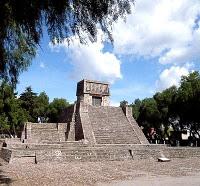 It is interesting to note that Mexico has a higher credit rating than the US from Weiss Ratings, according to a report released a few months ago. In addition, the Bank of Mexico, the country's central bank, purchased 100 tons of gold earlier this year.
Mexico stocks pay dividends, and most of those trade on the New York Stock Exchange, according to WallStreetNewsNetwork.com.
One high yield Mexican stock is Grupo Aeroportuario Centro Norte (NASDAQ:OMAB), which participates in the growth of the travel industry by operating airports in the central and northern regions of Mexico. The stock, which trades on NASDAQ, has a 4.3% yield, and a forward price to earnings ratio of 14.
Telefonos de Mexico (NYSE:TMX), also known as Telmex, pays a high dividend of 2.6%. The company, which owns 90 percent of the telephone lines in Mexico city, trades at 13 times forward earnings.
Fomento Economico Mexicano (NYSE:FMX) is a beverage distributor of Coca Cola brands in Mexico along with several other Latin American countries including Guatemala, Nicaragua, Costa Rica, Panama, Colombia, Venezuela, Brazil, and Argentina. The stock sports a yield of 1.8% and sells for 16 times forward earnings.
If you want to see a free list of all the major Mexico stocks that trade in the United States, several of which have yields greater than 3%, go to WallStreetNewsNetwork.com. The list can be downloaded, sorted, and updated.
Disclosure: Author did not own any of the above at the time the article was written.