ETF Spotlight on CurrencyShares British Pound Sterling Trust (NYSEARCA:FXB), part of an ongoing series. The Bank of England on Thursday said it would inject an additional 75 billion pounds into the slowing economy through bond buying, or quantitative easing.
Assets: $107.2 million.
Objective: The CurrencyShares British Pound Sterling Trust tries to reflect the price movements of the British pound against the U.S. dollar.
Holdings: The trust holds a deposit account denominated in British pound sterling.
What You Should Know:
FXB has an expense ratio of 0.40%.
The fund is down 4.69% over the past month, down 3.77% over the last three months and down 1.46% year-to-date.
Interest earned by the trust will be used to pay expenses, and any left over will be distributed to share holders on a monthly basis.
The Latest News:
The British pound sterling dropped to a 15-month low of $1.5272 after the Bank of England unexpectedly added another $116 billion to its buying program, reports Alexandra Fletcher for Dow Jones Newswires.
"Near zero GDP and money supply growth made a compelling case, and the Bank of England was right to launch QE2," Graeme Leach, chief economist, institute of directors, commented, according to Reuters.
CurrencyShares British Pound Sterling Trust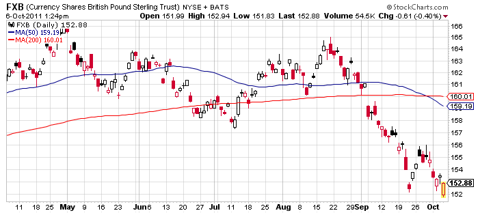 Max Chen contributed to this article.
Read the disclaimer: Tom Lydon is a board member of Rydex|SGI.
Disclosure: None