There is a growing economy in China, and as business travel and the middle/upper class begin to vacation, Ctrip.com International (NASDAQ:CTRP) may be the beneficiary of new found Chinese discretionary income. The company books hotel and airline reservations not only within China; it also is expanding into select international markets. The last five years has been kind to investors in this stock as this Barchart provided graph of the last five years shows. Investors that bought in at the low in November of 2008 saw their investment return 208% by November of 2010.
Click to enlarge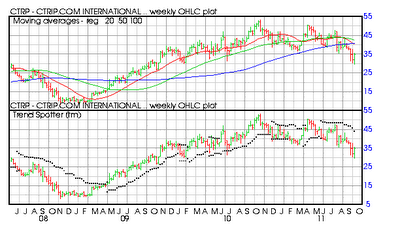 Ctrip.com International, together with its subsidiaries, provides travel services for hotel accommodations, airline tickets and packaged tours in the People's Republic of China. It also sells independent leisure travelers bundled package-tour products, which include transportation and accommodation, as well as guided tours covering various domestic and international destinations. In addition, the company offers Internet-related advertising, aviation casualty insurance, and air-ticket delivery services.
Further, it sells Property Management System, a hotel information software; travel guidebooks, which provide information for independent travelers; and VIP membership cards that allow cardholders to receive discounts from various restaurants, clubs, and bars. The company was founded in 1999 and is headquartered in Shanghai, China. (Yahoo Finance profile)
Factors To Consider
Barchart technical indicators:
Barchart indicators are based on technical analysis of price momentum between seven days and six months. Short term weakness in fundamentally strong companies can signal buying opportunities
72% Barchart overall technical sell signal that is weakening its sell indicators
Trend Spotter sell signal which is trending toward a hold soon
Below its 20, 50 and 100 day moving averages
Although the stock is 34.67% off its one-year high it has gained 8.02% in the last five trading sessions
Relative Strength Index is 46.15% and rising
Barchart computes a technical support level at 32.61
Recently traded at 33.90 with a 50 day moving average of 38.03
Fundamental factors:
Wall Street brokerage analysts have been watching this stock for quite some time
Analysts project sales will increase by 26.40% this year and another 26.50% next year
Earnings consensuses are for an increase of 6.60% this year, 27.40% next year and expected to continue by an annual increase of 23.58% over the next five years
Please note that at today's price its P/E ratio of 29.85 is about 2 1/4 times the market's average P/E ratio
These numbers have resulted in brokerage analysts giving five strong buy, six buy, six hold and two under perform recommendation on this issue. The under performs are due to the high P/E ratio
General investor interest:
A surprisingly high number of Motley Fool readers are following this stock
The 4,319 readers voting an opinion vote 96% that the stock will continue to beat the market
The more savvy and experienced All Stars vote 97% for the same result
It is interesting to note that the Fool readers who have made the best return on this stock were all long-term investors
Competitors and sector leaders:
Ctrip.com has returned about 38% over the last 2 1/2 years but its competitors have done better with eLong (NASDAQ:
LONG
) returning 140% and Expedia (NASDAQ:
EXPE
) returning 47%:
Click to enlarge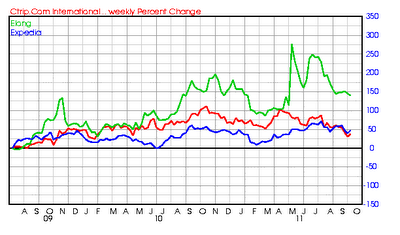 Because they also sell hotel reservation systems and software they are in the SCI 7389 Services-Business Services, NEC sector in which some members have done pretty well this past year: Food Technology (NASDAQ:VIFL) 74%, Keynote Systems (NASDAQ:KEYN) 133%, Liquidity Services (NASDAQ:LQDT) 104% and AthenaHealth (NASDAQ:ATHN) 101%
Summary: Ctrip.com International at the present time has a P/E ration more than 2 1/4 times the P/E of the overall market. If you already own this stock or choose to enter into a new position at this price please continue to hold with the appropriate moving stop losses to protect those profits you've already seen.
Disclosure: I have no positions in any stocks mentioned, and no plans to initiate any positions within the next 72 hours.