When we see a company that has a great deal of growth ahead posting great numbers in the midst of the market's hysteria over European debt issues, we like to highlight it, to show that there are still companies thriving and succeeding in this environment. And when such great results are unnoticed by the markets, this presents an even more compelling opportunity. We would like to highlight a company that is growing rapidly, benefiting both customers and shareholders.
Red Hat (NYSE:RHT) is a leading provider of open-source and cloud solutions to enterprises around the world, including Europe. It is true that some companies will be less profitable because of Europe. Not Red Hat. On its conference call, CFO Charlie Peters stated that "Europe for us was also strong. And as I said, all geographies were 25-plus percent growth. I would say we had company-specific growth in Europe, which maybe is different than what others are experiencing, but not only the growth, but really the pipeline looks good." Red Hat's subscription-based model provides the company with a stable, dependable revenue stream.
Red Hat's earnings grew by 67% year-over year, to 20 cents per share; deferred revenue, an important sales gauge, grew by 25% year-over year, to $813.1 million.
Red Hat, despite its open-source nature, has a tight grip on its customers, due to the ease of use and flexibility of its open-source products. CEO James Whitehurst states that "I am also pleased to report that all of our top 25 deals that were up for renewal in the second quarter not only renewed, but they did so at a total value of over 150% of the original value. This was our strongest upsell percentage since we started tracking this metric." When a company is able to renew every single contract at an average of 150% the original cost, that is a sign of a succesfull company and sales team.
Red Hat continues to invest in R&D, further driving innovation. But Red Hat is also unafraid to acquire companies when necessary, and recently it has done just that, acquiring Gluster for $136 million in cash. Gluster will help Red Hat offer cloud storage solutions to its enterprise customers and help them manage the explosion of Big Data. Revenues will begin to be recognized from the Gluster deal next fiscal year, on a subscription basis.
Red Had has over $1.3 billion in cash and cash-equivalents on its balance sheet, and no debt. All of Red Hat's R&D is financed through its cash flow, which we think is an enormous sign of strength.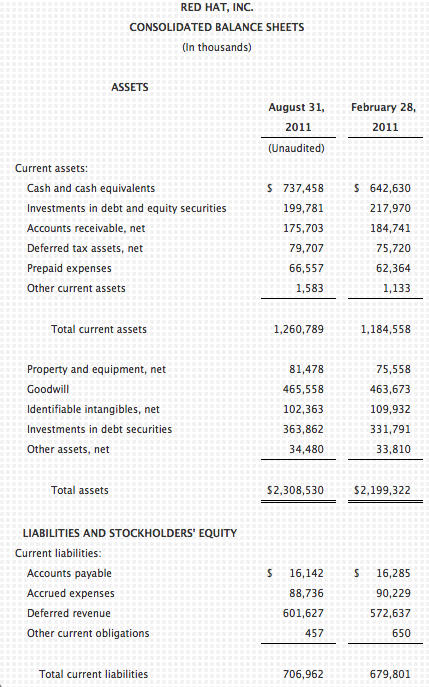 Everyone is terrified that Europe will decimate corporate sales and profits. Not Red Hat. CFO Charlie Peters stated that, although Red Hat is mindful of global economic turmoil, it is "significantly raising our full-year guidance based on our strong first-half results, combined with the ongoing momentum of our global sales pipeline." Red Hat now expects non-GAAP EPS between $1.03 and $1.05 per share, and revenue projections have been raised by $45 million to $1.12-$1.13 billion. Red Hat also re-affirmed its guidance just 3 days ago, when it announced the Gluster acquisition, giving us confidence that these results will be met.
In conclusion, Red Hat is a company defying market expectations, and it is succeeding all around the world, even in Europe. Red Hat is investing in innovation, all while buying back stock and strengthening the balance sheet via record cash flows. We think now is a great time to take advantage of market turmoil and add to or initiate a position in a company that will succeed regardless of macroeconomic conditions.
Analysts agree with us. Lazard Capital Markets sees the stock at $53, Evercore and Raymond James see it at $52, and Oppenheimer and RBC see it at $50. The Reueters average price target is $48.21. While there has been takeover chatter surrounding Red Hat, we think Red Hat and its stock will do just fine as a stand-alone company. Red Hat has proven that it can be an open source company that can open up its customers' checkbooks time and time again. And we feel that prudent investors should open up their portfolios to Red Hat.
Disclosure: I have no positions in any stocks mentioned, but may initiate a long position in RHT over the next 72 hours.