Chicago Bridge and Iron [(NYSE:
CBI
)- $29] was founded in 1898 and in its 113th year CBI does not build bridges nor is it a fixture in Chicago. CBI is an energy infrastructure engineering and construction (E&C) firm with headquarters in the Netherlands and the majority of its business in places other than North America. In 2010, 75% of new business awards were outside the USA.
Large-cap integrated oil companies have been taking it on the chin lately with a combination of declining reserve growth and sloppy commodity pricing. Their answer has been to grow reserves not through organic expansion but by acquiring other firms and their reserves. While the energy E&C stocks have recently been taken out to the woodshed for a good whipping, by comparison their future looks very attractive.
As with most E&C stocks, Mr. Market has not treated CBI nicely during the current "Downdraft of 2011." Share prices have fallen from the low-$40 to just under $30. However, business remains strong and the marketplace served continues to grow. This is creating value for investors looking out 24 months.
CBI serves several important energy infrastructure markets: natural gas processing, LNG export/import, petrochemicals, and refining.
Natural Gas Processing
: CBI offers several construction services to this field. Its focus is on treating "raw" gas right off the wellhead to get it ready for transportation through the pipeline network. With new, virgin fields coming on stream, such as those in the Dakotas, the Utica, and Marcellus plays, not only are pipelines needed for transport, but also initial processing and cryogenic facilities need to be built. For example, CBI is building a processing facility for Dominion Resources (NYSE:
D
) natural gas expansion in West Virginia.
LNG Terminals
: As a major player in the international LNG terminal construction market, CBI has been awarded multiple contracts to help construct the huge LNG export terminals in Australia. As these export terminals are getting larger and more complex, the contracts are multi-billion in values and stretch out over several years.
Petrochemicals
: CBI is a leader in the niche of ethylene steam cracking and catalyst market. As the US has become a larger player in the exporting of petrochemicals due to a cheap supply of ethane, the need for additional processing capacity is increasing. Current weak gasoline refining utilizations are reducing supply of refining byproducts propylene and butadiene, two important feedstocks. CBI offers the technology of providing these feedstocks through non-refining processes.
Refining
: CBI offers complete refinery construction services. The global trend has been moving away from smaller, local refiners to substantially larger facilities. The US experienced this trend in the 1980s and 1990s, and a similar consolidation will take hold in developing countries as well, driven by stricter regulations and economies of scale. In 1980, the US operated 250 refineries with an average production of 62 kb/d each. This year, there are 65 refineries in the US with an average capacity of 122 kb/d. Russia and Asia have yet to begin their consolidation phase. When this structural change takes hold globally, refinery projects should once again be an earnings driver for CBI. While a major opportunity for CBI, continued weakness in refinery construction should be expected over the next few years.
CBI earnings estimates have been creeping up. CBI earned $2.02 a share in 2010 and is expected to earn $2.46 this year and $3.05 in 2012. Early 2013 estimates are for continued growth to the $3.40 to $3.50 range. Investors are looking for record bookings in the 3rd quarter earnings announcements that will continue to drive future profit growth. CBI has been a steady performer, only missing one earnings estimate over the past 12 quarters.
CBI carries very little debt at $81 million and has net debt of -$295 million, reflecting its large cash position of $375 million. There are 98 million shares outstanding and CBI has a market capitalization of almost $3 billion. The company has been buying back shares.
An important matrix for E&C companies is New Awards and Order Backlog, or the amount of new business booked and the amount of future work not yet completed. As contracts are usually multi-year in duration, these figures allow investors to peer into CBI's future, and it looks quite bright. CBI has been chugging along in these categories. Third quarter new awards should be $3.6 billion, compared with $1.2 bil in the second quarter, and total year awards should be more than $7.0 bil. This would equate to a book-to-bill ratio of 1.5 for the year. The majority of new awards are from ramp-up of LNG export facilities in Australia. The average quarterly new awards for the past 8 quarters are $1.2 bil. At the end of the third quarter, order backlog is expected to be announced as a record $9.7 bil with the year-end total expected to be $9.4 billion. The previous record backlog was in 2007 and 2009 at about $7 billion.
5-year chart CBI - (click charts to enlarge):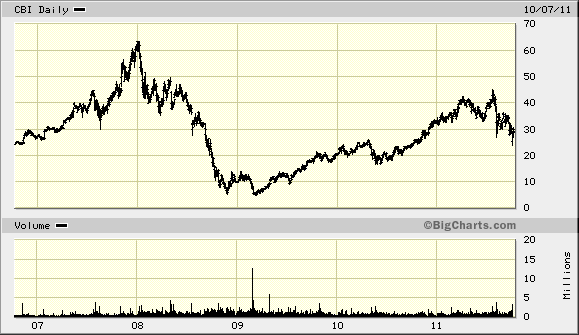 3-yearr chart CBI compared with competitors Fluor (NYSE:
FLR
), McDermott (NYSE:
MDR
), KBR (NYSE:
KBR
), Shaw Group (NYSE:
SHAW
), and the S&P Global Infrastructure ETF (NYSEARCA:
IGF
):
As a cyclical company, CBI's PE ratios vary based on where in the cycle we are. During mid-cycle valuations, the PE usually will range from 16 PE to 19 PE. During late-cycle valuations, PE ratios usually expand to the 18 to 22 range. CBI's 2011 PE is currently at 12. At mid-cycle valuations and $3.00 earnings for 2012, share prices could be in the $52 range and at late-cycle valuations, share prices could reach the mid-$60s.
Investors looking for higher exposure to the energy sector should review CBI as a counter-weight to energy E&P positions. While not directly affected by the commodity price of oil and natural gas, exposure is to the capital expenditures of large publicly traded private and sovereign oil companies. As global demand for energy increases, the infrastructure must follow suit to generate additional supply, creating a climate for sustainable expansion for CBI.
Disclosure:Author has been a CBI shareholder since 1997
Disclaimer: As always, investors should conduct their own due diligence, should develop their own understanding of these potential opportunities, and should determine how it may fit their current financial situation.