Gold had a nice run in the beginning of 2015. The active month futures price closed at $1184.10 at the end of December 2014. Gold began the New Year with a bang; it traded up to $1308.80 by January 22, 2015 -- an increase of over 10.5% in just three weeks. Since then the price of the yellow metal has moved steadily lower.
On Friday, March 6, gold traded below last year's closing price for the first time in 2015 closing at $1168.20 per ounce, which is 1.3% lower on the year. I do not like the recent action in gold -- it has failed to rally or hold price and there are five reasons why I think that the precious metal is heading lower from here.
The stronger dollar
2015 started with gold rallying in the face of a stronger U.S. dollar.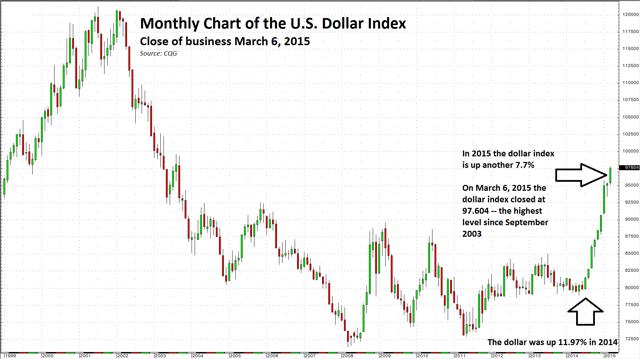 The U.S. dollar index was up 11.97% in 2014 and started 2015 at 90.647. It closed Friday, March 6 at 97.604 -- the highest level since September 2003. In September 2003, the price of gold was under $400 per ounce. The dollar index is up 7.7% in 2015. The accelerated pace of the dollar's ascent is even more astonishing when one considers it traded at 78.93 in May 2014 -- as of March 6, 2015 the greenback is up 23.66% since then.
Commodity prices are denominated and trade in dollars. Generally, a stronger dollar translates into lower commodity prices. When the dollar rallies, the price of commodities in other currencies move higher, therefore demand is affected. That is why a strong dollar is a commodity bulls' worst enemy. We have seen bear markets in many commodity prices including iron ore, crude oil, copper and other base metals, to name a few. Even other precious metal prices have suffered under the weight of a strong dollar.
Relative weakness in platinum and silver
Silver and platinum are industrial precious metals. The price direction of both depends on two important factors -- industrial demand, which is a function of global economic growth, and investment demand. The prices of both metals have been weak and on a relative basis, both have underperformed gold.
Platinum closed on March 6 at $1160.30 per ounce. The price is down $48.60 or just over 4% in 2015. Platinum is much rarer than gold, it has a higher production cost and it is required for the production of automobile catalytic converters. Due to its rare nature, platinum has historically fetched a premium to gold. Platinum traded at a premium of over $1200 to gold in 2008 and as low as a $200 discount to gold in 2011-2012. The normal level for the platinum-gold price differential is around a $200 premium for platinum. Therefore, at an $8 discount to gold, platinum is either too cheap or gold is too expensive at current levels.
The long-term historical norm (over the past 40 years) for the silver-gold ratio is 55:1 or 55 ounces of silver value in each ounce of gold value. Active month silver futures closed on March 6, 2015 at $15.925 per ounce. This represents a silver gold ratio of 73.36:1. Over that period, the ratio traded as low as 15.5:1 in 1979 and as high as 99:1 in 1991. Based on the current level of this relationship, either silver is too cheap or gold is too expensive on a historical basis.
Weakness in silver and platinum does not bode well for the price of gold considering action in other commodity prices. Price action in gold last week could be indicating that gold is getting ready to catch up with its precious cousins. Gold remains expensive relative to other precious metal prices.
Interest rates will move higher
Late in 2014, the U.S. Federal Reserve open market committee said that interest rates would move higher in 2015. Strength in the U.S. dollar has caused the Fed to exercise patience in terms of raising rates. However, economic conditions in the U.S. currently support increasing rates. The Fed controls short-term interest rates however long-term rates are a function of market supply and demand factors.
Recently we have seen signs of higher interest rates on the long end of the interest rate curve as bond prices have moved lower. One thing remains sure, in 2015 short-term interest rates in the United States will not move lower -- the downside is almost non-existent while the upside is explosive.
Higher interest rates are negative for the price of gold. It costs more to carry or finance gold and gold, like other assets, must compete with other financial instruments. As gold does not yield interest, higher interest rates make gold less attractive as an investment vehicle in dollars. Therefore, the prospect of rising rates is bearish for the yellow metal.
Lower production cost
Lower commodity prices are bad news for commodity producers, however, there is a silver lining in that cloud for producers. Lower energy prices actually lower the cost of production for many commodities. Oil prices are half of what they were only nine months ago -- therefore, the total cost of producing an ounce of gold has dropped.
During commodity cycles there are bull markets and bear markets. We are currently in a bear market cycle and prices tend to drop to average production cost levels. Lower energy prices have lowered the bar -- it costs less today to produce an ounce of gold than it did less than a year ago. A lower production cost opens up the downside for gold during a bear market period. Lower production costs may help certain producers to survive however; it is bearish for the price of gold.
Technical weakness
The recent failure in gold has set it up for further losses. The weekly chart for active month COMEX gold has some very ominous signs for the price of the yellow metal.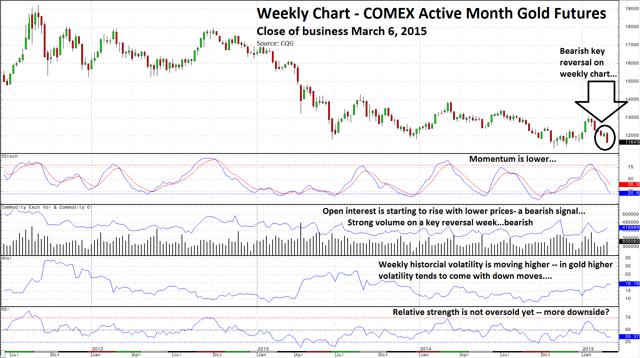 Momentum in gold is clearly lower. Open interest, the number of open long and short positions in COMEX gold futures, has started to rise with falling prices. This is often a bearish signal. Relative strength indicates that at current price levels there is not an oversold condition and that there is likely more downside ahead. Weekly historical volatility has moved up to over 19%, which is high for gold. Volatility tends to rise in gold when prices fall -- this is because gold takes the stairs up and the elevator down.
Finally, and perhaps most importantly, last week gold put in a bearish key reversal on the weekly chart. Gold traded above the previous week's high price and settled below the previous week's low price. Good volume (over 835,000 contracts) accompanied the bearish key reversal pattern in the gold futures market, which provides validation. The technical action in gold is bearish.
The bottom line...
The five factors mentioned above provide clues as to why there could be an ugly move to the downside for the price of gold very soon. Key support now lies at the November 2014 lows of $1130.40 per ounce. If that level is broken, things could get sloppy to the downside until the yellow metal finds its next bottom. Right now gold is on life-support and the price is fading fast.
Disclosure: The author has no positions in any stocks mentioned, and no plans to initiate any positions within the next 72 hours. The author wrote this article themselves, and it expresses their own opinions. The author is not receiving compensation for it (other than from Seeking Alpha). The author has no business relationship with any company whose stock is mentioned in this article.
Additional disclosure: The author always keeps part of his portfolio in precious metals. That percentage varies according to market conditions.