During the recession, Walgreen (WAG) held up relatively well in terms of retaining shareholder value. While it fell 13.5% since the start of 2008, competitor Rite Aid (NYSE:RAD) declined by more than three-quarters and is dying. CVS Caremark Corporation (NYSE:CVS) fell 13.8% in the same time period and the S&P lost more than a fifth of its value.
As a drug retailer, Walgreen provides a safer investment than many other companies do as result of the price inelasticity of its products. Notwithstanding its dispute with Express Scripts (NASDAQ:ESRX), the drugstore chain still produced decent 4Q results.
The CEO had this to say at the meeting:
"In terms of our financial highlights, in addition to record sales and earnings per diluted share, we completed our 3-year Rewiring for Growth cost savings initiatives and exceeded our $1 billion goal. Finally, we announced the largest dividend increase in the history of the company in July and including share repurchases, this year we returned a record $2.4 billion to shareholders.

Looking ahead, let me touch on our status with Express Scripts and the opportunities we see. As you know, our contract renewal negotiations have been unsuccessful, and we're planning not to be part of the Express Scripts network as of the first of the year. At the time we made our announcement on the last earnings call, we emphasized that the terms Express Scripts offered us, including rates that were below the industry average cost to provide a prescription, were not in the best interests of our company, our customers, our employees, or our shareholders and we still firmly believe that. We also said we intend to work closely with our partners who are focused on lowering overall healthcare costs and recognize the critical value that community pharmacy can provide"
Although pharmacy same store sales will likely be flat from 2012-2014 and analysts are cutting expectations, front end SSS show a promise of increasing by an average of 3.7% annually during the same time period. I further anticipate gross margins being improved by 190 basis points to 30.3% by 2014. With management estimating only a $0.21 EPS impact in FY12 from the Express fiasco, expenses will need to be cut drastically and I find this far too generous of a possibility given market limitations.
It is promising, however, that management is committed to returning cash flow to shareholders and they beat expectations by repurchasing an impressive $635M worth of shares reported in the 4Q results. The company also provides a high dividend compared to peers and will likely increase it in the years ahead, reducing any risk inherent in the stock even more.
Overall, I find myself attracted to the strong brand and believe it will prevail driven by both retail and internet sales. Furthermore, the company has not even started international expansion, which I see as a long-term value driver in the future.
And the operational side, Walgreen has a solid portfolio of merchandise, selling everything from health products to beauty products to consumer goods. It is reorganizing merchandise layout, which evidences a focus on the retail segment. My hope is that the company can determine how to fully maximize productivity and then put that to use in an international expansion into high margin locations. Without any expansion, management is, nevertheless, still on a trajectory towards generating steady and sustainable ROIC improvements.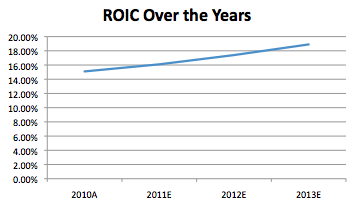 Consensus estimates for EPS are that it will increase by 9.8% to $2.90 in 2012, and then by 11.4% and 11.1% in the following two years. I expect revenue to grow by 8.6% and 7.2% in 2012 and 2013, respectively, driven mainly through margin expansion, productivity gains, and front end SSS improvement.
Disclosure: I have no positions in any stocks mentioned, and no plans to initiate any positions within the next 72 hours.