The Main Street Fairness Act and its Possible Impact on Top500 and Second 500 Internet Retailers

Click to enlarge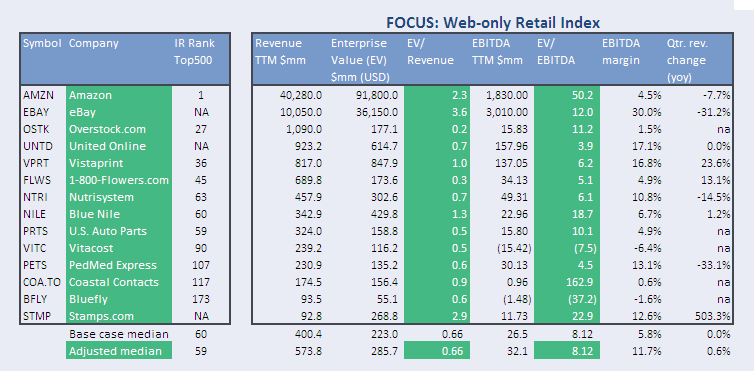 After almost twenty years, a 1992 Supreme Court decision (Quill Corp. v. North Dakota (504 U.S. 298)) that clarified that states cannot force catalog companies and Internet retailers to collect sales tax unless they have an in-state physical presence may be changed if Congress passes a proposed bill called the Main Street Fairness Act (MSFA)).
NYC based BrickHouseSecurity.com Founder Todd Morris states, "This proposal targets "Main Street" small businesses that cannot afford to comply with the overly complex sales tax laws that change from town to town and month to month. It was drafted by the largest international corporations that use legal loopholes to pay much lower corporate taxes than real "Main Street" small businesses. A true main street fairness plan must create a simple flat sales tax that does not require an army of expensive CPAs to comply with."
O.co (also known as Overstock.com (NASDAQ:OSTK)) President Jonathan Johnson says the name of the bill is ironic because it is the handiwork of big-box retailers working to eliminate a growing group of Main Street businesses vital to the economy: small online retailers.
BabyAge.com CEO Jack Kiefer says, "I have little patience for new methods of governmental exploitation. This country has been founded on certain principles, one of which was "No Taxation without Representation". If my business is required to now pay taxes in all 50 states, would I then have the opportunity to vote in all states?"
Touchboards.com President Richard Wagner says, "This act should be called the States Need More Money ACT. If at the federal level any new tax collected or deduction repealed is called a tax increase, then this is certainly the biggest tax increase on the middle class in over two decades. On a positive side this should create jobs. If this passes the states will hire thousands of auditors to call on and investigate small Internet vendors across the country."
Greenwood Indiana based NTSupply.com CEO Todd Anthony says, "Many of the successful Internet businesses such as NTsupply.com that are creating jobs today started as a 1 or 2 person operation. The idea that a small company will have to understand and comply with dozens of state agencies will stop many entrepreneurs even before they get started. Simply put, fewer startups mean fewer jobs. I don't see how limiting job growth in today's economy can benefit anyone.
El Segundo California based pcRUSH.com Founder and COO Frank Khalili says, "By the very nature of the model, Internet Retailers support an enormity of jobs and tax revenue. For example, when factoring the cost of shipping (which in itself goes a long way in leveling the playing field), there is an entire machine that creates jobs, pays fuel taxes, state and local taxes, payroll taxes, and in general contributes mightily to the coffers of all communities involved in the transaction."
Bolingbrook, Illinois-based Power Equipment Direct Founder and CEO Jon Hoch argues, "The Main Street Fairness Act has little to do with Main Street or fairness. Small retailers have every right to build e-commerce sites and start competing today. It's actually about Big Boxes lobbying politicians, complaining that they aren't big enough already."
eBay.com's (NASDAQ:EBAY) Senior Director of Federal Government Relations and Global Public Policy Brian Bieron states, "Better policy is reflected by H.Res. 95 from Congressman Dan Lungren (R-CA) and Congresswoman Zoe Lofgren (D-CA) with 27 bipartisan co-sponsors, which says that Congress won't give states 'the authority to impose unfair tax collecting requirements on small online businesses.'"
"Somehow nobody thinks of the consumer" comments Mark Levitin, the CEO of OpticsPlanet, Inc. the leading internet retailer in outdoor, sporting goods and eyewear categories. "Importantly, it is against the best interest of consumers, already hurting from the economic downturn. People shop at Internet retailers like OpticsPlanet.com and our sister stores such as EyewearPlanet.com because of a wealth of product information, selection and competitive pricing. The Act will undoubtedly limit consumers' choice, especially in the rural areas where their choices are already scarce."
Karmaloop.com CEO Greg Selkoe states, "In terms of fairness I agree that it isn't a level playing field, that the internet stores do have an advantage currently, but what I'm concerned about is that it's not fair to then make the internet sites have a disadvantage." Mr. Selkoe explains, "What I mean by that is that if this goes through and we have to pay sales tax in every state, which I'm more than happy to do, there's a lot of cumbersome work, it's very complicated, it's very difficult, to stay on top of it, we might have to hire a person or an agency, and in fact already have hired someone, at least at the beginning to get prepared and to stay on top of it. What I think would be a fair compromise would be not for us not to have to pay the sales tax, but for the states to get together and come up with one flat tax in terms of price so it's one size fits all so that we don't have to spend the extra time, money, and effort to have to police and make it very simple to facilitate it."
NetChoice.org Executive Director Steve DelBianco says, "The Streamlined Sales Tax Cost of Collection study (pdf) found that a small business (under $1M) spends 17 cents for every tax dollar it collects for states. And even if SST software works as promised, that only helps with 2 cents of the 17 cents in costs per dollar collected. That leaves small businesses with a 15% cost burden on every dollar they collect."
Gaining Some Momentum – Or Not?
In September of 2011, California state legislators approved legislation (AB 155) that exempts online retailers from sales tax collection for another year or more. However, Gov. Brown has not yet indicated whether he will sign or veto this legislation. As part of the tax deal, however, Amazon (NASDAQ:AMZN) will work to win support throughout the U.S. for federal legislation that would authorize states to mandate sales tax collection if they have simplified their tax collection policies as part of the Streamlined Sales Tax Project. About two dozen states participate in the SST. In effect, the proposed new federal law would override existing federal law that says states can't mandate sales tax collection by retailers unless the retailers have an in-state physical presence, such as stores or distribution centers. However, not a single GOP member of Congress is co-sponsoring the current version of the MSFA. If some sort of federal law is not enacted by July 31, 2012, the provisions of AB 155 would require sales tax collection in California by internet retailers with physical nexus in California by September 15, 2012.
From a financial perspective how would MSFA impact the Top 500 and Second 500 Internet Retailers?
Near Term Revenue Dip - Revenue in the sector is expected to fall between 10.0% and 13.0% in the short run based on detailed data from one retailer and three earlier studies.
High Ticket Items Hit Hardest - Revenue may decline more than 13% for Internet Retailers with high average ticket orders where the online tax savings have been substantial, and more than offset by freight costs and delivery time (e.g. top-tier consumer electronics and jewelry).
Collection Cost is Real - The cost of collecting tax (as a % of collected tax) will range between 13.5% for small retailers to 1.5% for large retailers.
Consolidation of Healthy Channel Players - Large strategics will likely accelerate their acquisition of smaller retailers whose margins are impacted the most by the cost of collecting state and local tax.
Thin and Getting Thinner - Many smaller internet retailers will find it almost impossible to compete if the new rules take place due to the already thin operating margins becoming almost non-existent.
Valuations Falling - Depending on a host of factors (e.g. magnitude of revenue declines and increased collection costs), we expect valuations of Internet retailers to fall by as much as 25%.
No Dance Partners – Even those that can marginally compete are likely to find that large e-tailers no longer find them as attractive due to the new competitive burden placed upon them. Those smaller e-tailers that were at one time hoping to exit at a premium may be disappointed in their ability to even find buyers for the business.
The FOCUS Web-only Retail Index consists of 14 publicly traded pure play e-tailers that represent a diverse range of revenue sizes, categories and products. Index companies include: Amazon, eBay, O.com also known as Overstock, United Online (NASDAQ:UNTD), Vistaprint (VPRT), 1-800-Flowers.com (NASDAQ:FLWS), Nutrisystem (NASDAQ:NTRI), Blue Nile (NASDAQ:NILE), U.S. Auto Parts (NASDAQ:PRTS), Vitacost (NASDAQ:VITC), PetMed Express (NASDAQ:PETS), Coastal Contacts (COA.TO), Bluefly (NASDAQ:BFLY) and Stamps.com (NASDAQ:STMP).
Disclosure: I have no positions in any stocks mentioned, and no plans to initiate any positions within the next 72 hours.