Since 9/29 Netflix (NASDAQ:NFLX) has outperformed the market by about 3%. NFLX's refusal to follow the market stride for stride over the past week suggests to me that a bottom is forming. Of course NFLX still has room to fall, but with a P/E of about 30 the stock is at a respectable price for the risk. We already know Q3 will be lackluster due to the projected net loss in customers, but what about when we look past that?
Content:
NFLX's chief content officer said "50% and sometimes 60% of viewing is TV episodes now," according to the Guardian. If that's true, the value of having movie content goes down a bit. Imagine if NFLX picked up a few exclusive series of the same caliber as what Showtime, HBO, or Starz puts out. NFLX has the cash to pay for something like that, so why not? They've started by picking up original content such as the drama House of Cards or the dramedy Lilyhammer. If either show turns out to be a hit, talk around the workplace would spread word about NFLX, possibly bringing in new customers who have yet to try the service. I believe it will take only one great show to make the current share price seem like a bargain 5 years from now.
In the meantime, NFLX is signing deals left and right for other quality content, most recently AMC's The Walking Dead. NFLX is already streaming Mad Men, and Breaking Bad, two other quality shows. And then there is the agreement with NBC Universal (NYSE:GE) which has 30 Rock and The Office as well as Universal Pictures movies. And how about a recent deal with Dreamworks Animation (NASDAQ:DWA) resulting in access to their library? I could go on and on about the quality of their library available for under $10 a month, not to mention whatever else will be signed over the upcoming months, but I think you get the picture.
Subscribers: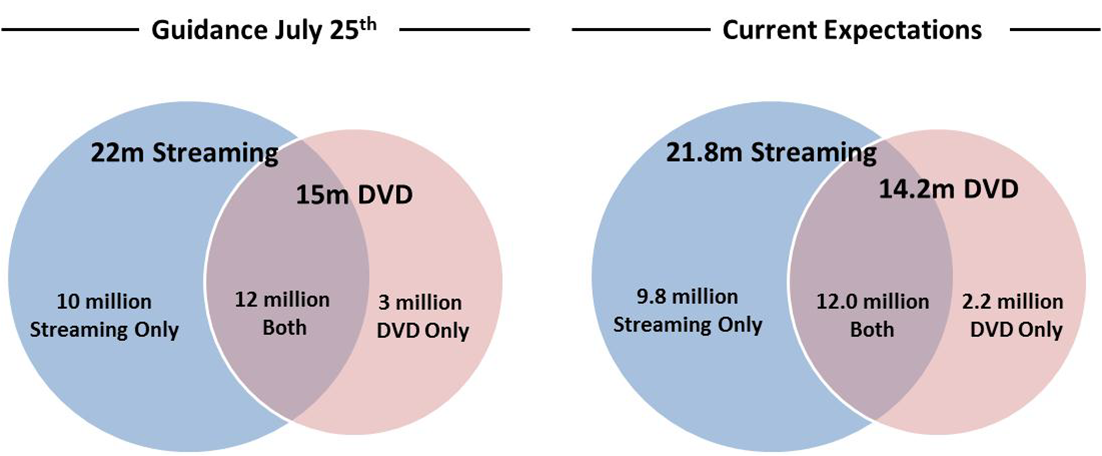 I know, I just said they have a projected net loss. Investors are pricing in the likelihood that NFLX will lose 500k net subscribers or more. This is about a 2.4% projected loss, which would be the worst quarter ever for subscriber change, beating out the Q2 2007 loss of about .08% subscribers. If accurate, this could signal the end of the exponential growth in subscriber base. Interestingly, prior to the reduced projections, NFLX was projecting 25 million customers which is a net gain of 1.65%. The last, and only instance, I could find where NFLX had a net gain of less than 2% was back in the aforementioned Q2 2007. Looking at the past 4 quarters, NFLX has been averaging about a 13% gain. Therefore, I think there is a high chance NFLX is lowballing their estimated total customers in order to achieve a surprise when their Q3 numbers are released.
International subscribers will also be in the spotlight in this quarterly report as well. NFLX should break 1 million this quarter, with anything over 1.1 million being particularly strong. A strong showing in the 1.1 – 1.2 million range would signify that international growth has only just begun, and would make the domestic loss ultimately inconsequential.
Churn:
As a subcategory of subscribers, churn is often very misunderstood. On the surface it's an easy metric – churn represents the amount of customers replaced in a month. What that means under the surface is a completely different matter. When a company like NFLX is growing, typically you want a low churn number. A number for them of 1-4% combined with customer growth means customers like NFLX, and aren't really leaving the company. I can rarely get through an article or comments about NFLX without someone grossly misinterpreting churn. I explored churn briefly a few weeks ago, but I think I need to tackle it a little more in depth.
Let's hypothetically say NFLX posts a churn rate of 13% for the last quarter. Investors will freak out and people will say this is horrible, and that NFLX can't hold customers. In reality, that is anything but the case. A 13% churn would mean NFLX lost about 9.5 million subscribers over the last quarter. If NFLX then ends up with 24 million total customers, a net loss of 500k, then that also means NFLX gained 9 million subscribers over the same time period. As investors, should we assume these 9 million folks are brand new investors that decided to start subscribing after a price hike? Or should we assume that the 9 million are returning NFLX customers that realized the service is still a bargain even at the higher prices. It's important to remember that the price hike went into effect immediately for new customers.
Now let's say NFLX posts a churn of 1% for this quarter, and posts 24 million total subscribers. Investors rejoice because 1% churn proves NFLX customers are staying with the company despite the higher prices. In reality, a 1% churn should scare investors when looking at a net loss in customers. This would mean that NFLX lost 750k customers and picked up only 250k. A total acquisition of 250k customers would signify that NFLX's high growth has come to an abrupt end with the price hike. NFLX's growth story would be over, and it's P/E should be cut in half or even a third.
Those two examples are if NFLX end up with a net loss. If NFLX ends up with a net gain of 500k or more then churn doesn't really matter whether it is 1% or 20%. It simply means people don't think the price hike was a big deal at all.
It's no wonder NFLX doesn't want to report churn, it's very easy to misunderstand the metric.
Conclusion:
As strong as I think NFLX is right now, I do believe there is considerable short term downside risk. A weak subscriber total of 23-24 million with a high churn will result in further price depression for at a minimum of another quarter. On the other hand a positive surprise in subscribers, revenue, or margin expansion could result in an immediate price bump of 10% or more, followed by the price going over $200 per share. I also remain concerned about the possibility of another recession, but I believe the rock bottom price for NFLX services could help the company to remain strong. So while I strongly recommend NFLX, the considerable downside expected in the upcoming report suggests that everyone should hedge accordingly, and be prepared to hold for two or more years.
Disclosure: I have no positions in any stocks mentioned, and no plans to initiate any positions within the next 72 hours.