When I first began to invest in International country ETFs 3 or 4 years ago, I made plenty of mistakes, because I was focused on the wrong factors.
As I will lay out in this essay through case studies, I will show the Political Dynamic is not one factor, it is THE key factor for international country and sector allocations -- and recognizing positive political developments can unlock secular investment opportunities.
I encourage the reader to use this article not as a complete answer, but to consider what is happening in different countries and sectors around the world, and consider the impact of the current political leadership, and potential for change in the future.
Case Study : Brazil (NYSEARCA:EWZ)
I have attempted to 'buy the dip" in Brazil several times over the years. On the face of it Brazil seems a huge opportunity -- even considering the fact they are a "commodity" country, during a commodity bear market -- the pessimism on Brazil seemed far overdone. After all I live in a country that is dependent on commodities for a large portion of its economy (Canada), and is arguably far less diversified and slower growth than Brazil.
(Brazil Economic Profile, Metrics on ETF EWZ)
But when we look at the relative 5 year stock market performance, (US dollars) the difference is obvious -- and comes down to the governance. Canada's hung in there. Brazil has collapsed.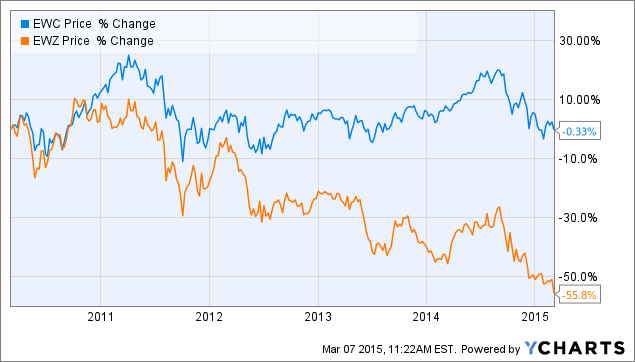 Lets look briefly at the positives for Brazil:
* Fast organic growth potential
*Young, Dynamic Population, with a growing middle class,
*Diversified economy, rich in natural resources, strong in tourism, manufacturing, with a land base the size of the lower 48 states,
* Deeply "out of favor" -- with cheap stock valuations -- in a country once proclaimed as a "new powerhouse".
However -- the single overriding factor behind the Brazil stock market's accelerating collapse, is the re-election of the government of Dilma Vana Rousseff. Without a detailed examination of each government's policies, which is beyond the scope of this article, suffice to say the international investment community does not have confidence in her government. This is the key factor.
Case Study: Turkey (NYSEARCA:TUR)
I had opportunity to visit Turkey 2 years ago, and was impressed with what I saw were powerful strategic advantages: Sitting at the crossroads of Europe and Asia, across an ancient trade route -- Turkey, which is building the largest airport in the world, seemed a compelling, cheap investment.
(Turkey Economic Profile (note the fast growth rates), Metrics on ETF TUR)
The positives:
*Fast Growing, diversified economy,
*Strategic location,with many resources
*Young, hard working population,
*Application to join the Eurozone trade Bloc,
* Very Cheap valuations.
No less an authority than Blackrock has been a big bull on Turkey. yet their market has struggled, -- Even with other "Euro area" markets soaring -- and one big reason -- apart from the geopolitical uncertainty in the region -- is the hard line government.
5 Year USD Chart: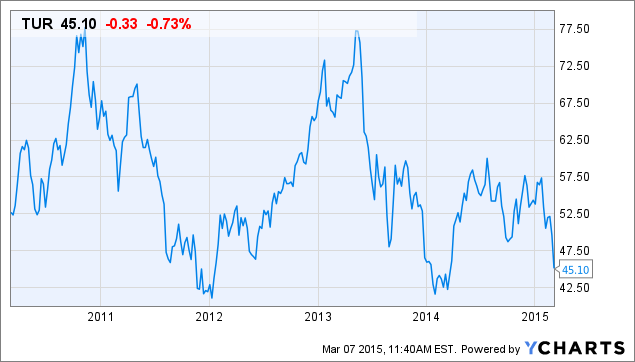 Now in the fullness of time -- I expect Blackrock to be right. There are too many organic positives to ignore. But for the small investor allocating limited resources -- with the present government in place -- Turkey may remain "dead money" for an extended period of time.
Case Study: India (NYSEARCA:EPI)
India has had the same potential positives, (along with many well- known problems) and nevertheless has been a frustrating place to invest for many years, due to the fractured government.
(India Economic Profile, Metrics on ETF EPI)
The positives:
* A generational level of pent - up demand: India -- has the need for countless numbers of highways, rail lines, internet infrastructure, high - tech corridors, health care...the list is endless.
* One of the youngest populations in the world.
* Modest levels of debt to GDP (Unlike many other countries)
* No deflation problem: India has just started what is likely a series of rate cuts, from the 8% level. A long way to "zero".
* Oil prices provide a massive tax and inflation cut. No one benefits more than India, as they are a massive importer.
What has been the missing ingredient -- a pro growth government with enough political power to bring about secular change, after a generation of stagnation.
Last year, with the election of Prime Minister Narendra Modi, I believe this changed. In the aftermath of a government change that has done nothing but inspire confidence -- President Obama has visited India now twice. This is THE key factor only a strong government can inspire -- Confidence.
Trade deals are being signed. Private equity investment is flooding into India. Canada's "Warren Buffett" -- Prem Watsa -- considered one of the savviest investors on the planet -- has launched a fund dedicated to Indian investments. Disclosure -- I am long this fund, along with EPI, a large cap Indian ETF, and other Indian stocks.(FairFax India Fund Launch)
Note the below fund is priced in US dollars, 1 year Vs. EEM emerging market ETF, during a period where the US Dollar is melting higher. When Emerging markets eventually come back into favor and their currencies appreciate, I expect the below ETF to accelerate as currency gains add to the underlying instrument appreciation.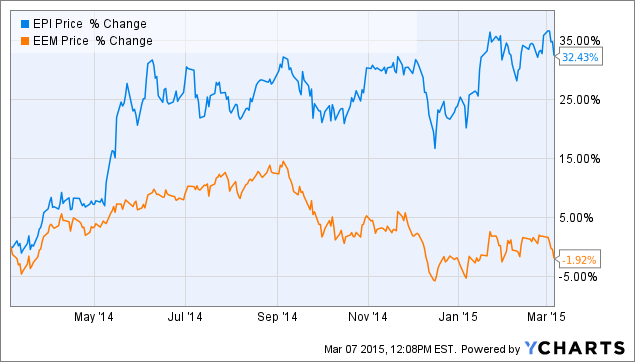 Case Study: Las Vegas Sands (NYSE:LVS)
LVS Metrics:
One year chart: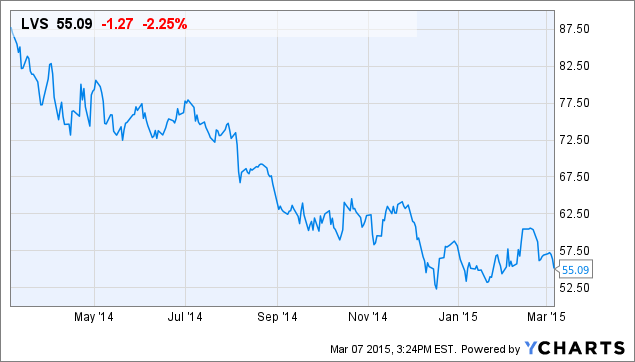 Las Vegas Sands is a well run, financially sound Casino operator. However those looking solely at the financial metrics and not at the big picture have experienced a substantial loss in their investment from the stock's 52 week high, due to an overriding political decision, China's continuing crackdown on corruption in Macau.
I do not know the future for this climate affecting LVS or other Chinese investments affected by current government policy. The point is investing against government policies is a formidable headwind to overcome.
Case Study: US Housing Play Fannie Mae (OTCQB:FNMA)
I conclude with a case study on a special situation.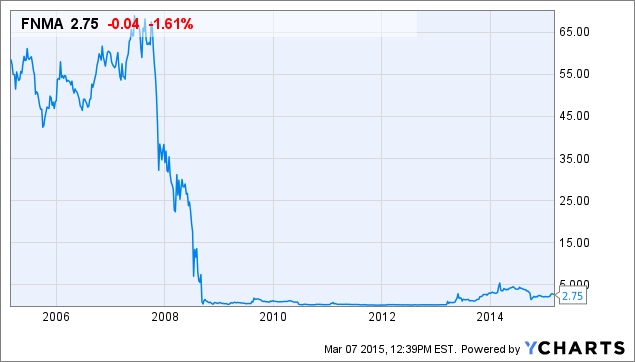 Fannie Mae is a GSE Mortgage Insurer that was "bailed out" by Treasury in 2008, with a "perpetual" loan, and placed into conservatorship. Details and background are in the links and widely accessible on SA, the summary is Treasury has enacted provisions that publicly traded FNMA direct all profits back to Treasury, in perpetuity, while leaving the original "loan" liability intact, in spite of Fannie Mae already returning dividends to Treasury well exceeding the total loan received in 2008.
We (Long holders in this stock) believe this is both an unfair and unsustainable state of affairs for a shareholder - owned Mortgage company in a recovering housing market, that the equity is mispriced, and that a combination of court action or political change / pressure will change the current status in the course of time. Disclosure -- Long Fannie Mae Preferred shares.
It is obvious, that if FNMA were returned to the shareholders as a publicly traded company free of conservatorship, it would be worth multiples of its current value.
There are many SA articles on Fannie Mae, please see this excellent one.

I encourage those interested to read Bill Ackman's 110 presentation, accessed here.
I cover more on the US housing market here.
This is small sample. There are many other stories worth investigating both on the Bullish and Bearish side with important political considerations not discussed here, including China, US Infrastructure, and Electric car subsidies in the US.
To Summarize, Investors can improve their returns by paying close attention to the political climate in both the sectors and international countries they are examining.
Best Wishes to all Investors.
Disclosure: The author is long EPI, FNMA.
The author wrote this article themselves, and it expresses their own opinions. The author is not receiving compensation for it (other than from Seeking Alpha). The author has no business relationship with any company whose stock is mentioned in this article.
Additional disclosure: Consult your advisor.
Editor's Note: This article discusses one or more securities that do not trade on a major U.S. exchange. Please be aware of the risks associated with these stocks.