The luxury designer Coach (COH) is impressing investors with its strong international performance and it is just getting started. With development in China going faster than expected and solid domestic growth, the company merits a higher multiple than competitors. The stock currently is undervalued on a multiples basis, trading at 19.3x and 14.4x past and forward earnings, respectively. As a comparison, competitors Tiffany & Co. (NYSE:TIF) and Ralph Lauren (NYSE:RL) currently trade at respective multiples of 15.7x and 18.1x forward earnings while having less international promise going forward.
In an earlier article, I wrote that Ralph Lauren's global expansion will be compromised by its All-American brand appeal. I believe that Tiffany & Co. faces a similar dilemma and is also struggling with an identity crisis as to whether it should target a less affluent market. Coach, on the other hand, is just getting started in its international expansion and has already experienced a few key signs that it will have the same sort of appeal that it has domestically. The company also had success in lowering prices during the recession without losing sales in its more affluent market.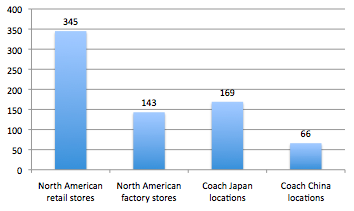 North American retail comps were solid in 2011, growing by 11% and making up 65% of total sales. At the same time, Asia is proving itself as a loyal market with 90% of Asian Coach consumers purchasing more than one product. The company set up 25 stores in China in 2011 and now manages 66 stores total in the region. Over the next five years or so, that number is likely to turn into hundreds and produce over $1B in sales, a trend that has not been fully factored into the price. Coach handbags, sunwear, watches, footwear, leather products, and jewelry are becoming increasingly popular abroad among women in a way that the market has yet to appreciate.
Currently, Tiffany is the leading luxury peer in Asia. With its sales normalizing in the region, Coach has a major opportunity to penetrate the market and gain share. At the same time, increasing productivity in Asian stores will improve operating margins to upwards of 37% by 2013. I forecast the rate of annual growth for COGS declining over the years from 16.5% currently to 11.9% and 9.4% in the following years. Another benefit from growth in Asia is that the company will have new test markets for its evolving men's product line, which is badly in need of improvement. While belts and accessories have shown signs of success in the men's luxury market, a larger portfolio of products here is necessary in order to retain sales.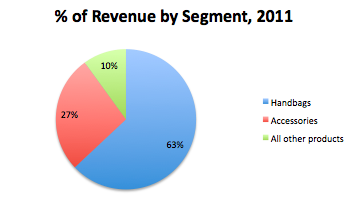 A third, more obvious, benefit from international expansion is that it hedges against domestic risk. This is not to say, however, that the company faces much domestic risk. In my view, Coach is less vulnerable to decreases in aggregate consumer expenditures since it targets a more wealthy market with consistent demand. Accordingly, investors have not given enough attention to solid domestic fundamentals. Keep in mind that poor inventory management during the recession was offset by lowering prices and in the process shareholder value increased by more than 85% since the start of 2008. Coach thus offers favorable risk/reward in the extent that it is relatively safe from a double dip. Domestic momentum is taking hold faster than analyst expectations with high volume and productivity gains, as measured by sales per square foot.
In conclusion, I find myself in agreement with the consensus rating of a "buy" to a "strong buy". Analysts currently anticipate that EPS will grow by 15.7% in 2012 to $3.39 in 2012 and then by 15.6% and 19.4% in the following two years. I anticipate revenue growing by 15.4% to $4.8B in 2012 and then by 10.9% and 9.5% in the following two years.
Disclosure: I have no positions in any stocks mentioned, and no plans to initiate any positions within the next 72 hours.