Illumina Inc. (NASDAQ:ILMN) shares got crushed on Friday, down 31.9% after the company guided down revenue for the just-completed September quarter ($235 million versus analyst estimate of $277 million), and suspended forward guidance for FY 2011.
Until recently, (as in July of this year) Illumina's stock was a darling of momentum investors, trading then at an over-the-top stratospheric forward P/E of 54 at over twice the projected earnings growth of 24.5% from 2011 to 2012. Subsequently, a lot of the air has been let out and the stock has fallen 65% from its $79.40 high from just under three months ago. This is a classic story of momentum investors exiting a once heralded stock as growth tempers down or the company misses' exuberant analyst estimates.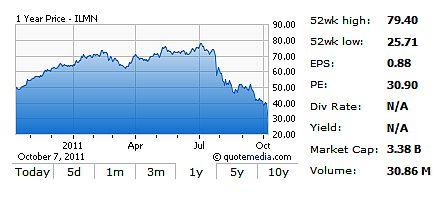 So the question we need to ask is whether the big drop on Friday now offers an attractive entry point for the growth-conscious value investor. And also, whether the drop in Illumina portends big risks for the entire genetics and genomics group going forward, including other medical equipment and research services companies, or that it is more isolated to Illumina, and in that situation perhaps offers an attractive opportunity to buy into its peers.
Illumina cited a grab-bag of reasons for guiding revenue lower and suspending guidance, including an uncertainty in government spending on academic research, the slowing economy, slower upgrades, excess sequencing capacity in the market, and simply a big drop in the demand for its products. Specifically, the uncertainty in government spending on academic research is affecting its markets in both the U.S. and Europe. Realization is setting in that governments on both sides of the Atlantic can no longer push the debt can down the road and that they may have to actually cut spending, including possibly in the critical areas of medical research.
Clearly, there is evidence that some of this may already be happening, as in the news last week that the Genome Institute of Washington University, a major Illumina customer, laid off 54 staffers due to a spending cut by the National Human Genome Research Institute (NHGRI). However, it is more troubling that there is some evidence that the NHGRI may be philosophically moving away from funding massive sequencing just for the sake of sequencing. Instead of those kind of fishing studies, they may possibly be moving towards funding smaller-scale, more focused, hypothesis-driven research. If that is true, then it would significantly erode Illumina's market and thereby its revenue and earnings going forward. Approximately three-quarters of its revenue comes from academic and government funding.
Based on the company's revised guidance of $235 million, we calculated that earnings for the September quarter are already estimated to be in the mid-to high-teens (versus analyst estimates of 35c), based on the company's current operating income model. This is a significant shortfall, and since the company has not explicitly announced that, we believe that prices could drop further until and after the company formally announces its September quarter after the market closes on October 25th.
A slew of brokerage firms have already downgraded and lowered their price targets on Illumina. Deutsche Bank and Maxim Group have downgraded ILMN shares from Buy to Hold, with Deutsche lowering its price target to $30 from $52.50. Furthermore, UBS downgraded Illumina from Buy to Neutral, lowering the price target from $80 to $32; RBC cut Illumina's price target from $72 to $29; and Citi downgraded ILMN shares prior to the earnings pre-announcement, earlier on Thursday, lowering its price target from $90 to $44.
We believe that Illumina shares are a risky buy even at Friday's closing price of $27.18. With slowing growth, the shares are already unattractive to momentum and growth players. However, they may also not have fallen enough to be attractive at these levels to the value investor. We believe that forward analyst estimates for 2011 and 2012 will come down in the coming weeks, as analysts bake the downward guidance into their models. And at almost 150 times our calculated earnings for the September quarter, they are simply not in value territory yet, and we would sell it on any rebound into the low- to mid-$30s.
However, if weakness in the sector persists, ILMN's peers may be entering value territory, as the headwinds that Illumina faces are mostly company-specific and the whole group may have been unfairly pulled down. While government spending on both sides of the Atlantic may indeed go down, we are probably talking about low single digit pullbacks. And it is still not clear if that will even proportionately impact medical product companies that operate on the cutting edge of researching and curing diseases that benefit an increasingly aging population. Some of Illumina's genomics and general medical equipment peers that got pulled down in sympathy with the precipitous drop in ILMN shares, and are now trading at compelling valuations, include:
Disclosure: I have no positions in any stocks mentioned, and no plans to initiate any positions within the next 72 hours.