VMWare (VMW) is one of the leading virtualization and cloud infrastructure companies in the world. One reason behind this is EMC Corp. (EMC) bought VMWare in 2004 for $625 million. At the time of the acquisition, EMC was one of the world leaders in information storage and management. Therefore EMC enabled VMWare's business to grow to where it is now. As I will discuss later, EMC has helped VMWare come a long way since the $625 million valuation. Most importantly, VMWare's stock is set to multiply several times over the next 7-10 years as big data and virtualization become a necessity for businesses.

Last week, the equities markets posted a three day rally in the middle of the week. During the rally we saw the three U.S. public equities market indexes make substantial gains. The Dow Jones Industrial Average grew roughly 2.1% last week including a 6.7% increase during the middle of the week. The Nasdaq and S&P 500 grew 3.45% and 2.72% respectively last week as well as 8.9% and 8.1% respectively during the three day rally. Comparatively, VMWare rallied 10.55% during the week and over 14.5% during the three day rally. While it is common for VMWare to outperform the Dow Jones, this rally brings to the table a serious question. Will VMWare continue a strong rally over the next three weeks weeks, or will a bearish pullback bring the stock down to the 80 level?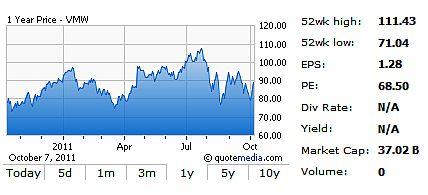 One important note to make at the onset is whether VMWare's stock has the potential for a rally. As we say last week, VMWare's stock has the potential to rally because the stock outperformed the Dow Jones sevenfold during last week's rally. Other events that can cause a particular security to rally are earnings and upgrades. As you may have guessed, VMWare received a coverage initiation from Jefferies at "buy" with a $100 price target and VMWare announced the company will report third quarter earnings on October 17th after the close. On the one hand, the Jefferies initiation is important for the company. However, with the low price target, investors did not change their investment strategy towards VMWare. Also, the anticipated earnings report will cause traders to pick up calls or puts based upon their apprehension of the results.

The earnings report will be important for VMWare's stock. The previous two quarters were strong and a third in a row will bring the stock back to the $100 level. More importantly, investors are looking for strong guidance from VMWare. After the previous two quarters VMWare has forecasted better revenue than analysts expected. Because of this, we saw VMWare's stock climb almost 14% after the companies April 19th earnings and 6.6% during the after hours session after the July 19th earnings were released. The July earnings beat enabled the stock to reach the current 52 week high of $111.43. This brings us back to the question of whether VMWare will have another outstanding quarter and push past the current high, or will investors watch the stock fizzle out.

Before moving on to that, it is important we take a look at what happened during the first two quarters of this year in order to set up the third and fourth quarters. VMWare's first quarter revenue surpassed expectations by about 3.5% while EPS beat the street by over 14%. More importantly, VMWare forecasted second quarter revenue that surpassed expectations as well. At the time, analysts were expecting second quarter revenue to be in the $840 million range, however VMWare guided to $860-$880 million. Analysts later increased their estimates to a mean of $872 million in revenue and 47 cents per share for the second quarter.

Similar to the first quarter, VMWare reported an EPS of 51 cents and revenue at $921 million during the second quarter; which beat estimates by roughly 8.5% and 5.6% respectively. VMWare also forecasted third quarter revenue of $915-$940 million. The current mean estimate is about $929 million and an EPS of $0.50. This leaves VMWare in a good position because the company may in fact report close to $1 billion in revenue based upon the previous two quarters. Also, with the 50 cent per share expectation, VMWare simply needs to report the same as the second quarter and analysts will be satisfied. However, I expect VMWare to report closer to 55-56 cents per share.


| | Revenue | EPS |
| --- | --- | --- |
| Q1 | | |
| VMW Forecast | $800-$820M | N/A |
| Street Estimate | $815M | 0.42 |
| Reported | $844M | 0.48 |
| Q2 | | |
| VMW Forecast | $860-$880M | N/A |
| Street Estimate | $872M | 0.47 |
| Reported | $921M | 0.51 |
| Q3 | | |
| VMW Forecast | $915-$940M | N/A |
| Street Estimate | $929M | 0.50 |

After detailing the past, we can now discuss whether VMWare's stock will continue to rally or become a bust. First, I will discuss some of the bullish signs for VMWare's stock to soar back to the $100 level. Please note this assumes there will not be any outstanding economic events between now and October 17th causing equities to plunge. Nevertheless, two technical indicators that represent the idea that VMWare's stock is ready to move higher are the Bollinger Bands and the RSI. According to the Bollinger Bands, VMWare's share price is 0.35% above the lower limit; which represents a short term oversold phase. Similarly, the RSI is at 40; which makes VMWare's stock a candidate for a near term rally.

On the other hand, VMWare's stock has recently rallied out of the October 3rd hole, therefore we may see a few more percentage point pullback before a rally begins. This may in fact be the best case scenario because it gives traders and investors the opportunity to pick up VMWare at a lower price before the anticipated pre-earnings run. I will discuss why I expect a big run later. One of the strongest bearish arguments comes from VMWare's full year 2010 earnings report; which stated the company does "not anticipate expansion of operating margins in 2011." This is primarily due to an increase in hiring and a plan to attack the international market. While this may be a great sign for the future of VMWare, less long term-sighted investors may not be as happy.

Unfortunately for VMWare shorts, the company is currently ahead of last year's operating margin by roughly 300-500 basis points. Keep in mind that if VMWare begins more international expansion, we may see margins contract during the final quarter of the year. However VMWare's willingness to expand indicates management has long term goals in mind and is not worried about the current situation of the company.

This brings us to my final point. Based upon the most recent earnings reports and the conservative forecasts given by VMWare, I am expecting a solid earnings beat on October 17th. I also expect to see revenue surpass the $1 billion benchmark during the fourth quarter. This would be a monumental step for a company that was once valued at just over $600 million seven years ago. One negative to mention is many bears point to VMWare's high P/E ratio of 69 and argue the stock is overvalued. While this is a high P/E ratio, VMWare deserves higher. The company has set the standards very high and the stock will continue to fly.

While many technology companies are beginning to struggle to beat analysts expectations, VMWare is just beginning and long term investors will be rewarded down the road. In fact VMWare's stock may be undervalued compared to EMC. I say this because EMC is reaching a peak with regards to earnings while VMWare continues to put the pedal to the floor and pump out earnings beats at ease. However, if it weren't for EMC's relationship with other giants such as Intel (INTC) and Oracle (ORCL), VMWare may not have been able to expand as quickly. Only time will tell for VMWare, but for now VMWare's stock will continue to rally through the first three weeks of October.

Disclosure: I have no positions in any stocks mentioned, but may initiate a long position in VMW over the next 72 hours.

Additional disclosure: I am also long EMC.