Viable energy storage has been long sought after in the renewables industry. While renewable technologies, with solar PV in particular, have been advancing at exponential rates, energy storage technology has been progressing at a painfully slow rate. Fortunately for the solar and wind industry, this is about to change with demand for energy storage skyrocketing. As energy storage becomes increasingly vital for the advancements of renewables and electric cars, innovation in the energy storage sector will undoubtedly skyrocket.
SunEdison (SUNE) recently made headlines with its acquisition of Solar Grid Storage LLC, which is "a leader in deploying combined energy storage and solar PV systems," and also entails 100 MWs of project pipelines. SunEdison is the first large U.S. solar manufacturer to make a concerted effort in the energy storage arena. Given SunEdison's initiative on this front, the company should be able to enjoy a first-mover advantage of sorts in the renewable energy storage market. Not only would SunEdison's entrance into the energy storage arena boost the company's immediate prospects, but it will also have many benefits down the line.
Here is a graphic depicting Solar Grid Storage's battery technology in action: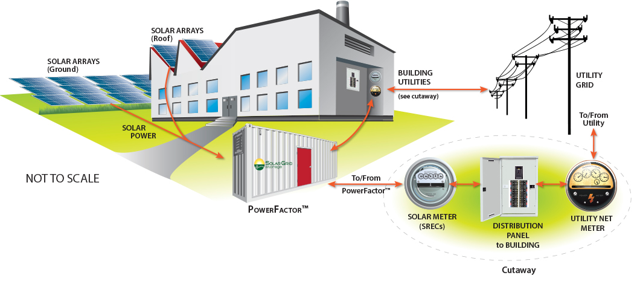 Source: solargridstorage
Immediate Benefits of Viable Energy Storage
Energy storage has a multitude of benefits for the renewable industry, as renewable energy is usually gathered from intermittent energy sources. Solar power, for instance, will only be generated when the sun is out, and wind power will only be generated when it is sufficiently windy. Without a viable storage device, these sources of renewable energy essentially becomes useless in times when the setting/climate is not right. Fortunately, SunEdison's acquisition of Solar Grid Storage will go a long way in addressing these issues. As per SunEdison:
Our strategy is to increase the value of the solar and wind projects that we finance, develop, own, and operate by improving their availability and ability to interact with the grid. With this acquisition we have added the capability to pair energy storage with solar and wind projects, thereby creating more valuable projects and positioning ourselves as a leader in the rapidly growing energy storage market.
SunEdison's ability to provide superior energy storage services for its solar and wind projects will be a huge boon for the company. Such storage devices will have the ability to increase the penetration of renewable projects connected to the grid, as more cost-effective storage devices will allow for higher amounts of grid storage from renewable generation sources. In addition, more viable energy storage will allow for better renewable economics for commercial customers, as more cost-effective battery storage will allow for less reliance upon the grid. These commercial customers will not have to rely as much on net metering programs, which can easily be abused by the utilities. Viable energy storage will certainly give SunEdison an immediate competitive advantage moving forward.
Distributed Markets
While utility-scale and commercial renewable installations will definitely benefit from more cost-effective energy storage, the distributed markets hold the most potential for energy storage. Because truly cost-effective battery storage for the distributed markets are not yet available, distributed solar customers are almost wholly reliant upon the grid. In times when the sun is not shining, rooftop solar customers have to rely on utilities to provide for energy, and in times when their solar panels are generating more electricity than needed, the rooftop customers have to sell their excess energy back into the grid.
While battery storage does not seem to be necessary because of this, the fact that SunEdison is almost wholly reliant upon the utilities' grids (for its distributed business) enables utilities to potentially abuse their monopolistic powers through unfair regulations. With cost-effective battery technology, SunEdison would not have to worry about unfair utility practices, as its distributed customers would be separated from the grid.
Of course, SunEdison is still be years from cost-effective distributed storage technology even with its acquisition of Solar Grid Storage. Regardless, this acquisition will give SunEdison a sizable headstart in this arena, as other large solar companies have barely even started looking at the energy storage business, save for SolarCity (SCTY).
Risks
SunEdison's acquisition of Solar Grid Storage does not come without its risks though, as energy storage technology is still very much an infant industry in the grand scheme of things. While energy storage technologies have been around for a long time, they are in no way mature. SunEdison faces the risk of technological obsolescence from a whole array of companies, from solar companies, to electric car companies, with Tesla (NASDAQ:TSLA) in particular.
Given Tesla's huge investment into battery storage technology, there is a significant risk that Tesla's battery technology could make SunEdison's storage technology obsolete in the long term. The risk from Tesla is especially potent as both Tesla and Solar Grid Storage use lithium-ion-based battery technology. While SunEdison's energy storage business will likely be a small part of the company's overall business profile, Tesla is investing $5B just to build its lithium-ion factory alone. In fact, Tesla's planned lithium-ion Gigafactory is slated to produce more lithium-ion batteries than the rest of the world combined. Although the benefits of getting a head start in the energy storage arena are numerous for SunEdison, the risk of technological obsolescence is also very real.
SunEdison will be facing competition from the likes of Tesla Motors in the lithium-ion battery arena. Here is a depiction of what Tesla's huge Gigafactory will look like upon completion -- clearly, this is a big threat to SunEdison's energy storage plans: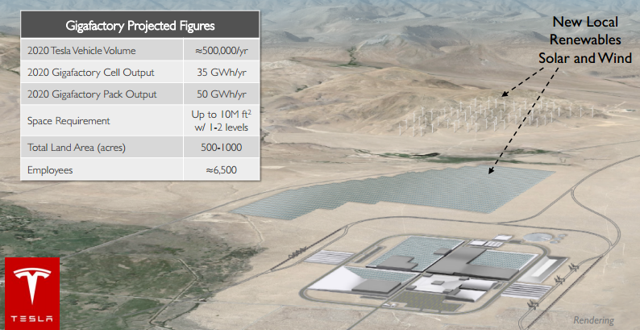 Source: Tesla Motors
Conclusion
SunEdison is perhaps the premier renewables company, with vertically integrated businesses in solar, wind, and now energy storage. If SunEdison can successfully integrate Solar Grid Storage and achieve its goal of making more cost-effective energy storage, SunEdison may cement its lead position as the most valuable renewables company for the foreseeable future. While SunEdison already has a high market capitalization $6.33B, the company still has tremendous upside given its promising vertically integrated renewable business.
Disclosure: The author is long SCTY.
The author wrote this article themselves, and it expresses their own opinions. The author is not receiving compensation for it (other than from Seeking Alpha). The author has no business relationship with any company whose stock is mentioned in this article.