Few American companies become true cultural icons, known not only in America, but all across the globe. From Apple (NASDAQ:AAPL) to Coke (NYSE:KO) to Google (NASDAQ:GOOG), these companies show the world what America is capable of. Such companies often make great investments, and we would like to highlight just such an iconic company, one that we believe will deliver great returns for shareholders down the road.
Disney (NYSE:DIS) is a company nearly everyone alive today knows, because either they or their children have grown up watching Disney or Pixar movies. But Disney is much more than the classics and Pixar. Over the last 5 years, as its competitors' stock prices have plunged, Disney stock has barely budged, despite growing earnings at an average of 11.4% annually over that time period. For the sake of comparison, Time Warner (NYSE:TWX) has grown earnings by 7.1% over the last 5 years. CBS' (NYSE:CBS) earnings have dropped by 15%, and News Corp's (NASDAQ:NWS) have grown by 5.5%. At 13.4 times earnings, and about 11 times forward earnings, we think Disney shares are undervalued.

We think this underperformance will end as the Street realizes the strength, resilience, and growth of Disney's various brands and divisions. As CEO Bob Iger noted on the conference call, Disneyland attendance reached a record in Q3, despite concerns that consumer confidence is waning. Disney's results are inconsistent with fears of a collapse in consumer spending.
ESPN, one of Disney's leading brands, has just renewed its Monday Night Football deal with the NFL, and although the price increased to around $1.9 billion, as per press reports, this 6% increase was lower than the 7-9% increase seen in the last round of negotiations. This lowered price increase should support Disney's margins at a critical time, as the Street is nervous about Disney's consumer exposure. This exposure, however, is not necessarily a liability. In a weak economic environment, consumers give up on brands and products they view as unnecessary first, and Disney is a brand that few consumers will give up on easily, as it has far too much brand equity.
On the conference call discussing the most recent quarterly results, James Rasulo, head of the Parks and Resorts division, said that "as illustrated by our Q3 results, we remain willing to make a short-term trade-off between modestly lower occupancy and significantly higher room pricing...so far this quarter, domestic hotel reservations are pacing down 2% versus prior year levels, while booked rates are up mid-single digits." For Disney, this is a sign of strength, because the net result is that people are paying more to stay at Disney hotels, despite a small dip in overall stays, thus increasing overall profitability. If Disney can deliver such results in a stagnant economy, than it should deliver even better results once the economy recovers even further.
Overall, Disney's income grew 8% year-over-year. Income at the studio division dropped 60%, but this is due to the fact that in the prior year, both Toy Story 3 and Iron Man 2 were released, inflating earnings in that quarter. Revenue at the division was down by only 1%, so we see no alarm bells here.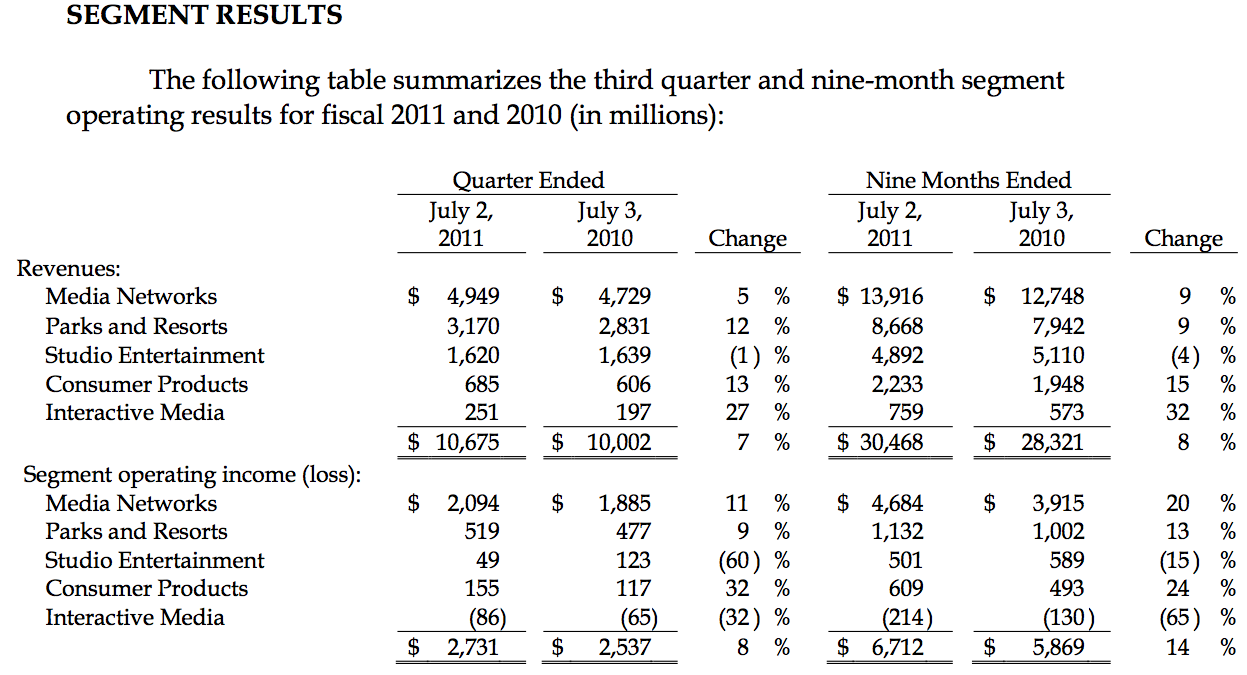 Continued negotiations for re-transmission fees at ABC, and continued strong performance of its shows, along with the Disney Channel, give us confidence that Disney will be able to sustain its momentum in the space.
Disney, like so many industries, has been impacted by the digital revolution occurring in entertainment. But, the presence of Steve Jobs, who will be deeply missed, infused Disney with the knowledge that it must innovate in the space at all costs, so as to be positioned for the future. Disney is aggressively investing in the digital world, making ESPN available on the go to cable subscribers, as well as other initiatives. One of the issues plaguing old-line media companies is nervousness over the transition to internet entertainment. We think that Disney's management is smart enough to recognize the need to embrace the internet, rather than hide from it.
Disney's management noted that, despite European weakness, which was brought up on the conference call, "on the international front, we've actually seen an uptick in our business, particularly to Florida. And we're seeing it actually right now during this quarter." European fears have brought down stocks due to the crisis' perceived affect on earnings. And while some companies will indeed suffer as a result, Disney is not one of them. The proof is in the 12% rise in revenue and income at the Parks and Resorts division.
While Disney's balance sheet is not the greatest, given its $7.2 billion in net debt, we think that Disney's cash flow is sufficient to cover debt, invest in the business, and grow its dividend. Disney currently yields 1.26%, and the dividend has grown by an average of 8.2% over the past 5 years. We see no indications in Disney's results or management's commentary that the dividend will not continue to increase.
We think Disney's brands will continue to drive performance going forward, as the company leverages those brands to transition to the digital future, and set itself up for even better performance once the economy grows at a more robust level. Disney is investing across all of its divisions, something it would not do if it had no confidence in the future. Analysts agree with our view. Credit Suisse sees the stock at $43, S&P sees it at $40, and the Reuters average price target is $42.13. Few companies are as iconic as Disney, and we think this is a company that will continue to delight children all across the world, and should delight shareholders in the years to come.
Disclosure: I have no positions in any stocks mentioned, and no plans to initiate any positions within the next 72 hours.