The aerospace division of Honeywell International (NYSE:HON) now estimates that 2011 total global business jet deliveries will be down 15 percent from 2010. The primary reason for this reduction appears to be that corporate buyers are reluctant to expand or update their fleets due to concerns over the economy.
For several years, Honeywell Aerospace has issued an annual business aviation outlook based upon surveying customers and related businesses. Honeywell is basing this year's projection on a survey of 1,500 corporate jet buyers conducted between May and August.
Honeywell specifically stated it expects deliveries of between 600 and 650 new business jets for the year, down from 732 in 2010. Additionally, Honeywell estimates that deliveries within 2012 will be higher than in 2011, but likely below 700 and still below the 2010 level.
Specifically, Honeywell stated that it expects a minor increase in North American purchases, but that international demand growth is less clear, with expectations of increased purchases from Asia and the Middle East, and decreasing demand from Europe and South America.
Honeywell shares have lost over 20% of their value over the last three months. Its shares have recently remained range-bound in the mid-40s, in what appears to be a double bottom. See the 2011 chart below: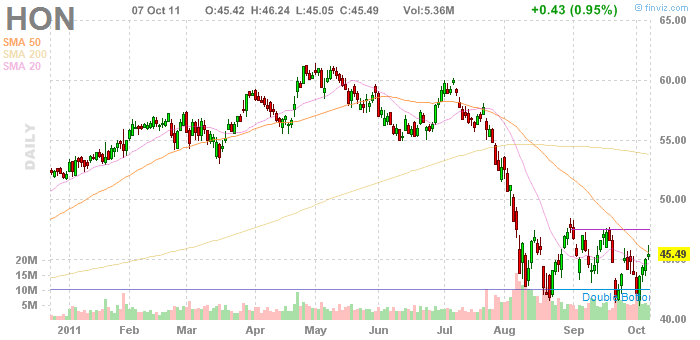 Other companies that may be affected by this information include General Dynamics (NYSE:GD), the maker of Gulfstream planes; and Textron Inc. (NYSE:TXT), the maker of Cessna planes; and Embraer SA (NYSE:ERJ), a Brazilian aerospace manufacturer. These three companies have all announced plans to offer larger and more efficient planes within the next year or two. Some of the present estimate decreases may be as a result of buyers waiting for more information on these coming models before making any orders.
In addition to these plane makers, engine makers such as the aviation divisions of General Electric (NYSE:GE) and Pratt & Whitney, a subsidiary of United Technologies (NYSE:UTX), are likely to also see slow demand growth until plane purchasing increases. Nonetheless, many have already forecast sluggish demand until 2012, and the market may have already priced the issue into the equity valuations.
Disclosure: I am long GE.
Disclaimer: This article is intended to be informative and should not be construed as personalized advice, as it does not take into account your specific situation or objectives.