With the likelihood of an upcoming recession, consumer spending is expected to decline significantly hurting the consumer discretionary sector. Companies like AutoZone (NYSE:AZO), on the other hand, benefit from a recession due to consumers delaying new big ticket purchases such as cars. Overall, I expect AutoZone to outperform the market S&P 500 (NYSEARCA:SPY) because of strong economic and financial fundamentals and the increasing resistance of consumers to buying new cars.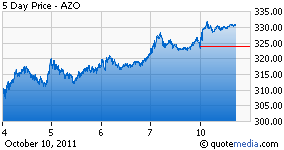 The main economic factor driving the growth of AutoZone is the consumer's inability to buy new cars. The average age of cars on the road has increased from to 9.2 years in 2007, to 10.6 years currently and from 7.1 to 10.2 years for light trucks over the same time period. Older cars require more maintenance and therefore consumers will need to go a store like AutoZone to maintain their cars. Even if the economy recovers, AutoZone also sells peripherals and add-ons to cars that would do better in good times. The company stands out from competitors due its national presence, leading market share, and possession of the highest margin on products in the auto repair business.
Financially, AutoZone is also in strong shape. Even in rocky times, AutoZone beat Q4 earnings expectations with a 12% increase in earnings growth and a 4.5% increase in same-store sales. The company's operations have also remained efficient, which has been reflected through its 36% return on investment capital and the highest net profit margin within the industry at 10.5%.
Overall, due to my bearish expectations for the economy and growing income inequality in the US, I am bullish on AutoZone with a six month target price of $345. Unless Congress passes a second round of cash for clunkers (extremely unlikely) or a severe oil shock occurs in the next few months, I expect AutoZone to continue its long run trend upward as American consumers either grow more thrifty or can no longer afford to buy new cars.

Disclosure: I have no positions in any stocks mentioned, and no plans to initiate any positions within the next 72 hours.