The Baltic Dry Index has just hit 2000 (October 7, 2011) for the first time since December 16, 2010; however global shipping stocks have tanked over the past 10 months and have not reacted to improvements in the sector spot rate. As I mentioned last month, many shipping companies including Navios Maritime (NYSE:NM), Excel Maritime (NYSE:EXM), Starbulk Carriers (NASDAQ:SBLK), and Genco (NYSE:GNK) are trading at or below market liquidation value. A common fear is that low current spot rates will cause losses to increase as long-term charters expire and are renewed at current levels. However, the current BDI shows a relatively strong spot-market picture— the rates have not been this "high" collectively for 8 months. Although the basic supply (2011-2012 new buildings are high compared with previous trends) and demand (holding steady, but with international economic uncertainty) picture is gloomy, with spot rates picking back up, net income will improve (against previous projections) across the dry bulk board .
12-Month BDI chart - (click chart to expand):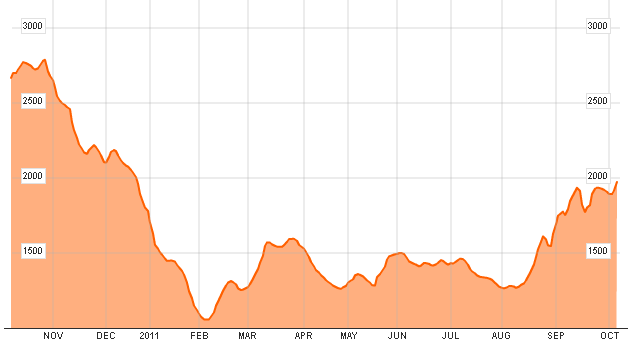 Disconnect Between Market Conditions and Stock Pricing
While the BDI has surged, most shipping stocks have sunk, pun intended. While the BDI is at the same position that it was in December 2010, Navios Maritime (NM) has dipped 42.3%; Excel Maritime (EXM) has plunged 66.8%; Genco (GNK) has dropped 53%; Starbulk Carriers (SBLK) has declined 55.6%, and industry stalwart Diana Shipping (NYSE:DSX) has lost 44% in market price.
Reasons for Disconnect
These reasons have changed little over the past month, with the exception of a potential developing rift between the US and China.
Investors might have a slightly more negative outlook toward international trade due to recent political clamoring concerning the US/China currency policy and further chaos in the eurozone.
Investors are likely still afraid of bankruptcy losses. However, most shipping companies are trading near or below liquidation value, so this is not a legitimate concern for most investments.
Investors are still afraid of low spot market rates. However, this only serves to highlight the strong BDI disconnect, since the BDI is showing the strongest levels in 10 months.
The upcoming glut of ships is still a concern. However, Genco's report from July 27, 2011, highlights the current levels of delivery vs. scrapping as well as industry demand side projections. More recently, on September 26, Euroseas (NASDAQ:ESEA) CEO commented, "the solution will eventually come through scrapping which we expect to continue at its current high pace for the next 18 months." Long story short, these concerns are likely overblown and overpriced into shipping securities.
My thesis
I strongly believe that investors are still in an uncontrolled panic zone. Speculators continue to drop these stocks deeper into a pricing basement while metrics are improving (albeit slowly) and valuation fundamentals are solid.
Approach
Based on my analysis, I believe that most shipping stocks represent unprecedented value opportunities. Which stock to buy depends on your investment objectives and horizon, some offerings provide high-yield dividends such as Navios Maritime Partners (NYSE:NMM) and Box Ships (NYSE:TEU). While some are exceptionally strong financially such as Diana Shipping (DSX), and others are highly leveraged plays such as Excel Maritime (EXM), Paragon Shipping (PRGN), and Starbulk Carriers (SBLK).

Disclosure: I am long NM, EXM, SBLK, GNK, DSX, ESEA, NMM, TEU, PRGN.