Utilities tend to play the roll of safe haven for investors looking for exposure to higher dividends and price stability when the market is going through its wild swings. However, a few utilities have been beaten down as the result of their unregulated businesses. The recent downtrend in oil and gas exploration stocks has had a direct impact on a few utilities with subsidiaries in this industry and may be an opportunity to pick them up on the cheap.
Take National Fuel Gas (NYSE:NFG) for example. Its shares traded in the mid-70s in early July and traded as low as the mid-40s just last week before recovering to trade around 54.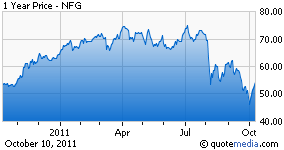 The Company's utility segment sells and transports natural gas to more than 728,000 customers in western New York and northwestern Pennsylvania including Buffalo, NY and Erie, PA.
However, it is the oil and gas exploration segment known as Seneca Resources that supplies the bulk of the bottom line. Seneca holds 745,000 net acres with exposure to the Marcellus Shale and another 300,000 perspective net acres with exposure to the Geneseo Shale.
The Company is currently evaluating whether or not its acreage has Utica Shale potential which has been in the headlines recently with Hess Corporation (NYSE:HES) making a couple of acquisitions and Chesapeake Energy Corp. (NYSE:CHK) sharing some recent positive results from its Utica operations. The Company's other significant properties include some primarily oil producing properties in California where Seneca is the state's 7th largest producer. NFG also has interests in natural gas pipelines and storage operations as well as a deregulated natural gas marketing company. While a yield of 2.6% is not stellar for a utility, NFG may offer substantial long-term price appreciation potential on its oil & gas assets.
Unlike NFG, the diversification of MDU Resources (NYSE:MDU) goes well beyond the energy industry to include construction aggregates and infrastructure construction services. These areas have been very unpopular for some time now which has kept a cap on the stock price.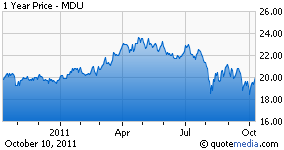 However, the utility has provided a necessary backstop to avert what could have amounted to a complete collapse in recent markets given the outflows from energy stocks. MDUs utility segment distributes natural gas and electricity to 965,000 customers in the Dakotas, Montana, Idaho, Washington, Wyoming, Minnesota and Oregon.
The Company's oil and gas exploration segment, Fidelity Exploration & Production, holds approximately 1 million net leasehold acres primarily in the Rocky Mountain, Mid-Continent and Gulf States. These holdings included key acreage in major plays like the Bakkan, Niobrara, Paradox, and Heath Shale. It will take a turnaround in infrastructure spending to really get this stock moving, but MDU is currently willing to pay you a dividend yield of 3.3% to wait it out.
Black Hills Corporation (NYSE:BKH) is more a pure utility play than either NFG or MDU with the utility segment accounting for 95% of operating income. Due to this, the Company has not seen near the drop off in its stock price since July like NFG and MDU.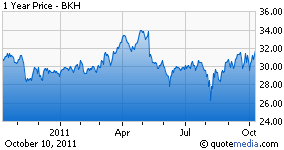 The utility segment of BKH serves approximately 762,000 natural gas and electricity customers in Colorado, Iowa, Kansas, Nebraska, Wyoming, Montana and South Dakota. This segment is the primary source of revenues and profits.
However, the company also has an oil and gas segment and an interest in a coal mine. Black Hills Exploration & Production has approximately 331,000 net acres located San Juan, Piceance and Powder River basins as well as a large position in the Bear Paw Uplift and a small position in the Williston basin both in Montana. The coal mining segment of BKH, Wyodak Resources Development Corp., has mining rights to approximately 262 million in low-sulfur coal reserves located near Gillette, Wyoming in the Powder River Basin. BKH also has operations in unregulated electric power generation and energy marketing. BKH is currently the highest yielding of the three stocks in focus rewarding investors with a 4.6% yield.
Disclosure: I am long MDU.