If you are looking for a stock that is raising cash for a major expansion then look no farther than Petrobras (NYSE:PBR). Recently it raised $70 billion through stock offerings, issued $6 billion in bonds, identified $13.6 billion of assets for divestiture and is on target to receive another $35 billion through a positive cash flow. The company will be acquiring and developing assets in the ground at an unprecedented level and should start generating terrific returns for stockholders. The graph provided by Barchart of the daily trading trends over the past year shows an opportunity to buy on a dip:
Click to enlarge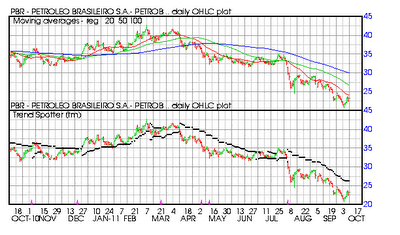 Petroleo Brasileiro S.A. primarily engages in oil and natural gas exploration and production, refining, trade and transportation businesses. The company's Exploration and Production segment is in the exploration, production, development and production of oil, liquefied natural gas (LNG) and natural gas in Brazil. This segment supplies its products to the refineries in Brazil as well as sells surplus petroleum and byproducts in domestic and foreign markets.
Its Supply segment engages in the refining, logistics, transportation and trade of oil and oil products; export of ethanol; and extraction and processing of schist, as well as holds interests in companies of the petrochemical sector in Brazil. The Gas and Energy segment is involved in the transportation and trade of natural gas produced in or imported into Brazil; transportation and trade of LNG; and generation and trade of electric power. In addition, the segment has interests in natural gas transportation and distribution companies; and thermoelectric power stations in Brazil, as well engages in fertilizer business.
The Distribution segment distributes oil products, ethanol, and compressed natural gas in Brazil.
The International segment is involved in the exploration and production of oil and gas, as well as in supplying, gas and energy, and distribution operations in the Americas, Africa, Europe and Asia. Further, the company is involved in the biofuel production business. Petroleo Brasileiro was founded in 1953 and is based in Rio de Janeiro, Brazil. (Yahoo Finance profile)
Factors To Consider
Barchart technical indicators:
Barchart's indicators are based on current price movements from seven days to six months and sell signals can be a buying opportunity to buy on a dip
56% Barchart technical sell signal - the sell signals are weakening and the buy signals are getting stronger
Trend Spotter sell signal is also weakening
Trades below its 20, 50 and 100 day moving averages
Currently trading 44.45% off its one-year high
Relative strength Index is 41.63% and rising
Barchart computes a technical support level at 22.92
Recently traded at 23.73 with a 50 day moving average of 26.68
Fundamental factors:
Analysts expect sales to increase by 25% this year and another 15% next year. Five years out sales may be 96% higher than 2011 levels
Earnings are estimated to increase by 9.6% this year and 14.0% next year. Five years out earnings could be 83% higher than 2011 levels
Wall Street brokerage analysts have two strong buy, nine buy and three hold recommendations published
The aforementioned raising of cash reserves are ready for the announced expansion plans
The present 8.65 P/E ratio is about half the P/E ratio of the overall market
A+ financial strength rating
General investor interest:
4,298 readers of Motley Fool have ventured an opinion on this stock
98% voted that the stock will beat the market
98% of the All Stars voted for the same result
Competitors and sector leaders:
Although Pertorbras (
PBR
) is down 22% for the year, while BP plc (NYSE:
PB
) is down 7% and Royal Dutch Shell (RDS) is down only 2%:
Click to enlarge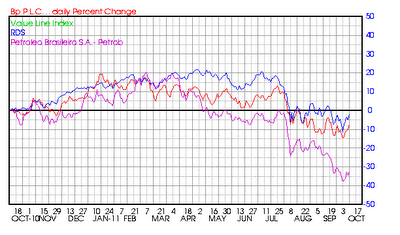 PBR is a member of the SIC 1311 Crude Petroleum and Natural Gas sectors and some stocks in the sector are way up: EV Energy (OTCPK:EVSP) up 100%, Cabot Oil and Gas (NYSE:COG) up 119%, Apco Oil and Gas (NASDAQ:APAGF) up 113% and Double Eagle Petroleum (NASDAQ:DBLE) up 76%:
Click to enlarge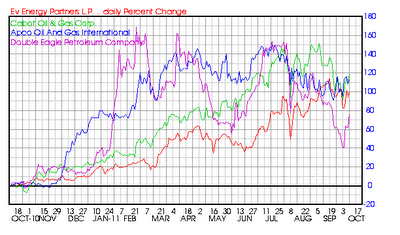 Summary: If you would like to acquire an oil and gas stock that is on a major acquisition spree and is raising the cash to do it that then Petrobras is the stock to buy. If you believe in the business plan all you need to do is look at the fact that they are trading 44% off the one-year high to identify a buying opportunity on a dip.
Disclosure: I have no positions in any stocks mentioned, and no plans to initiate any positions within the next 72 hours.