March has begun with a heavy dose of crazy. The Dow hit a record high early in the week, but by Friday the jobs report had pushed stocks down substantially and yields up considerably as fears rose that the Federal Reserve would raise rates sooner rather than later. This recent activity raises the question, "If still waters run deep, do turbulent waters run shallow?"
I would argue the answer is, "yes". Markets - or at least investors - are being very shallow right now. They are preoccupied with when the Fed will begin raising rates and they fear tightening will begin sooner. But tightening at some point is inevitable, and there are a number of reasons why it shouldn't be feared: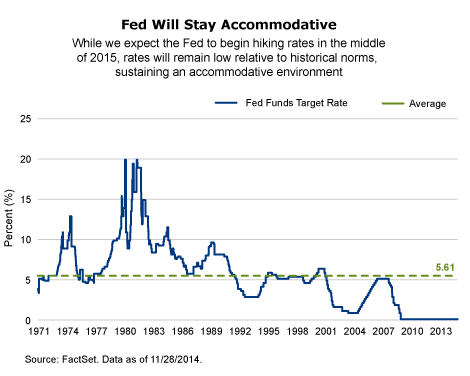 1. The monetary policy backdrop will remain accommodative. Even after the Fed raises rates, we will continue to be in an environment of financial repression. In the past four rate-hike cycles in the United States, the Fed was raising rates in tandem with other major central banks. This time, the Fed will likely be swimming against the tide, as many central banks plan to loosen monetary policy.
That means that the Fed's rate hikes are unlikely to be as effective because of the potential for an arbitrage play, the likes of which we've already begun to see. As other countries cut rates, investors are likely to move to the US because of its relatively higher rates - which should help drive rates down. In other words, today's divergent monetary paths are likely to result in US long-term interest rates being well anchored. The environment should be accommodative globally.
2. When it comes to tightening, this time could be different. The FOMC has reiterated that the path of tightening will be data-dependent, which should allay investor fears that rate hikes will continue at regular intervals, as we've typically seen in the past. Data dependency means the Fed has the ability to hold steady during the course of tightening if conditions stagnate or worsen.
That gives the Fed substantial flexibility, which investors should find encouraging. And the Fed will begin hiking from such a low starting point that even six consecutive rate hikes would still leave rates well below what has been perceived to be the neutral rate.
3. Tightening sooner could give the Fed a better chance of tackling an economic downturn. By beginning to normalize monetary policy sooner rather than later, the Fed has created some dry powder. One of the big fears of sitting in a zero-interest-rate environment for so long is that the Fed has no tools at its disposal if the economy were to contract significantly. By normalizing monetary policy sooner, the Fed could theoretically lower rates again if needed.
4. Fears that rising rates will choke consumer spending are overblown. As we've seen from the monthly consumer credit reports, with the exception of December 2014 data, consumers aren't utilizing a lot of credit, particularly revolving credit. Therefore, rising rates are unlikely to choke consumption.
5. The decision to begin tightening is likely to build positive sentiment. After some initial jitters, tightening will likely be viewed as a vote of confidence by the markets - similar to what we saw with the start of tapering. The overall economy and the job market appear to have made substantial recoveries since the Great Recession. This progress has left some investors wondering why the Fed hasn't acted yet. Fears will be laid to rest with the start of tightening, which could actually boost sentiment.
Looking ahead, we expect near-term volatility to rise when the Fed finally decides to raise rates. But the ups and downs shouldn't last long. In fact, we don't believe tightening will be a negative development for the stock market or the economy over the medium and longer term.
We hope investors take a step back and broaden their perspective. Stocks and other risk assets continue to offer pockets of opportunity in a low-return, financially repressed world and the decisions the Fed makes are unlikely to change that.