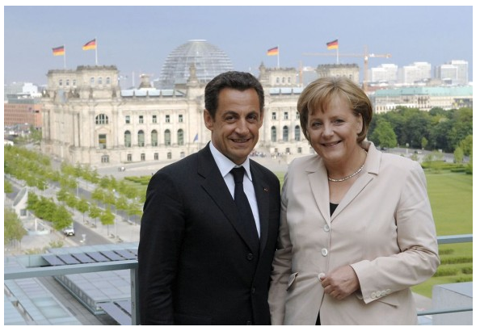 The market made another stride higher today on news out of Europe that leaders Merkel and Sarkozy are joining forces and dedicated to saving the world. The two leaders met over the weekend to talk about their plans. They will be presenting a united front to the EU, and it appears they will attempt to recapitalize/bail out the European banks. The news came as relief to investors, who have clamored in fear over the direction of the market.
Economic data was limited on the day as Columbus Day closed some banks and the bond market. We do not get any major data until Wednesday as well, so the headlines out of Europe as well as earnings will rule this week. Earnings season kicks off tomorrow with Alcoa (NYSE:AA), and we have a lot of key earnings reports coming out this week that can give us a bit more of an idea how all these headwinds and supposed slowdown in the economy is affecting companies.


Company news was somewhat busy today with a host of downgrades coming out along with a big announcement from Netflix (NASDAQ:NFLX) that they will not be doing the Qwikster idea. Instead, the company will keep everything under one roof as Netflix. The announcement sent the shares up and was well received by the market. Despite the big up day, we had a slew of downgrades out today. Robert W. Baird was busy downgrading Accenture (NYSE:ACN) and a slew of regional banks. Sprint (NYSE:S) got two downgrades as well from Collins Stewart and Kaufman Bros.

The up day was great for a lot of our bullish options and positions, and we came into the day with 6:1 in bull to bear positions. Our bearish position in Apollo Group (NASDAQ:APOL) was under pressure early and we took a 3% loss. Our bullish positions in Ventas (NYSE:VTR), RSC Holdings (NYSE:RRR-OLD), Baker Hughes (BHI), Apple (NASDAQ:AAPL), McDonald's (NYSE:MCD) and Costco (NASDAQ:COST) did quite well.

We added a long on Apple (AAPL) today on the iPhone 4S news, and we believe the stock will hit 415 again before earnings.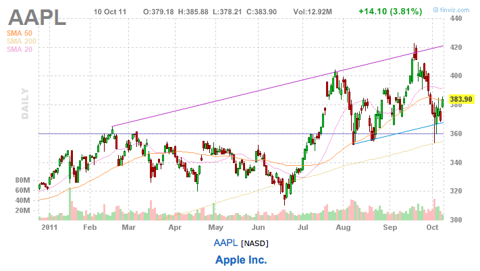 Moving into tomorrow, the major indices broke the key 50-day MAs today, and that news was big for the market. It was the first time the market has done that since mid-July. The market, though, is still in a position where it has overhead resistance. The 1200 line will be major resistance for the SPY. A break of that and this rally could continue for quite some time, but that may be a point where we see some consolidation.

Here is what we are watching:
Oil - Oil has moved up to the top of the current range, and we see oil in at $85. The commodity did not move much after a big move in early trading, and we are not sure much more is left in the tank unless the dollar sinks more and the market continues a major run. We will be watching the Wednesday inventory report carefully, and we believe Tuesday into the rest of the week could represent an opportunity to short oil. We like buying puts in United States Oil Fund (NYSEARCA:USO) or buying Ultrashort Proshares DJ-UBS Oil ETF (NYSEARCA:SCO).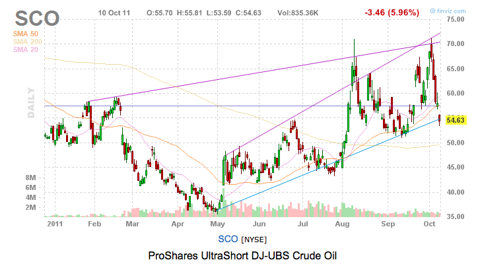 Expedia (NASDAQ:EXPE) - Expedia is in a long-term upward price channel with a short-term downward price channel. The stock seems to be moving toward the top of that downward price channel as the stock has broken several resistance points, and it looks headed for the 50-day MA. That MA will be a crucial point for the stock, but we would love to buy it there as it would be primed for a breakout. It may run into earnings as well as their last report was strong.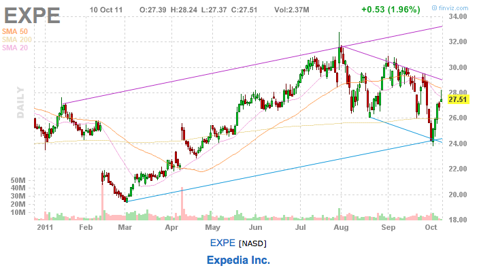 Disclosure: I am long AAPL, MCD, COST, GOOG, RRR, VTR, BHI.