"Are we there yet?" is the constant question. The answer is "No, not yet." That is, with respect to the S&P 500, if you want to play it safe on the sidelines until one of these thresholds is met:
Price goes above the 50% mark between the April high and the October low
The price goes above the 200-day average
The price goes above the April high.
That doesn't mean you should not invest if you are inclined to do so in a down market, but it does mean that the bulls have not yet pulled the bears over the mid-line of their struggle, and that visually the picture is still down.

Whatever criteria you use, it should be some objective criteria that you can measure, and not a emotional "risk on", "risk off" plunge. Don't let the headlines or the TV personalities get your positive or negative juices going. Keep your head in charge at all times.
Note: The chart plots the daily index price, the 200-day moving average in gold, the 20% offset from the 1-year high (a conventional measure of a bear market threshold), and the 50% (mid-point) between the April high and the October low.

Click to enlarge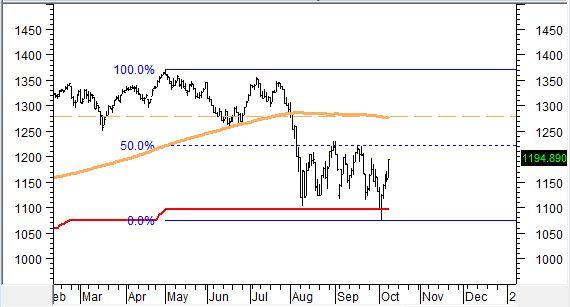 Relevant Securities: SPY, IVV, VFINX.

Disclosure: QVM has written far-out-of-the-money PUTs on SPY; and does not have positions in any other mentioned security as of the creation date of this article (October 10, 2011).

Disclaimer: This article provides opinions and information, but does not contain recommendations or personal investment advice to any specific person for any particular purpose. Do your own research or obtain suitable personal advice. You are responsible for your own investment decisions. This article is presented subject to our full disclaimer found on the QVM site available here.