"There can be no failure to a man who has not lost his courage, his character, his self-respect or his self-confidence. He is still a King." -Orison Swett Marden
For years bond-guru Bill Gross has been considered the King of bond investing. His uncanny and abrasive, yet unapologetically honest and informing monthly newsletter, also known as the Bill Gross "Investment Outlook," yet lives at his new home with the Janus Capital Group, Inc. (NYSE:JNS).
In the March 2015 Investment Outlook, "Going to the Dogs," Gross begins by asking investors what type of dog they would be if, of course, they could choose. Gross continues, stating
"I can't say I've thought about it a lot myself, but it is an interesting, possibly introspective question considering the theory that many dog owners pick a breed that looks or perhaps acts like themselves."
After discussion of the strong U.S. dollar and the risks of low global bond yields, Gross capitulates by slamming central-bankers for short-term gains at the expense of long-term growth.
"Central banks have gone and continue to go too far in their misguided efforts to support future economic growth. 'Home-bred' monetary policies earn 'blue ribbon' rewards in the short-term, but in the long-run (they) may undermine the entire show and send the dogs towards the exits. Stay conservative in your investment portfolio. Own high quality bonds and low P/E, high quality stocks if you want to stay out of the doghouse. Arf, Arf."
Investors can ascertain Gross is no Keynesian, which arguably has worked wonders in the U.S. as investors currently celebrate a six-year bull market. If he is correct however, one must consider how to follow the King and as such, avoid the "doghouse."
Clearly the first step would be for the investor to audit his stock portfolio, with plans to jettison risky holdings such as small-cap biotech stocks or richly-valued internet companies such as Amazon.com Inc (NASDAQ:AMZN) and Netflix, Inc. (NASDAQ:NFLX), in favor of low P/E stocks.
For the bond portfolio, movement to high-quality after such an audit would suggest a focus on lower-yields in favor of reduced risk.
Another introspective bond question should be answered by Gross, however its not. Investors wonder why he's selling his non-municipal PIMCO closed-end bond funds.
According to the U.S. SEC, Gross must declare all insider transactions at PIMCO for six-months after his resignation from the firm he co-founded. As such, his September 26, 2014 departure would require declarations of all transactions through Friday, March 27, 2015.
Where Does Gross Stand Now?
Upon inspection of the SEC Form 4 reports that Gross has filed this year regarding his direct and indirect holdings, it showcases that Gross is currently disposing three funds: Pimco Dynamic Income (NYSE:PDI), PIMCO Corporate & Opportunity Fund (NYSE:PTY) and PIMCO Corporate Income & Strategy Fund (NYSE:PCN), the latter two of which he was the lead manager.
In the February 11, 2015 article "Bill Gross Insider Trading: A PIMCO Exodus," I made light of his January 2015 sales. Upon further filings since that date, it can be seen his January sales were higher than originally reported in the three funds mentioned.
Between February 12, 2015 and February 20, 2015, Gross added eight filings for fund sales completed in 2015. The additional forms filed showcased sales as follows:
1. PTY: Sales of Spouse Holdings
Sold entire position of indirect holding for spouse (previously had only reported half of the sales).
Total shares sold (spouse): 280,987
Total proceeds (spouse): $4.53 MM
He originally only reported half of these sales.
2. PTY: Sales of Direct Holdings
Sold 75k shares previously not reported from personal position at an average rate of $16.67/share.
Total shares sold in 2015: 139,023 (-12% of position)
Current shares owned: 1,022,333
Current value of shares owned: $16.7 MM
3. PCN Sales of Direct Holdings
Sold 40k shares previously not reported from personal position at an average rate of $15.43/share.
Total shares sold in 2015: 92,273 (-11.5% of position)
Current shares owned: 708,852
Current value of shares owned: $11.1 MM
3. PDI Sales of Direct Holdings
Sold 100k shares previously not reported from personal position at an average rate of $30.22/share.
Total shares sold in 2015: 182,733 (-15.5% of position)
Current shares owned: 997,460
Current value of shares owned: $29.8 MM
These sales show that Gross sold his entire position his wife owned in PTY, as well as personal holdings in all three funds. If he is selling his own shares and disposing of those his family owns as well, Gross may potentially see these funds as weak or overvalued after his departure.
Of course, we know there is always a huge laundry list of sales reasons and cannot bank on one unless he speaks up about it. At the rate of sales however, it would appear at this rate he is looking to dispose of his position by year-end.
It remains possible that with the potential rate-hike this summer, coupled with an end to his insider transaction reporting period later this month, Gross could easily dispose of the remainder of his position here.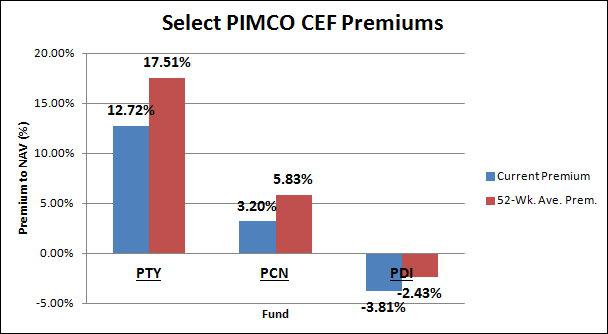 Whether a result of Gross sales, these funds are now trading at a discount to their 52-week average premium rate.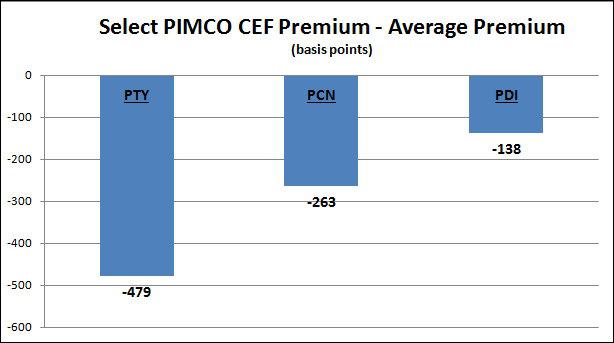 Conclusion
The Gross sales as reported today are larger than originally reported, with each of the three fund holdings reduced between 11.5 and 15.5%. Gross must report sales of his PIMCO-related investments through March 27, 2015, per SEC rules.
These funds are trading at premium levels below their recent premiums. A lower premium equates to a higher yield, as such investors must choose to fret over the Bond Kings apparent departure strategy ahead of the potential summer rate hike.
Those who follow Gross may elect to choose investment grade bonds that follow the strong dollar trend. As such, U.S. investment grade bond funds would be recommended.
Two selections from the PIMCO family in this field are the PIMCO Investment Grade Corporate Bond Fund (MUTF:PBDDX) [Institutional shares (MUTF:PIGIX)] and the PIMCO Corporate Bond ETF (NYSEARCA:CORP).
Disclosure: The author has no positions in any stocks mentioned, and no plans to initiate any positions within the next 72 hours.
The author wrote this article themselves, and it expresses their own opinions. The author is not receiving compensation for it (other than from Seeking Alpha). The author has no business relationship with any company whose stock is mentioned in this article.