If you can find an equity CEF with better short term and long term NAV total return performance at a -12% discount than the Eaton Vance Tax-Managed Buy/Write Income fund (NYSE:ETB), then I would like to know what it is.
The fact that this fund's discount level has continued to widen this year, even while its NAV has outperformed just about every other equity CEF I follow, as well as the broader market is absolutely stunning and completely counter-intuitive. Add to that a fund that since inception, has far outperformed its correlated index, the S&P 500 and yet, nobody seems to notice. And finally, when the going gets tough, ETB's NAV holds up much better than the broader market because of its sell index call option strategy on 95% notional value of its large cap domestic stock portfolio.
Here is ETB's quarterly NAV performance since inception compared to the S&P 500 as represented by the SPDR S&P 500 ETF (NYSEARCA:SPY). Because SPY has quarterly dividends that the S&P 500 does not include, SPY's performance is much better than the S&P 500 returns typically quoted.
[Click all images to enlarge]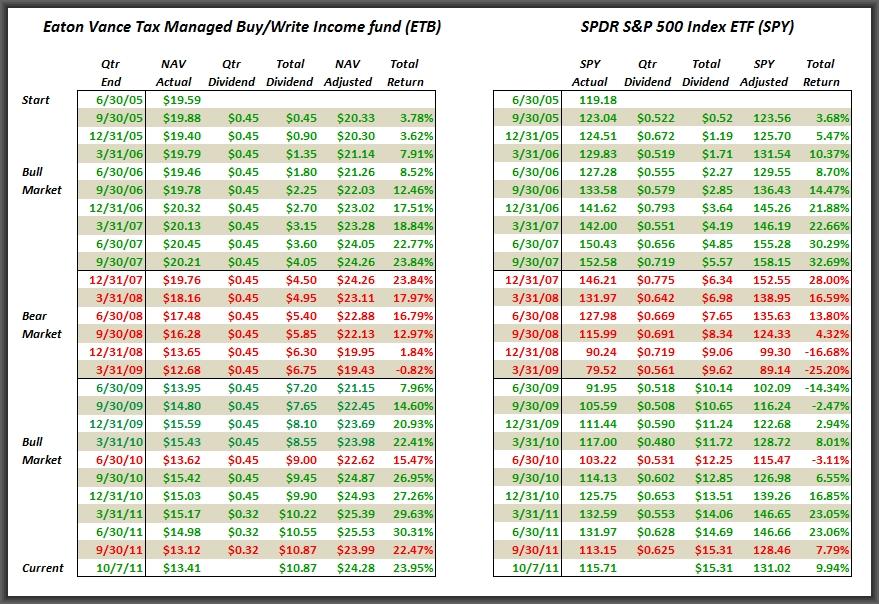 So since inception, ETB's NAV has had a total return of about 23.9% compared to the SPY of about 9.9%, distributions included for both. Tell me, who wouldn't want to own a fund at an -12.2% discount to its NAV, that offers a sustainable 10.7% annualized yield paid quarterly and whose NAV will hold up much better in a difficult market environment (see bear market period in table above)? I guess not as many investors as one would think! Here is ETB's 1-year discount/premium chart in which this superior fund's discount has continued to widen due to its market price dropping further below its outperforming NAV.

Frankly, this fund should be at a premium with the kind of performance numbers it has shown and in fact, ETB traded at a premium for much of 2009 and 2010. It wasn't until a distribution cut in December of 2010 for all of the Eaton Vance option-income funds that ETB went to a discount and it has been getting wider ever since. The distribution adjustment was due to the ramp-up bull market for most of 2009 and 2010 in which the option-income strategy underperformed the broader markets (and during a time when ETB should not have been at a premium, ironically!). However since then, the market has once again become more volatile and defensive and thus, more conducive to ETB's income strategy.
I would urge investors to buy ETB on any weakness ahead of its ex-dividend date which should be during the 3rd week of October. I would also recommend averaging down after ETB goes ex-dividend when the market price and NAV will be reduced. For an even more defensive position, an investor could hedge by shorting SPY, though I would recommend no more than 1/3 the value of any long position in ETB.
In my opinion, this is an excellent strategy to receive an ongoing high yield from a fund that has proven its worth during difficult market periods as well as receiving potential appreciation if the fund's discount or spread with SPY narrows. In fact, the worst market environment for this strategy would be if we go back into a ramp-up bull market.
For those who are concerned about the makeup of the distribution, return of capital (ROC) is not an issue in these funds because the portfolio managers can realize losses in equity positions during down markets and can realize losses in option positions in up markets. This is why option-income funds have high ROC percentages, but that does not mean they are necessarily "destructive" to the NAV when you look at the total return of these funds. In fact, investors need to learn that ETB's fund sponsor, Eaton Vance, actually manages these funds with the goal of maximizing ROC for tax purposes.