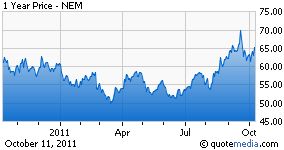 Newmont Mining (NYSE:NEM) is able to boast the claim of having survived during the recent metals crash; while mining stocks were hit across the board as gold tumbled from over $1,900 to under $1,530 over a period of several weeks, Newmont was spared: the stock appreciated over 1% during the September 2011 metals crash. How did this happen?

The main factor is Newmont's aggressive dividend policy. Its dividend yield of 1.9% is enough to ward off short sellers who need to factor covering the cost of dividends before speculating against Newmont. "You are going to have to pay to hold if you are trying to short our stock," said Newmont CEO Richard O'Brien. Newmont's dividend policy has even further room to grow, as the company announced this past April that dividends would be linked to the price of gold: a 7.5 cent increase occurs when Newmont can realize a gold price of $1,700/oz for the quarter, and another 2.5 cent increase when the realized price reaches $2,000. With the retracement in gold looking like it has been completed, the move to $2,000 and beyond seems well within reach.

The resilience of Newmont's share price makes such a policy increasingly likely to be duplicated by other mining firms, particularly holding companies (like Newmont) seeking to employ a financial strategy in which shares will be used to acquire other miners. Ultimately, as central bank policy around the world pursues low interest rates, capital seeking safety will flow into high-yielding equities with positive, growing earnings and a sufficiently sizable market capitalization. The stage is being set for a mania in gold mining companies, with companies like Newmont being well-positioned to make the most of the coming situation.

Disclosure: I am long NEM.