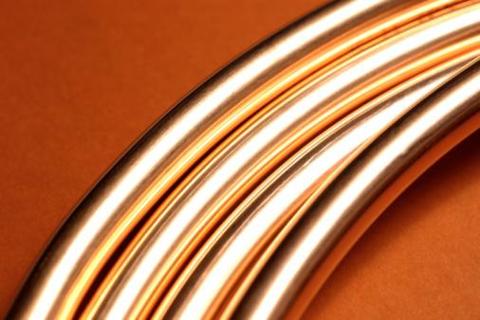 Exchange traded funds that invest in copper miners have been the best-performing ETFs the past week, posting gains of more than 20% amid easing tensions over the Eurozone debt crisis.
Germany and France over the weekend pledged to create a set of plans to deal with the debt turmoil.
First Trust ISE Global Copper Index Fund (NASDAQ: CU) and Global X Copper Miners ETF (NYSEArca: COPX) have rallied more than 20% the past five trading sessions, outperforming metal prices. The ETFs invest in stocks.
The iPath Dow Jones- UBS Copper Sub-Index Total Return ETN (NYSEArca: JJC) is an exchange traded note designed to follow copper futures. The ETN has bounced the past week after hitting a new 52-week low in early October. The copper ETN is down about 26% year to date on worries over the global economic recovery and Europe's debt fracas.
Copper is rallying in October after its worst month in three years. The metal lost about a quarter of its value over July through September, the largest loss since the financial meltdown in 2008, according to reports. Copper is closely watched as an indicator for the global economy.
"News out of the Eurozone looks to be constructive," RBC Capital Markets said in a Bloomberg report. "We should continue to see a more positive view of commodities."
Copper rose Monday as the U.S. dollar fell, which also lent some support to the industrial metal.
Violence this week at a strike at a Freeport-McMoRan Copper & Gold Inc. (NYSE: FCX) mine in Indonesia has sparked concerns the stoppage may boost prices, Bloomberg reported.
First Trust ISE Global Copper Index Fund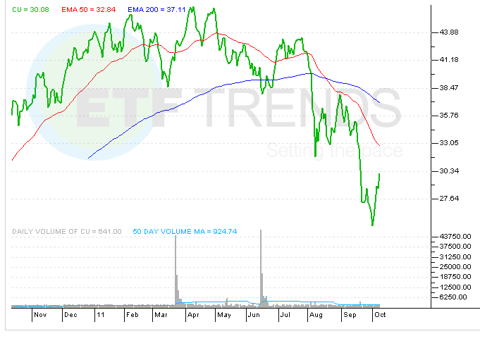 Tisha Guerrero contributed to this article.