Energy utilities are purveyors of a necessity, usually at government-regulated prices and restricted competition. Due to utility distribution regulations, they are considered generally reliable and predicable businesses, though issues such as the recent renewed concern over nuclear power can occur, as well as this recent market volatility.

Nonetheless, the regulated nature of their businesses tends to make utility dividends reasonably secure, though this security means that the dividends are unlikely to grow at a rapid pace. Utilities are also generally far less volatile than the market, and the demand for utilities only increases over time, as technology advances into new realms and the population continues to grow.

Below are six large cap (over $10 billion) energy utilities in the S&P 500 (NYSEARCA:SPY) that currently have a yield of at least 5%. I have also included their one-month and one-year returns below.

American Electric Power Co., Inc. (NYSE:AEP)
Yield: 5%

1-month: 4.83%

2011-to-date: 7.23%
Duke Energy Corporation (NYSE:DUK)
Yield: 5.1%

1-month: 9.22%

2011-to-date: 13.75%
Entergy Corporation (NYSE:ETR)
Yield: 5.1%

1-month: 7.08%

2011-to-date: -5.82%
Exelon Corp. (NYSE:EXC)
Yield: 5%

1-month: 0.54%

2011-to-date: 2.331%
FirstEnergy Corp. (NYSE:FE)
Yield: 5%

1-month: 6.12%

2011-to-date: 22.33%
PPL Corporation (NYSE:PPL)
Yield: 5%

1-month: 2.47%

2011-to-date: 8.81%
As the one-year comparison chart shows, all but one of these utilities are positive year-to-date, while the S&P 500 is down about 5% so far in 2011. See the comparison chart, below:
(Click charts to expand)





Only one of these utilities underperformed the S&P through this period. ETR is down 5.82%, but it has outperformed the S&P 500 if you include dividends.

Several Utilities ETFs are also available, such as the Utilities Select Sector SPDR (NYSEARCA:XLU), which holds these utilities, among others. See XLU's chart below: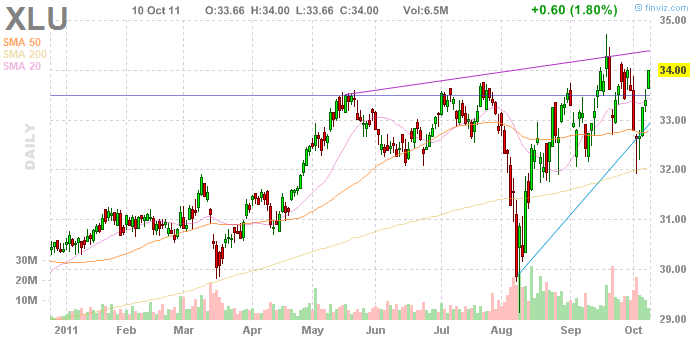 This ETF's activity indicates that energy utilities have broadly returned to their pre-August sell-off valuations, and even slightly surpassed their combined May through July range-bound level. Additionally, all of the above-listed energy utilities are positive over the last month, with many likely to raise dividends in the coming quarters.

Disclosure: I have no positions in any stocks mentioned, and no plans to initiate any positions within the next 72 hours.
Disclaimer: This article is intended to be informative and should not be construed as personalized advice, as it does not take into account your specific situation or objectives.