"Thank you" seems like an ironically short phrase to say to someone whom I have never met but yet has given so much to me and my family. The financial freedom we have today wouldn't have been possible without Apple (NASDAQ:AAPL). And I would have still been trapped in dogma had I not read and re-read (with a few shots of Don Julio after reading each sentence!) Steve Jobs' Stanford speech weeks before I walked away from a comfortable career. I will always be eternally grateful. RIP SJ.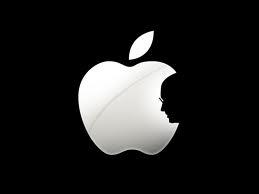 As I wrote about Job's resignation here, it wasn't hard connecting the dots when you compare his pictures over time and you've seen firsthand what cancer can do. I just wished I was wrong.

Like fellow long time AAPL shareholders, we know we have recently hit a fork in the road. Now that Steve is gone, what should "we" do? Sell half, sell all, buy more or wait? As at the time of writing, AAPL is trading at $370, roughly where it was at prior to last quarters' earnings release. Aside from momentarily breaking the $400 mark, relatively speaking, the stock has traded "generally" in line with the markets over the past 60 days as shown in the chart below.
Click to enlarge:



I find that a bit of perspective is always helpful for me to filter the "noise" as I'm sure the mainstream media is probably questioning what Apple would be without Steve. I also wouldn't be surprised if the stock did nothing for at least a couple of quarters under CEO Tim Cook while Wall Street tries to size him up. So, how do we make sense of this all? Remember this line?
You can't connect the dots looking forward; you can only connect them looking backwards. So you have to trust that the dots will somehow connect in your future. You have to trust in something — your gut, destiny, life, karma, whatever. This approach has never let me down, and it has made all the difference in my life.
As much as we would like someone to provide us with certainty and clarity when it comes to AAPL shares, it is not possible. Hence, we cannot connect the dots looking forward. The key is being able to eliminate out as much 'noise' (without your own bias coming into play) and making sure that your facts ('dots') are as close to being accurate as much as possible.

So, what 'dots' do we have to work with?

Let's first define the 'dots' that have yet to be proven
That without Steve, AAPL will ultimately suffer the fate similar to Disney (NYSE:DIS), General Electric (NYSE:GE), Microsoft (NASDAQ:MSFT) et al.

That without Steve, AAPL will not be able to find the next great thing to create.

That without Steve, AAPL will not be able to enjoy the same financial performance over time.

That without Steve, AAPL will continue to thrive over time.
The second set of 'dots': What do I think I know about the current market backdrop?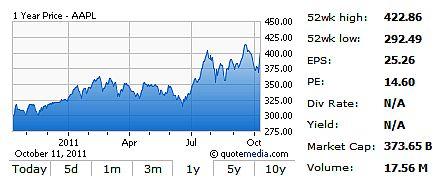 The ongoing Greek gongshow and our own financial debacle has definitely thrown cold water into the bull market that started in 2009.

The Feds' operation twist seems to telegraph at least 3 more years of a low rate environment, which means the economy isn't doing that great.

It is difficult to find someone who could consistently predict Apple's product roadmap with a high degree of accuracy. Note the rumors leading towards the recent iPhone launch and the general disappointment that there was no iPhone 5!

Mainstream analysts and writers generally haven't called AAPL accurately over the years; what makes anyone think that they are going to be right this time?

Fundamentally, AAPL Shares have been trading like a utility despite its growth rates post market disruption era (2008). This phenomenon seems to be prevalent with other tech stocks regardless of growth profile.
Click on charts to enlarge: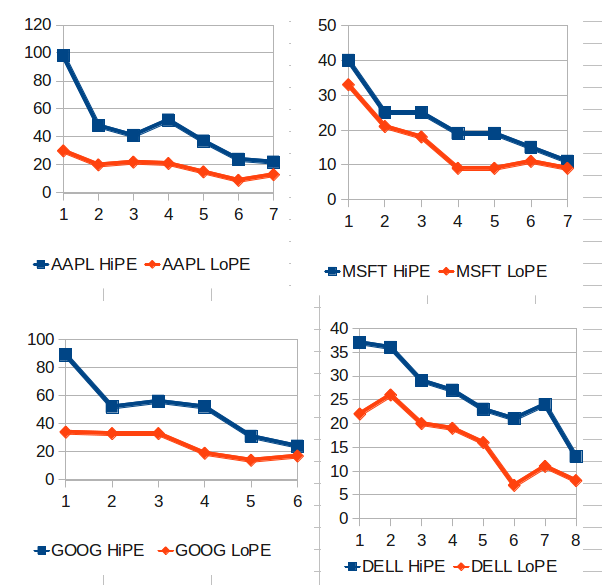 As the charts above will show you, the PE ratios of most tech companies (O/S shares > 100M) that I follow have steadily compressed since post 2007 (2004 is represented by 1 on the x axis); in order words, Apple is not unduly punished because of its cash holdings!
The third set of 'dots': What do I know about the company and its current management?
I have to admit that it has been very hard to find videos or interviews of Tim (Cook), Scott, Jon (Ive), Phillip, Eddy or Peter [Apple execs]. Based on the videos you can find at Apple's own site and this rare piece on Jon, you get a sense that these guys share the same purpose i.e. to make insanely great products that "just works"! Like the Beatles, will they go solo or be like the Stones and produce hits till their geriatric years? Will Steve's death galvanize the Cupertino team even more?

I was watching the movie Moneyball the day after his death; It made me wonder why the media is so caught up in creating the impression that Steve is the only person doing something magical at Apple. Are the sum of the parts being undervalued? Kobe still won without Shaq; so did Boston without Larry Bird. Why aren't the possibilities highlighted? Because writing about possibilities doesn't sell articles - just like articles with boring non controversial titles! Doesn't anyone remember NeXt? I believe Steve was the glue that kept the team successful. There is no reason why Tim couldn't be too.

Wonder what Steve's advice to Tim was? Let me guess: "Don't be trapped in dogma and living in my shadows! Stay foolish and stay hungry!" Make no mistake, Tim is an incredibly talented manager. There is no way you could work under Steve and successfully manage Apple's massive operation (and still love it) if he wasn't good. I believe Steve has provided the road map for the next 20 years (what is 20 years given that the iPod is now 11 years old?) and it is up to Tim to execute it flawlessly.

As I've written here, here and here, Apple is grossly unappreciated by any measure when it is compared to its peers. The general excuse for its low PE has ranged from (1) Job's health, (2) its ability to continue its growth, and (3) general market malaise. Nothing has changed except that the first reason has now been replaced with how Tim is going to perform.

Will Tim be able to say NO as efficiently as Steve? What do grieving family members (in this case, Apple investors) usually fight about? Cash!
The fourth set of 'dots': What do I know about the company's products and the markets that they compete in?
Click to enlarge: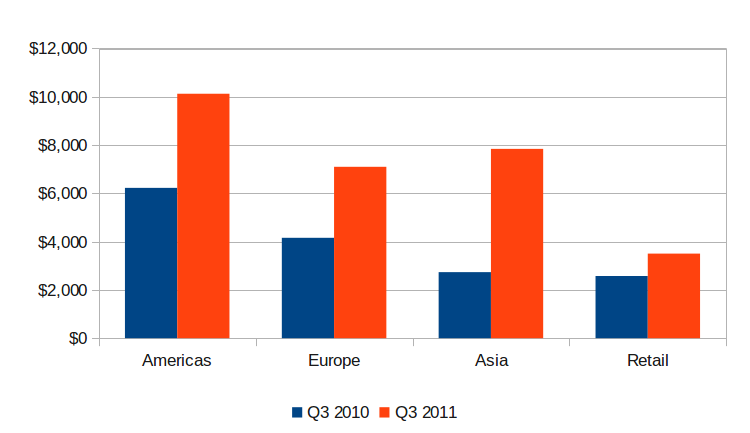 The fifth set of 'dots': Whatare my perceived risks in keeping AAPL shares?
Patent disputes. I don't take this lightly and this is what keeps me up at night. I was around when Research In Motion (RIMM) went through hell when they got taken to the cleaners by NTP. I was also around when the Loewen Group was driven to the brink. I can only assume that given Steve's thinking around IP, Apple should be well-protected. I use the Foss Patents blogspot to update myself with what is going on. But you never know: If the courts can award millions to an idiot who burnt himself drinking hot Macdonalds coffee.

Will Tim be able to keep Apple consistently 'foolish and hungry' without Steve?
I'd like to conclude this article using a paragraph from Tim's Auburn commencement speech...
"My most significant discovery so far in my life was the result of one single decision, my decision to join Apple," a reflective Cook told Auburn University students at his alma mater last year. "Working at Apple was never in any plan that I outlined for myself, but was without a doubt the best decision that I ever made."
I'd like to be able to look back years from now, read this very article and say that I'm glad that I trusted these 'dots' to be somehow connected with my future. And I'm glad that my decision was without a doubt the best financial decision that I ever made during the uncertain time when Steve passed away.

I expect Apple to continue to execute flawlessly. Until something meaningful changes, I'm still all in. Maybe my own personal 'dot' in the big picture is to have a reader one day email me and tell me that reading my articles made a difference! Let's face it, Wall Street doesn't care who died; it only cares about making money. As long as Apple keeps on performing, it will be business as usual. That is the UglyTruth.

Disclosure: I am long AAPL.