The hype over the Apple (AAPL) Watch unveiling yesterday overshadowed Statista's report that Samsung (OTCPK:SSNLF) was the top seller of smartwatches in 2014. As per Statista's record, Samsung leads a group of 89 firms, a group that sold 6.8 million smartwatches last year.
Samsung's line of Android and Tizen-powered Gear watches helped the South Korean company sell 1.2 million units - 17.65% market share.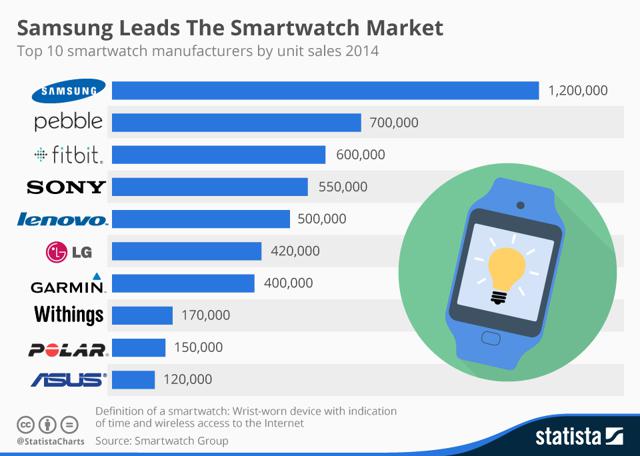 The average selling price of smartwatches in 2014 was $189. The Android Wear-powered Samsung Gear Live retails for $199.99, while the 4G-enabled Samsung Gear S is available from AT&T (T) at $299.99 without contract. Pebble, the second biggest vendor of smartwatches, sells its Steel smartwatch at $199. The FitBit Surge is available for $249.95. Sony's (SNE) SmartWatch 3 is also priced at $249.99.
In spite of the launch of the Apple Watch, the willingness of Samsung to price its products competitively against the competition might help it retain its crown as top vendor of smartwatches this year. Apple, known for selling premium phones and computers, is pricing the Apple Watch well above the current competition.
The cheapest Sports version of the Apple Watch will retail for $349. The mid-range Apple Watch Steel version will sell for $599 to $1099. Apple lists 38 different models for its smartwatch product, far more than what Samsung and other vendors have now.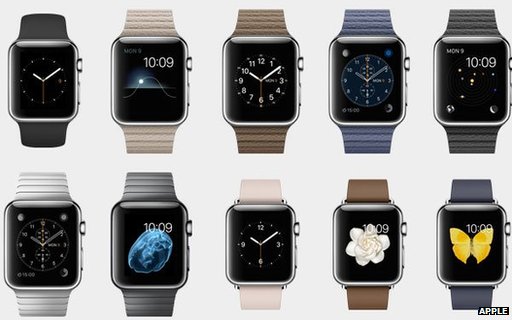 Source: BBC/Apple
My speculation last year that an Apple Watch version will come with a luxury price tag is now a reality. The Apple Watch Edition with 18-karat gold will start at a base price of $10,000. Tim Cook hired a sales director of Swiss watch company TAG Heuer last year. Cook is trying to upgrade the Apple brand to the level of Swiss-made premium wristwatches.
The high price tags of Apple Watch products will help $199 smartwatches like the Samsung Gear Live more palatable to price-sensitive buyers. Furthermore, unless the Apple Watch Edition has diamonds or precious stones inside it, the 18-karat gold casing does not justify its $10,000 price tag.
Samsung Doesn't Need To Compete With Apple
I opine that Samsung has no need to go toe to toe with Apple's smartwatch strategy. Apple is banking on its gazillions of iLoyalists to buy expensive iOS smartwatches. Samsung does not have the same massive base of loyal customers. Samsung can just continue its campaign of selling affordable Android and Tizen OS smartwatches.
There is little point for Samsung to also come up with a $10,000 Gear smartwatch. The Samsung brand cannot equate itself to a Rolex or a Tissot Swiss Watch. Even Apple might find it hard to attract enough buyers for a $10,000 watch that serves as a fitness tracker and as a companion device to the iPhone.
I believe that Samsung and other smartwatch vendors will continue to thrive as long as they stick to what already made them successful. Affordability is still a great selling point for any smartwatch.
Rumor has it that the Apple Watch already received 5 to 6 million pre-orders. But there is still a wide room for other vendors to sell their respective smartwatches.
CCS Insight estimates that there will be around 27 million units of smartwatches that will be sold this year. Wristbands or fitness trackers like the products of FitBit will sell around 36 million units. Due to the higher price tags of the Apple Watch product line, it is unlikely that Apple will get more than 20% market share (like what the iPhone has right now).

CCS Insight also predicts that by 2018, there will be around 340 million wearables, 44% of which will be smartwatches. The huge potential in smartwatches (around 149 million in use by 2018) means vendors agile enough to come up with lower ASP (average selling price) products will remain competitive with Apple.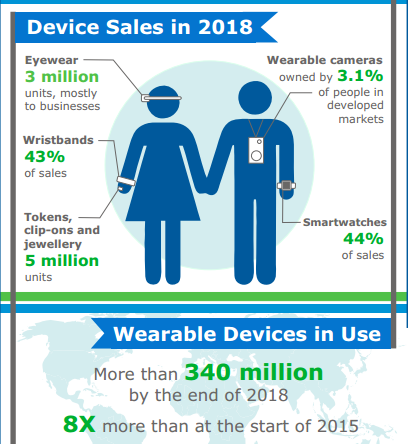 Source: CCS Insight
The current smartphone and tablet market situation will likely mirror the future scenario in wearables. Apple will dominate the high-ASP products while Samsung will likely dominate the low to medium range of smartwatches.
Conclusion
The arrival of the Apple Watch is not the death knell of Samsung's Gear product line. The multi-billion advertising budget of Samsung will likely help it hold on to its more than 17% market share in smartwatches this year.
Should Samsung decide to apply its pricing strategy in smartphones to wearables, $99 Android Wear smartwatches could help the company retain its leadership position.
The essential concept of the smartwatch does not require top of the line hardware components or solid-gold case/ construction. As long as Samsung can satisfy the five most desired features of a smartwatch, there will be a market for cheap Android Wear watches.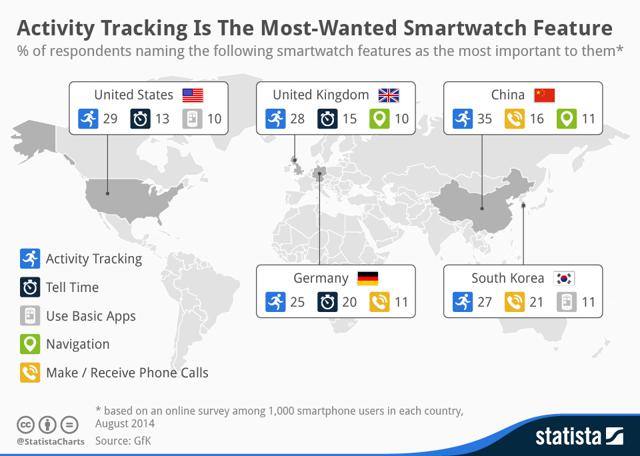 SSNLF is a Buy. This South Korean company is and will always be a tough competitor of Apple.
Editor's Note: This article discusses one or more securities that do not trade on a major U.S. exchange. Please be aware of the risks associated with these stocks.