The market was mixed for the day as a final vote to pass the Greek austerity bill was not voted on in Slovakia. The country balked at the opportunity, and they have delayed the vote. This news stirred some worries that the country does not have the proper funding to help finance the Greek bill. A majority of the rally we have had has been due to this austerity bill being passed, so its failure to pass would be detrimental to the bull run.
Economic data were limited on the day as well. The day was fairly stagnant, trading in a very thin range. Investors are awaiting earnings results, results of the vote, and the next round of data before deciding how much further this rally can go. The key 1200 level on the S&P continued to hold up and provide a pivot point for the market. With earnings coming tonight and for the rest of the month, they will definitely impact our markets' next move. Alcoa (NYSE:AA) leads off tonight with its report.


Several upgrades helped the market today including Netflix's (NASDAQ:NFLX) upgrade from Hudson Square Research from Sell to Hold. Valero Energy (NYSE:VLO) got a nice upgrade from Barclays Capital with a PT increase from $31 to $35. Disney (NYSE:DIS) also got an upgrade to Buy from Caris & Company. Other than that company news, the feed was limited today as we prepare for earnings season.

We had another fantastic day in the market as we were able to close several longs for gains. We closed two long Apple (NASDAQ:AAPL) positions for an average 2.6% gain. We also closed 1/2 of RSC Holdings (NYSE:RRR-OLD), which was one of our top picks for earnings season, for a 5% gain at 8.89. Our other positions in Baker Hughes (NYSE:BHI), sold $40 Nov2011 puts, Ventas (NYSE:VTR) long, Google (NASDAQ:GOOG) 455/450 bull put spread for weekly, McDonald's (NYSE:MCD) 80/75 monthly bull put spread, and others continue to perform well.

We did decide to put together a short position on oil with selling the call spread for $34/$35 on USO's weekly options, which pays as long as oil stays put or declines. A lot of headwinds are appearing for oil with declining dollar, inventories, OPEC demand cuts and more.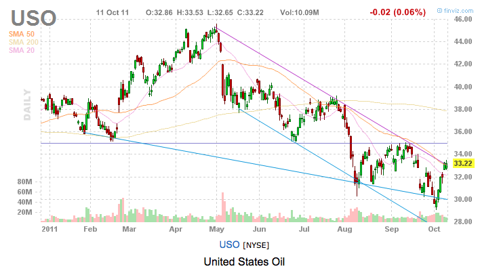 Moving into tomorrow, we are sitting slightly bearish as the market could not retake key levels that it needed to take with 1200 on the S&P. Downside risk is limited to the 50-day MA, and it really comes down to earnings for where we are headed next.

With a slight bearish tinge, here is what we like for shorting from these levels:

SBA Communications Corp. (NASDAQ:SBAC) - SBA is a cell phone tower leasing firm that makes money by leasing its space to phone companies. Sounds like a high growth place, correct? The company is growing sales by 10-12% this year, according to estimates. Yet, they have not seen the black for earnings in the past five years. They continually miss estimates, lose money, and do not turn growing revenue into earnings. In the midst of a revolution for air space for wireless companies, this company has no outlook that we like. They have just now moved to the 50-day MA that rejected today, and without another big run in the market, SBAC is headed back down.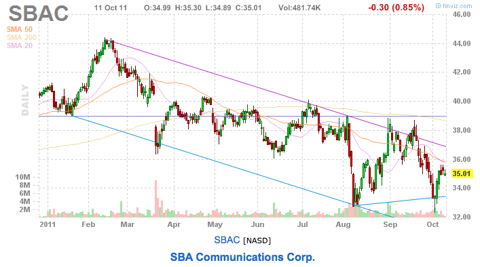 Six Flags (NYSE:SIX) - We continue to like shorting Six Flags as this is a stock that has not shown signs of breaking out and is in a strong downward moving channel. The company just tested its 20-day MA and has been rejected at that level. SIX looks like it will be a great candidate to head back lower on a move down in the market. A company that is out of season and has little upside prospects until next spring.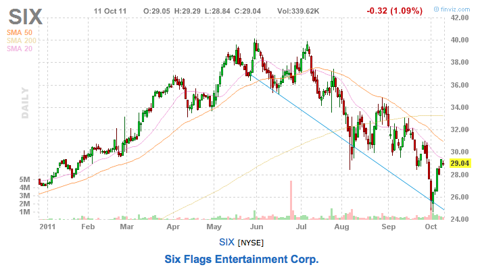 Fairchild Semi (FCS) - FCS is in the midst of a pretty strong downward price channel and has not been able to break its 50-day MA with a sustained move since March. The level is a heavy resistance point, and we believe they are a great short candidate. The company is not expecting great results as the entire semi sector may be in for a weak quarter. The company is projected to drop EPS from 0.42 to 0.32, and the failure at the 50-day yesterday with further downside confirms the pattern. If you see a red day ahead tomorrow and into end of week, FCS will be a great vehicle to make money on the downside.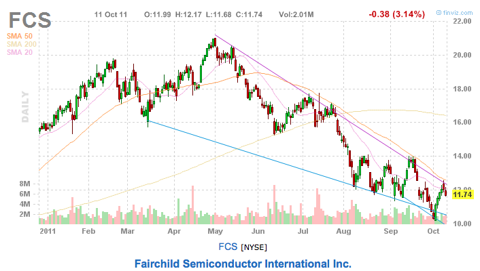 Disclosure: I am long AAPL, GOOG, MCD, BHI, RRR, VTR.

Additional disclosure: I am short USO.I may initiate shorts in FCS, SIX, or SBAC in next 72 hours.