In the investing world, there are several types of companies. Some do well in prosperous economic times, and some do well in weak economies. Some companies, however, will succeed regardless of macro-economic conditions. We would like to highlight this kind of company.
Deere (NYSE:DE) is a company that is riding one of the most fundamental secular trends in the world: a growing population. The UN estimates that by 2050, the world population will rise to 9.1 billion people. All these people will need to be fed, and companies such as Deere stand to benefit enormously. Shares of Deere have underperformed the market year to date, but we think this underperformance will end as investors see the strength of Deere's products, brand, and management.





2011 will be a record year for Deere in terms of sales and profits, as the world agriculture market remains strong. People simply need more food, and Deere is capitalizing on this trend. Sales increased 22% to $8.732 billion in the most recent quarter, and net income rose to a company record of $1.69 per share. On the conference call, management notes that in the US and Canada, its forecast for the Ag & Turf division calls for 5-10% growth. In the European Union, sales will rise by 10-15%. Europe may be ensnared in a debt crisis, but people will eat regardless. It is simple as that.
Deere may seem like the quintessential North American company. Based in Moline, Illinois, Deere is in fact a major player in markets all across the world, from Asia to Europe to South America. While the industry is seeing weakness in South America due to adverse trade policies in Argentina, Deere says that its own sales are benefiting due to its broad lineup of products.
Worries over the broader global economy have helped push down shares of Deere, but Deere's data disproves the thesis that Deere is suffering in this economy. Sales have reached a record, and Tony Huegel, Deere's director of investor relations, said on the call that they have seen no pullbacks or cancellations from customers in either the Ag & Turf division or the Construction division. Management further noted that should conditions deteriorate, Deere is ready to adjust, but they do not see that as being necessary at this time.
Deere has a decent balance sheet, with some $4 billion in cash and cash equivalents, but nearly $22 billion in debt and pension liabilities. Should this scare investors? We do not think so. Deere has nearly $20 billion in receivables due, and has an excellent track record of collection. Deere's book value per share of $17.84 equates to a multiple of around 4.5, a discount to the sector average of 7.66. Cash flow is growing at almost 7% annually.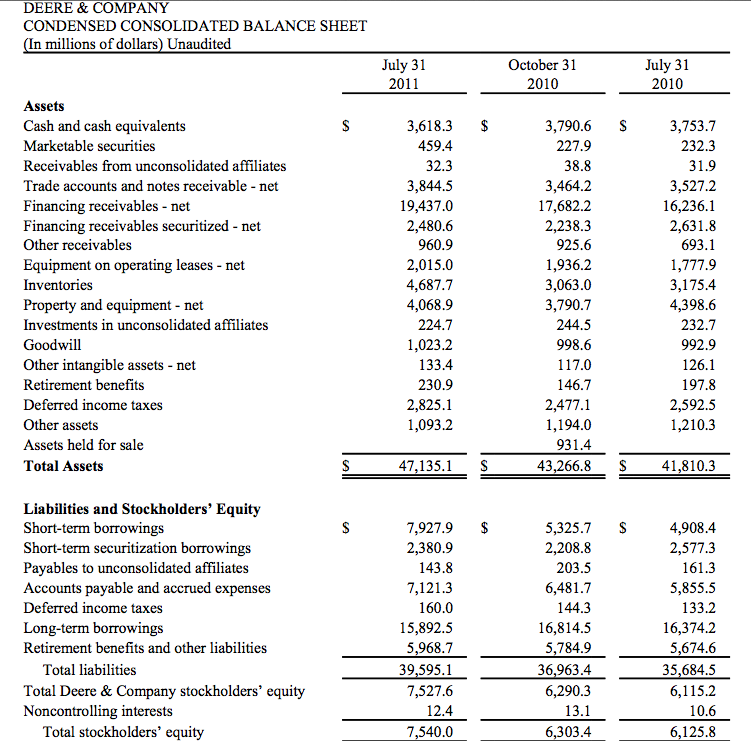 We think shares of Deere are a compelling investment at these levels. The stock yields 2.28%, and the dividend has grown at an annualized rate of 13.9% over the last 5 years, leaving plenty of room for dividend raises. Deere shares trade at 11.4 times earnings, and 9.8 times forward earnings. The share price here does not match the underlying fundamentals. Analysts agree with us. Credit Suisse sees the stock at $86, Argus is at $92, and S&P is at $99. The Reuters average price target is $90.54.
Deere is riding a global boom in agricultural demand, one that will continue no matter what kind of economy we have. There are few trends more fundamental than the global increase in food demand. And there are few companies more strong, successful, and undervalued than Deere.
Disclosure: I have no positions in any stocks mentioned, and no plans to initiate any positions within the next 72 hours.