Nuance communications (NASDAQ:NUAN) is in the voice recognition business. There's a good chance the software on your cellular phone you use to "call home" or "call Bob" uses a Nuance product for recognizing you saying "home" and "Bob."
Nuance's stock price has increased significantly over the last year, as shown below: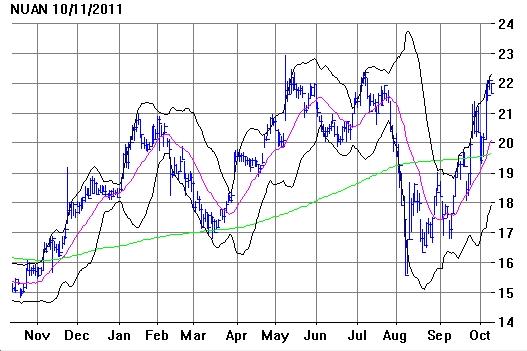 The ride up has been a bumpy one to say the least, as the price of the stock dropped almost to its 52-week low in August.
Nuance has been acquiring companies left and right, with recent acquisitions of Equitrac, Webmedx, SVOX and Swype.
Equitrac develops software for print management. The acquisition of Equitrac enables Nuance to deliver an integrated solution. Webmedx provides medical transcription services. SVOX develops speech software interfaces for mobile, automotive and consumer electronics. Swype develops software providing predictive gesture input for Android-based smartphones. Swype enables users to input words faster and easier using one continuous stylus or finger motion movement across a device's display.
There are some allegations that Nuance went to extreme measures in an attempt to acquire Vlingo as well. Vlingo is suing Nuance on claims of corporate bribery related to a Nuance's attempt to acquire Vlingo. In the complaint, Vlingo charges that three top executives of Vlingo were each offered $5 million to convince the board of directors to approve the acquisition by Nuance.
In its most recent conference call, the company indicated its organic revenue growth was 13% over last quarter. Nuance also indicated its imaging business is doing well and the demand for its cloud-based business continues to grow. The company expects future greater visibility for its voice services related to mobile devices. Nuance is expanding its technology investments and partnerships related to healthcare, especially as related to clinical language understanding.
On a negative note, Nuance indicated it is seeing some softness in the last couple of quarters related to European consumers, and also in Japan. Nuance is also increasing its sales organization, which could either be a good sign or a not-so-good sign depending upon whether the additional sales staff can generate a positive return.
The company increased its fourth-quarter revenue projections over previous guidance based upon strong demand for its products. But will the increased revenue be sufficient to cover the increased costs associated with increasing the company's sales organization? If not, Nuance's stock price could take a hit in a few months. Some bad news could cause the price of the stock to drop all back to its 52-week low, as was recently observed. If allegations of bribery related to the Vlingo acquisition are true, the company could also see its stock price take a dive.
Investors in Nuance's stock have experienced a nice return over the last year, some as much at 45%. So how is an investor in Nuance stock to protect his investment profits without having to sell the stock and potentially take a tax hit? One method for protecting an investment is via a collar investment. A collar investment involves selling a call option against a purchased or existing stock and using some of the proceeds from selling the call option to purchase a put option to provide insurance against a dramatic drop in the stock's price.
As an example, using PowerOptions search tool, a collar position was found with a potential return of 3.1% and a maximum potential loss of 6.1%. The position involves selling a 2011 Nov 22 call option and purchasing a 2011 Nov 20 put option. The time frame for realizing the potential return is 39 days. As long as the price of Nuance's stock is greater than or equal to the entry price of $21.94 at expiration in November, the position will return 3.1%. And, if the stock price were to take a dramatic fall, the maximum loss experienced would be 6.1%, even if the stock price drops to zero. A profit/loss graph for the collar position: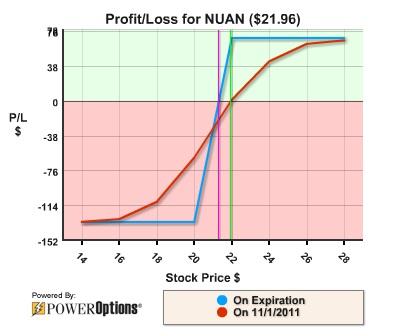 Nuance is in a nice strategic position: It has either acquired or run off most of its competition. Additionally, the smartphone market segment looks very attractive for Nuance, but another larger company or companies -- Google (NASDAQ:GOOG), for example -- might decide to get into the space, and put a serious dent in Nuance's growth plans.
Disclosure: I have no positions in any stocks mentioned, and no plans to initiate any positions within the next 72 hours.