China's official inflation data for February 2015 was mixed, with consumer prices (CPI) growing at a +1.4% YoY pace, topping estimates of +0.9%, but producer prices continued to slide, falling -4.8% YoY, worse than the -4.3% pace expected.
Although the rebounding CPI is a welcome sign of relief after last month's weak reading of +0.8% YoY, there is some seasonality in the data due to the timing effect of the Chinese New Year. During the holiday, most urban Chinese return to their hometowns and often bring gifts for their families to help celebrate the Lunar New Year, which can distort the demand picture. The spike in prices for both fresh fruits (+4.1% YoY) and fresh vegetables (+4.3% YoY) supports that argument.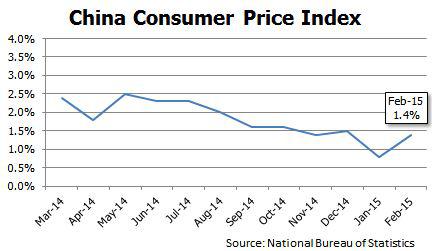 In a similar theme to previous months, the main driver for the CPI increase was food prices, which were up +2.4% YoY. Non-food CPI was a somewhat underwhelming +0.9%, a modest gain vs. +0.6% recorded in January.
Our view on the data is that seasonal distortions raise the risk of relying too much on this month's reading. Comparing February's per-category CPI to the Q4 average last year points to a somewhat weaker picture: Food prices are lower, but balanced by higher prices for clothing and healthcare and household items. So generally speaking, the overall trend in CPI seems to be pointing downward (food is a major component in the CPI basket).
One positive from the data is clearly the rebound vs. last month. As mentioned earlier, seasonality is a factor, but had the opposite scenario played out (a flat reading vs. January), the implications would have been more negative. Based on this month's data, however, it looks the feared doomsday fears may be overdone. By no means is the picture rosy and cheerful, but it seems to be less dreadful than earlier thought.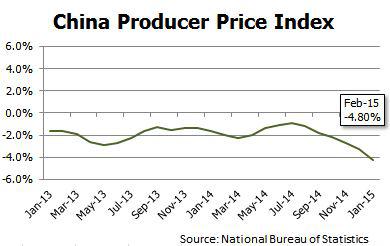 This month's PPI data was another month of tough data. Both factory gate prices and purchase prices slid lower than January 2015. One small degree of solace for manufacturers was that the pace of the decline seemed to ebb somewhat, with the 0.5% decline in PPI lower than the -1% drop recorded from December 2014 to January 2015. The same could be said for input prices, but in both cases seeing continued deflationary pressure easily overshadows any possible "bright spots" in the data.
In a theme echoed over the many past months, raw materials producers were showing the biggest measure of pain, with prices for the mining industry sinking -20% YoY. By industry, oil and natural gas producer prices were down sharply, -15% MoM for a fall of -42% YoY, with both ferrous and non-ferrous metals also lower.
Although overcapacity is a contributing factor to softer basic materials prices, slowing demand is also likely a factor.
Disclosure: None