Copper
Copper has historically been regarded as an indicator of economic conditions. When copper prices are rising, industrial growth is expected to follow, which results in economic growth. The opposite case - when copper prices are falling - indicates an economic slowdown and potential recession.

Copper had broken above the 2008 highs it set before the onset of the Great Recession, but has fallen very sharply since its early 2011 peak - with prices collapsing by over 30% from August through September. Copper is looking to rebound from these levels, but will likely not regain recent highs. Instead, the sharp drop in copper may be signaling the onset of a renewed recession. China and emerging markets are slowing down, which lowers demand for copper. Lowered demand and slowing growth may result in recessions.
The best way to invest in copper through stocks had traditionally been Freeport McMoRan (NYSE:FCX). FCX provided investors with exposure to copper, as the company operates gold and copper mines. FCX was one of the only copper-related stocks around for years. FCX is therefore a pretty good indicator for future copper prices, and in turn also the future of the economy.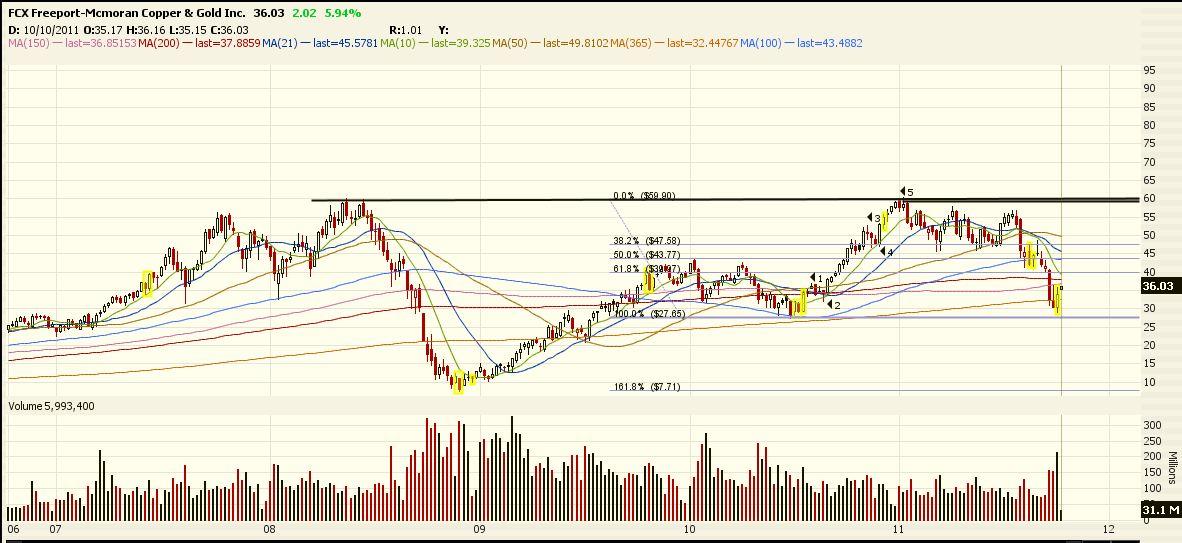 While actual copper prices broke above their 2008 highs by approximately 20%, FCX broke above its 2008 highs by less than 1%. It also did not hold above the previous highs, and failed at previous high levels - marking a "Double Top" formation. This double top formation should be hard to break above and hold; previous highs should act as very strong resistance if prices approach them. FCX may bounce here after retracing to the 2010 lows; but unless previous highs are exceeded and maintained, recession is much more likely as copper has signaled a downturn.
Oil / Energy
Oil prices soared in 2007 and 2008 only to come crashing down with the onset of the Great Recession. Oil and energy essentially turned into a bubble as investors piled into crude oil and energy-related plays as a way to profit from the soaring prices. However, recessions generally result in lower demand for energy, as economic growth is not there to boost prices.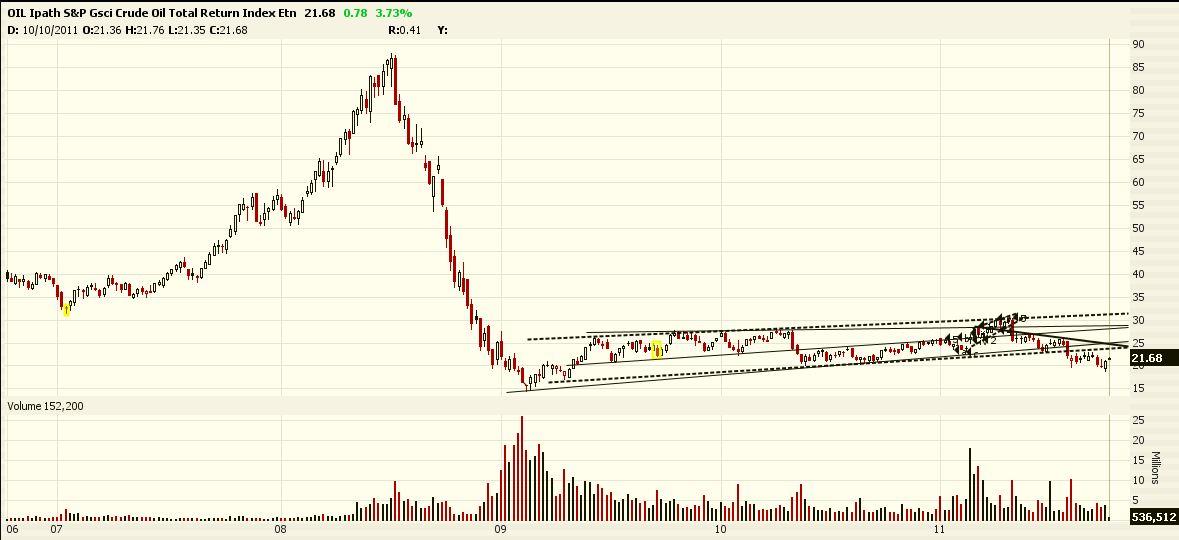 Oil, as represented by the oil ETF (NYSEARCA:OIL), has bounced from its 2009 low, but has recently resumed the downtrend as it appears to have broken down from an "ending diagonal" that signaled a sharp drop: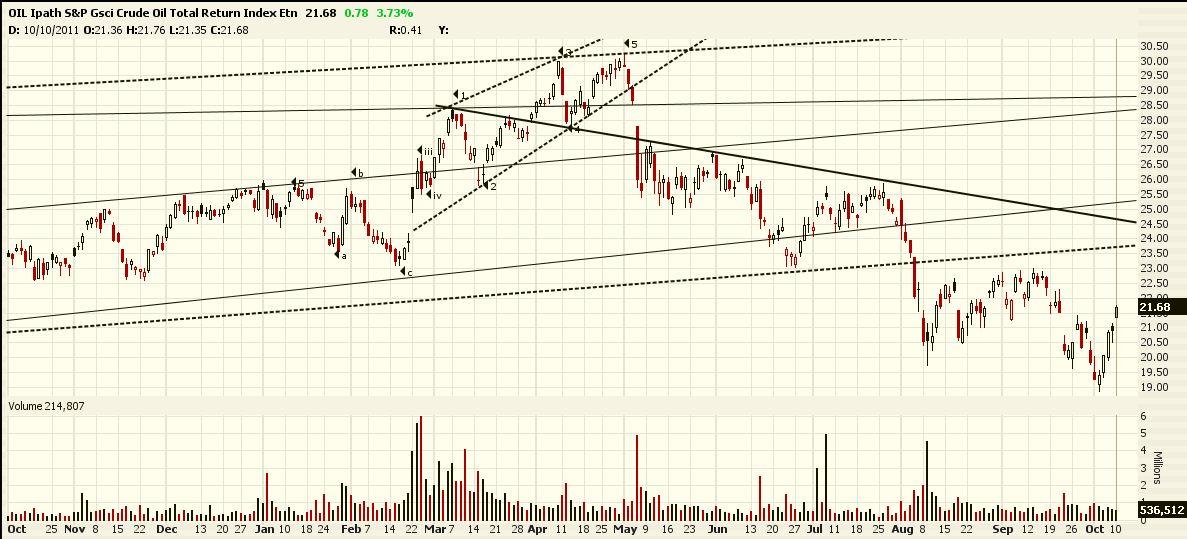 The huge drop in Crude, from $115 to nearly $75, is a signal of a slowing global economy. If the economy slows, less oil is demanded. Oil's drop, together with many other commodities like Sugar (NYSEARCA:SGG), Cotton (BAL), Platinum (NYSEARCA:PPLT), and Silver (NYSEARCA:SLV), is signaling an economic slowdown or renewed recession (See: How high oil prices warned of an upcoming recession - Sector Rotation)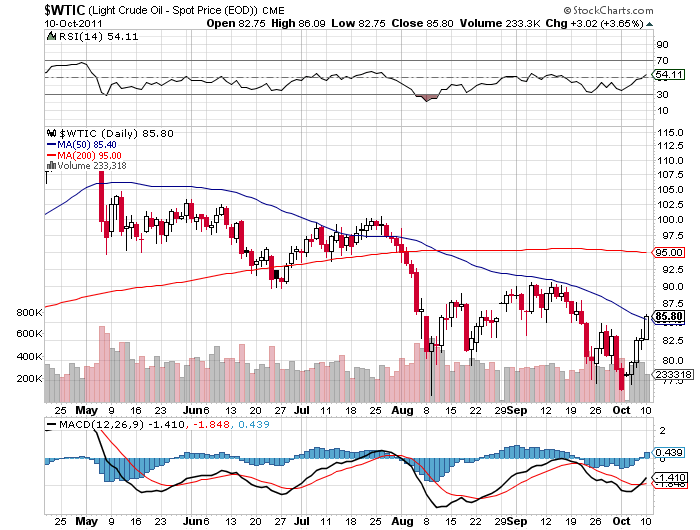 However, after oil's sharp drop, prices may have stabilized at $75 and built enough support for a bounce. With support at $75, a "double bottom" may have formed. If prices break above $90, oil prices can continue to rise.
Japan
On a relative basis, I'd rather own Japanese stocks than get involved in the hot China or Brazil market. Investors have largely given up on Japan as an investment, since Japan has been in one of the longest periods of stagnant growth in history. Without large gains in Japan, investors have looked elsewhere for profits - China, Brazil, India, technology, commodities, and others.
With Japan heavily underinvested, however, a big global downturn would not hurt Japan's economy as much as it would hurt the soaring Chinese or Brazilian economies. In simpler terms, it hurts a lot more to fall from the top of a skyscraper than it does to fall from a chair. Somewhat similarly, it will hurt China's economy a lot more as it falls from a period of huge growth and high expectations; on the other hand, Japan will be relatively safer since expectations are much lower and the stock market hasn't soared as in China and many other countries.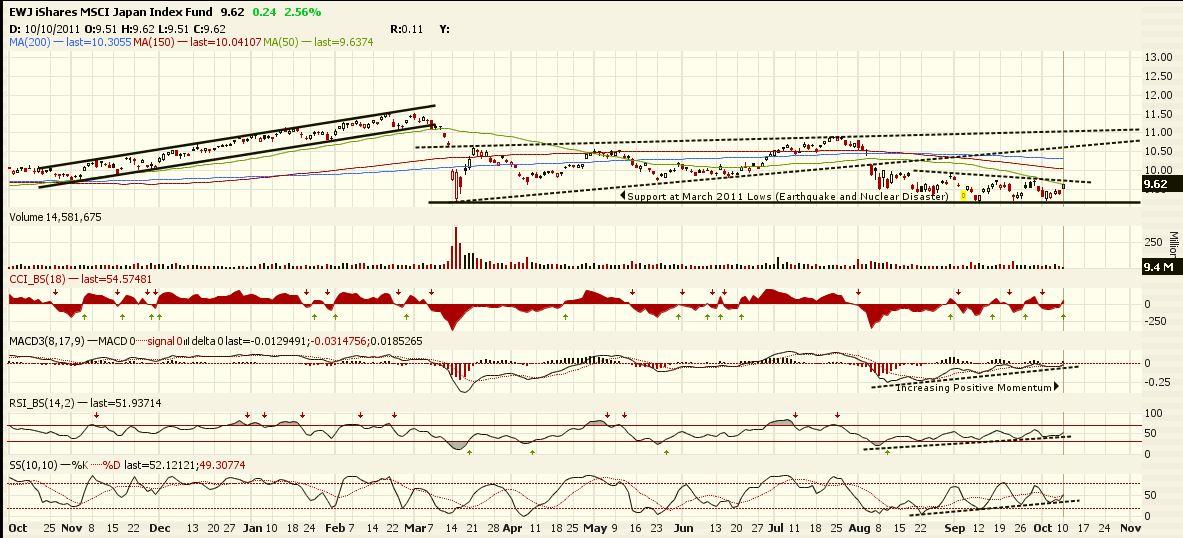 I'd rather invest in Japan here, through the Japan ETF (NYSEARCA:EWJ). It has recently bounced at the $9 level for the 6th time since July 2009. Such a strong support level is great to use as an entry point. Buying here at around $9.50, and exiting at a 6% loss if prices drop below $8.90-9.00, is a great bet with very limited and calculated risk. At the same time, since Japan may outperform China, you can buy EWJ and short China (NYSEARCA:FXI) or a stock you think will underperform the market.
Uranium / Nuclear Energy
Nuclear energy related stocks took a major hit in early 2011 when Japan underwent its nuclear crisis. The fear brought about by the nuclear disaster has even caused a few countries to avoid nuclear power use in the future. Many investors fled from nuclear energy as the crisis gained notoriety. As investors expect lower nuclear energy demand in the future, they properly avoided nuclear or uranium investment. However, led by fear and overselling, prices of uranium and nuclear-related stocks are likely set to outperform in the future. As a contrarian play, uranium and nuclear-related stocks may be poised for bigger returns as they rebound from the major falls of early 2011.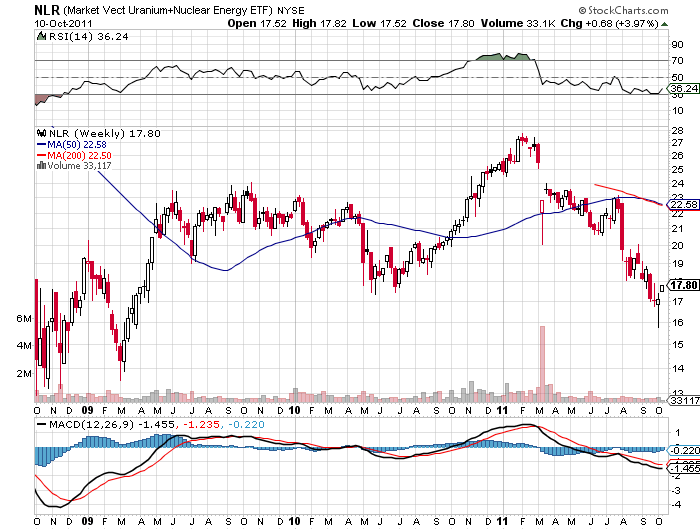 After soaring from around $1 to just under $6 in 6 months from July 2010 until February 2011, Uranerz Energy (NYSEMKT:URZ) dropped back down to as low as $1.17 - back to its longer-term trendline. Buying URZ here right near support may also be a great way to profit from Uranium's continued uptrend and/or comeback. Once again, I prefer an investment like Uranium (NLR, URA, URZ) over precious metals, China, or very speculative growth stocks.
Conclusion: Markets and economies are entering a recession. China and momentum stocks should be avoided. Japan and uranium may provide better investment opportunities as recovery plays or relative outperformance as their fall will not be as severe as emerging market or technology stocks.
Disclosure: I am long FXP, EDZ via Call options. I may initiate positions in EWJ.