I must first disclose that I am long Penn West Petroleum (PWE), which in and of itself, indicates a mistake on my part. I last wrote about PWE over a year ago, putting the stock's fair value around $25. Since then the stock traded up as high as $28.98 but my selling discipline failed miserably -- I rationalized hanging onto the stock because I already had so much cash sitting in my portfolio and was loathe to add more. After all, the stock still paid a decent dividend post-conversion to a corporate structure. While I probably committed that mistake with several other stocks, PWE has been my biggest loser this year.
Now that I am done kicking myself in the teeth over yesterday, let's see how Penn West is doing today.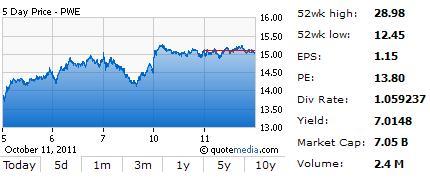 After owning the stock for 4 years, I find my investment basically at break-even, with distributions over the years neutralizing the roughly 50% decline in share price -- not a horrible result considering the S&P 500 is down 14% over the same stretch. The question is, should I continue to own Penn West today? If shares are undervalued, should I add to my position?
As I wrote last year, Murray Nunns promised to add an operational focus to Penn West and with his ascendancy to the CEO position, this new direction should continue. Under his hand, the company has adjusted its strategy toward tight oil exploration, mirroring many of the North American E&P companies' shift away from natural gas production. Penn West boasts of having "the most leverage to large scale oil development using horizontal multistage technology in North America." To that end, it has de-prioritized its oil sand assets, entering into the Peace River Oil Partnership with CNOOC. Penn West also operates a shale gas joint venture with Mitsubishi. This allows it to focus on their tight oil plays, which are projected to sport recycle ratios in the 3x-4x range (for reference, Devon Energy reported recycle ratio of 1.8x which put them 2nd in their selected peer class). These tight oil plays have much higher returns in part due to low-cost legacy land positions and better pricing for light oil.
I like Nunns' hard focus on tight oil opportunities. Reviewing the investor presentations, Penn West is more focused on delivering results in the present vs talking about future promises in the Seal/Peace River oil sands that was prevalent in the past. In my experience, companies that emphasize current production and reserve growth are more attractive than companies that are constantly touting how things will be in the future. Penn West talked for years of Seal and Peace River yet that asset still seems a ways away from reaping actual gains. A similar analogy can be found in Chesapeake Energy (NYSE:CHK), whose constant focus on tomorrow's stellar resource (which makes it today's hot play) hasn't seemed to pan out for investors either.
While PWE's change of emphasis is welcome, I am concerned about future reserve growth. Penn West expects to devote only 15% to resource appraisal across all its prospects (tight oil, oil sands and natural gas) while devoting 85% to developing tight oil assets, implying its tight oil resource is nearly defined and reserve growth may have to come elsewhere. Proved reserves of 481 MMBOE is down from 571 MMBOE in 2007 and while that number can be misleading due to regulations dictating how those reserves are calculated, the trend is disturbing nonetheless.
Penn West's issues in reserve growth affect my valuation of the stock as I would put fair value between $20 - $25 per share. At its current share price around $15, investors are paying over $20 enterprise value (which takes into account PWE's high debt) per barrel of oil reserve. Like many energy stocks, PWE is trading below fair value but I don't think it is cheap enough to add to my position. Unlike the aforementioned CHK, Penn West has not demonstrated an operational excellence in either finding new reserves or hitting production targets so investors are betting on a mediocre company. The stock still pays a substantial 7% yield but management has promised it won't grow for some time and may be cut if oil prices spend a prolonged time below $65.
Without a dirt cheap valuation, I view PWE as a proxy for the oil industry in general. There's no reason to expect it to outperform the segment as a whole and thus no need to own PWE specifically over another oil stock or ETF. I won't sell unless it hits fair value but if investors want more energy exposure, perhaps consider Devon Energy (NYSE:DVN), which I discussed yesterday.


Disclosure: I am long DVN, PWE. Long CHK preferred shares.