Regular readers here know that Interdigital (IDCC) doesn't make anything. Except money. Its patented technologies are at the heart of most major cell phones. It licenses those patents, and as the interest in software patents has risen, its stock has as well.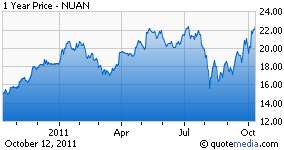 Nuance (NUAN), meanwhile, has lagged the market's growth. That's because it is seen as a software company. The company is best-known for its text-to-speech technology, called Dragon, which it sells as a software product, and to OEMs.
But Nuance is fast becoming as much an intellectual property shop as IDCC.
It starts with a text typing system called T9, a predictive sense system that helped fuel the SMS revolution by adapting the typical 10-key phone keypad to words.
Now, with the acquisition of Swype, another text-entry technology (created by the man who created T9) Nuance has made another move into being a mobile software license OEM rather than just a products company.
The deal ends what could have been a nasty dispute over similarities between Nuance-developed technology called T9 Trace and Swype, but analyst Michael Arrington insists Swype is pretty neato in its own right.
But wait, there's more. Nuance is adapting the rest of its product line to this new world where you license to device makers rather than sell to consumers.
Nuance had already turned Dragon into an iPhone app and, with the launch of Apple's Siri, a voice search feature, this looks like a real competitor. If, that is, the capability is built directly into hardware.
Having Swype in the firm, clear of any legal entanglements with T9 Trace, brings Nuance the experience working with mobile OEMs to make this happen for Dragon. It is now a trusted insider in the mobile technology arena, but like Interdigital it can make money by simply licensing that technology, rather than having to build it into products.
With that kind of future, Nuance becomes a lot more interesting as intellectual property. Its value could be ready to pop.
Disclosure: I have no positions in any stocks mentioned, and no plans to initiate any positions within the next 72 hours.