In this article I will highlight my personal seven best stocks to own for a recession business climate. I base a recession scenario on three factors. These key points are: A persistent high-unemployment rate, current and ongoing country-wide government budgetary cuts, and my personal confidence in the Economic Cycle Research Institute's September 30th recession call.
These seven stocks are designed to provide ongoing dividends and limited downside risk in a difficult economic environment. The stocks are designed to have a relatively high dividend yield over the course of a year.
Click to enlarge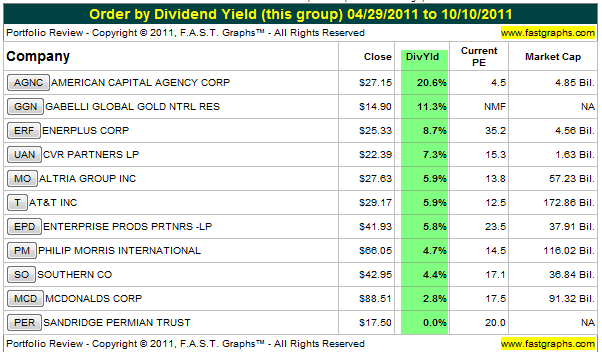 American Capital Agency Corp. (NASDAQ:AGNC)
I don't "sugar coat" my views of companies. If they produce positive shareholder results, then they have earned my respect. I can say, based on my
interview
with American Capital Agency's CEO Gary Kain, with 100% confidence that I am optimistic in American Capital Agency's future performance.
A couple notes, since yesterday's interview, include the following:
The company will announce its third quarter earnings per share on October 25th, 2011.
The yield curve has widened, which is positive for net yield curve assumptions. This is positive for dividends.
I welcome you to read my interview with Gary. He is a person you want in your corner if you seek dividends and book value per share (bvps) preservation. This company has delivered positive results from day one to present. Federal Reserve Chairman Bernanke has stated rates will stay low for two years, and American Capital Agency is the best name in the sector.

Enterprise Products Partners LP (NYSE:EPD)

Enterprise Products Partners provides midstream energy services to producers and consumers of natural gas, natural gas liquids, crude oil, refined products and petrochemicals. The company's North America presence includes 50,000 pipeline miles. In the below chart, please note the company has the lowest cost-of-capital in a select group of pipeline operators. Insiders are aligned with common shareholders with a 39% ownership position.

Enterprise Products Partners' October 11th presentation, at the Platts MLP Symposium, was truly enlightening. The company's business model has the distinct cost-of-capital advantages compared to its peers.

Click to enlarge



Enterprise Products offers shareholders a 5.85% annual dividend. Per page 9 of the October 11th presentation, investors can note the 8% growth rate in the annual dividends. The company continues to make accretive acquisitions. The future is extremely bright for this business model.


Enterprise Products Partners' October 11th presentation, at the Platts MLP Symposium, was truly enlightening. The company's business model has the distinct cost-of-capital advantages compared to its peers.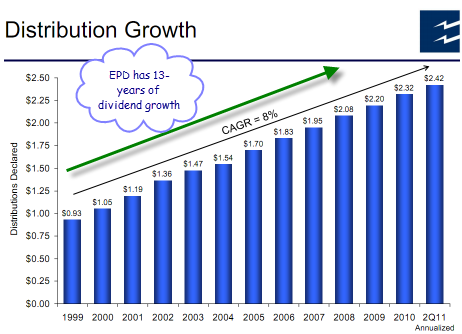 Gabelli Global Gold, Natural Resources & Income Trust (NYSEMKT:GGN)
Gabelli Global Gold is the counter-play on the high-debt levels in the global markets. This closed end fund (CEF) yields over a 11% annual dividend yield. Gabelli Global Gold has paid a monthly dividend of 14 cents per share per month for over five years. The fund's holdings are equities in the gold and natural resources' sectors.
This is a boring closed end fund. I recommend buying it at a price near its net asset value (NAV). The security provides a reliable monthly income stream. Boring and reliable pay the bills. I own and recommend this CEF.
CVR Partners (NYSE:UAN)
CVR Partners is a personal preference based upon the business model. My prior article, CVR Partners: 9.6% Dividend Yield With Potential to Grow, has basic information on the company. The company is a master limited partnership (MLP). The company produces nitrogen fertilizers including ammonia and urea ammonium nitrate. Countries outside the U.S. have expanding populations and increasing food demands. As agricultural land is a finite resource, fertilizer provides the farmers the tool to increase crop output per acre.
The company went public this year. The goal is, and remains on course, to pay a $1.92-annual dividend. This can swing with their fertilizer output and the prices received for fertilizer production.
CVR Partners' expansion plans will result in a 50% production output. The expansion will increase output from 675,000-tons of UAN, to 1,025,000-tons of UAN tons on an annualized basis.
I monitor the CVR Partners business model fairly closely. For full awareness, there is volatility in fertilizer prices. Investors must be aware of this issue. I believe ammonia and urea ammonium nitrate are essential fertilizer elements and their prices must be monitored closely. As of October 11th, CVR Partners' prices continued to do well in the overall fertilizer space.
Specifically, here is where the company stands with October 11th fertilizer prices:
Ammonia was up $25 on the Black Sea market, closing in on $590-per ton.
Urea ammonium nitrate (UAN) prices moved up $3.50 to $357.50 per ton at the Gulf.
I encourage investors to track fertilizer prices. Buying this stock requires following the general trends of fertilizer prices.
Altria sells tobacco product within the United States. The number one recession-proof equity, in my opinion, is tobacco. I personally know smokers who simply will not quit smoking under any circumstances. A business model which offers a product that sells regardless of the economy must be bought. The company continues to increase its dividend and deliver solid shareholder results.
Philip Morris International (NYSE:PM)
Philip Morris sells tobacco products outside the United States. Philip Morris recently increased its annual dividend by 20%. Cigarettes, sold in the growing international economies, has turned out to be very profitable. The cigarettes in these markets are not burdened with the high taxes which are noticeable in the U.S. I believe Philip Morris is a mandatory buy for a dividend portfolio.
McDonald's Corp. (NYSE:MCD)
McDonald's is the bellwether of this team. In a world in which people need to eat, on the go, and at an affordable price, McDonald's is the answer. This equity is yielding 2.7% at present prices. The company delivers results. For a 2012-recession play, McDonald's is the growth stock to buy, hold, reinvest dividends and await for the annual dividend increase.
I recommend to not get cute and try to find a cheap stock with the "highest dividend" of the year. I recommend to simply buy the stock and place McDonald's in your equity portfolio and rest easy. A five-year-old girl or boy loves to eat at McDonald's. I am not aware of any force powerful enough to remove this desire of a five-year-old.
On September 22nd, management increased the dividend by
15%
. This is the precise reason to own McDonald's. The company does well in all economic climates. A
1976-2011
dividend history highlights the benefits the value in owning McDonald's.
I encourage McDonald's investors to consider the implications of international growth. In my May article,
Arcos Dorados: A Proven Franchise Story
, the investor can see how lucrative Latin America franchise fees will be for McDonald's. This will be a future driver for McDonald's earnings growth and dividend growth.
SandRidge Permian Trust (NYSE:PER)
Oil and natural gas prices, through the early years, are hedged and reliable. Fluctuations in oil and natural gas will not impact the dividend payouts.
The first dividend should be approximately November 30th.
The current investor will receive $1.15 or more in dividends between now and December 31st, 2011. This equates to a 6.3% yield for owning shares during the last 75 days of 2011.
Years 2012-2015 offer mid-teen dividend yields. These yields are guaranteed in the sense that production prices have been hedged.
Here is a chart of the dividend payouts one should expect. These are, in my opinion, outstanding payouts based upon a hedged production.

It's a tough economy. Load up on stocks that will deliver dividends for you. If you have a distaste for tobacco stocks, please consider AT&T (NYSE:

T

) in the telecommunications space or Southern (NYSE:

SO

) in the utility sector. Take losses as necessary, position yourself for a tough economic climate, and live to fight another day.

Disclosure: I am long AGNC, MO, PM, GGN, UAN, MCD, PER, SO.