One of our current macro themes is that China cannot possibly ride to the rescue of the world's economy, as so many seem to hope, especially given the ongoing strains in its financial system. Markets have seemed to agree with this view:
China's stock markets have tumbled steadily from their 2010 highs...
Shanghai Composite Index - (click charts to expand)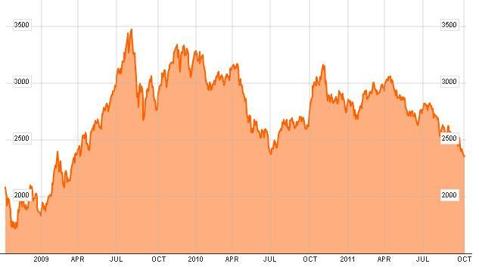 Source: Bloomberg
...while credit market indicators such as interbank rates and sovereign credit spreads have been moving higher.
The Shanghai Interbank Offer Rate, or SHIBOR, is a measure of the rate at which banks are willing to lend short-term funds to one another. The higher the rate, the greater the perceived risk among banks: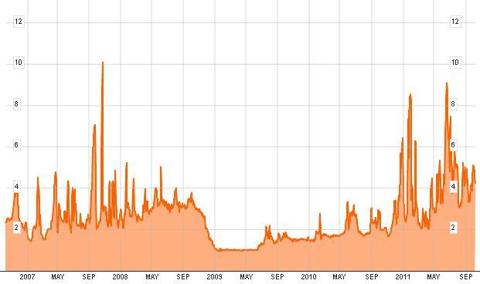 Source: Bloomberg
The JPMorgan EMBIG China Sovereign Spread measures the difference between the yield demanded on Chinese government debt and a benchmark of other government debt securities: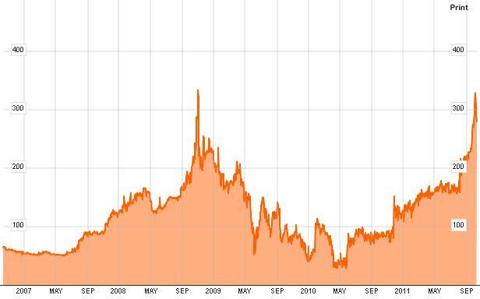 Source: Bloomberg
However, following yesterday's announcement that China Central Huijin, an arm of the China Investment Corporation (CIC) sovereign wealth fund, was enlarging its stakes in the shares of China's major banks, all three markets—equities, interbank lending, and sovereign debt—breathed a huge sigh of relief.
The Shanghai Composite rose nearly 4%: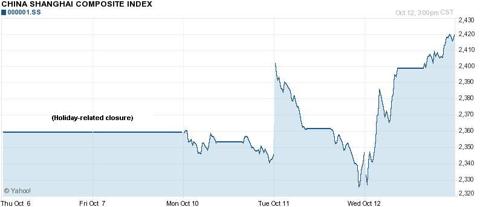 SHIBOR dropped significantly: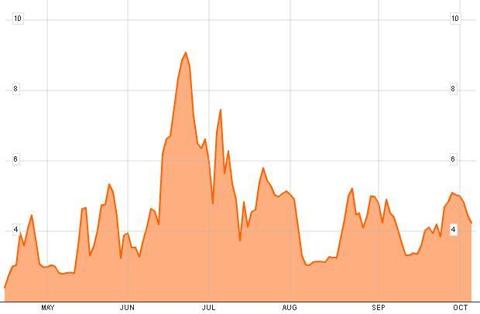 Source: Bloomberg
And China's sovereign spread continued to ease off of its recent high: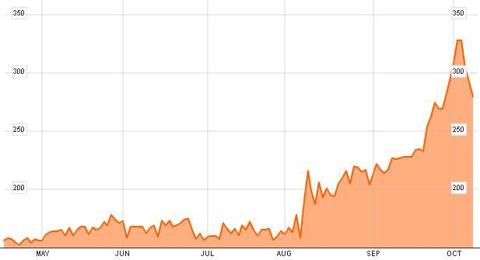 Source: Bloomberg
The action by Central Huijin raises several important issues:
It affirms that financial distress within China appears to be driving poor stock and credit market performance.
The move could turn out to be the first stage of a large, TARP-like rescue program for the country's financial sector.
Like TARP, it is focused on only the largest banks; however, the most troubled loans are reportedly at the level of local governments and smaller lenders.
CIC and Central Huijin are currency users (CIC, by some accounts, a highly levered one); whether they will have or be able to borrow enough capital to resolve the problem is questionable.
If the more bearish assessments of the situation are accurate, then the Bank of China, as sole issuer of the currency, will inevitably be called on to backstop the whole mess.
Should that latter point prove true, China will be faced with a difficult tradeoff between slower domestic growth (and the risk of intensified social unrest) and a falling exchange rate, which will incur the wrath of some of its trading partners (especially the U.S., where the Senate recently revived legislation aimed at the country's currency practices). We've been arguing for some time that China's struggles seem likely to lead to conflict somewhere, whether between its citizens and the government, its government and the U.S. and other trading partners, or both.
We suspect that Chinese policymakers are well aware of this and have tried to place their bets in a way that (1) would allow them to keep a zombie domestic banking system on life support while still (2) supporting domestic growth and (3) honoring its pledge to its trade partners to allow the renminbi exchange rate to strengthen. But to quote Billy Crystal, that would [seem to] take a miracle.
Yesterday's move obviously provided some relief, but we harbor serious doubts about it resolving China's systemic issues. We remain negatively biased toward China and related markets.
Disclosure: I have no positions in any stocks mentioned, and no plans to initiate any positions within the next 72 hours.
Disclosure: Symmetry Capital Management, LLC (NYSE:SCM) is a Pennsylvania, registered investment advisor that offers discretionary investment management to individuals and institutions. This publication is for informational, educational, and entertainment purposes only. It is not an offer to sell or a solicitation to buy securities, or to engage in any investment strategy. Past performance is not indicative of future results. This material does not take into account your personal investment objectives, your personal financial situation and needs, or your personal tolerance for risk. Thus, any investment strategies or securities discussed may not be suitable for you. You should be aware of the real risk of loss that accompanies any investment strategy or security. It is strongly recommended that you consider seeking advice from your own investment advisor(s) when considering any particular strategy or investment. We do not guarantee any specific outcome or profit from any strategy or security discussed herein. The opinions expressed are based on information believed to be reliable, but SCM does not warrant its completeness or accuracy, and you should not rely on it as such. SCM and some of its clients own put options on iShares Hong Kong exchange-traded fund, and some clients of the firm own put options on iShares Australia ETF. Put options give the holder the right to sell shares of an underlying security to another party at a specified price within a specified period of time. All views and positions are subject to change at any time without notice.